Popojito Med Mex Kitchen is Hip, Vibrant and Fun
Monday, 07 May 2018 12:13
Last Updated: Monday, 07 May 2018 12:20
Published: Monday, 07 May 2018 12:13
Judie Dweck
Hits: 5653
On a stormy day in late April, the rain was coming down in torrents, but as soon as I opened the door to the new Popojito Med Mex Kitchen on Christie Place in Scarsdale, the atmosphere inside was bright and sunny. Christie Place is becoming a restaurant row in our community with several dining choices. Popojito is its newest addition.
Enter Popojito and note the green metal chairs, a metal container holding silverware, several hot sauces, pickles and napkins at each table, several counters at the windows, and an industrial ceiling. A large blackboard announces the menu choices and the open kitchen allows you to see the chefs busy at work. Popojito seats about 45 inside and as the weather gets warmer tables for about 12 will be set up outside. Chef Richard Hughes is at work in the kitchen. He describes Popojito as, "family style, casual, and healthy with a pleasant environment." He works as a team with Saul Delacruz , the manager, who said, "The staff is like a family. I love serving people and given the chance I would order octopus fajitas." Jeffrey Rosen is the director of operations and finance. His background is in the corporate world. Ownership in a northern Westchester restaurant and consulting work, prepares him for becoming part of the Popojito team. He loves interacting with the guests and aims to make Popojito successful and profitable.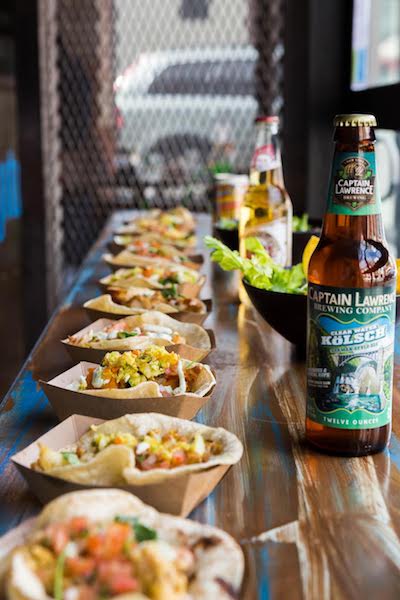 Chef Hughes grew up in Rhode Island and at age 15 he worked as a dishwasher in a local restaurant. He substituted for the chef and that was the start of his blossoming career. He worked his way up, and he considers Mills Tavern in Providence his "culinary school" where he honed his skills. "I believe that Mediterranean cuisine fuses well with the food of Mexico. It is important to treat our natural ingredients with respect. We hope to make Popojito a fixture in Scarsdale and Westchester and make it an accessible part of the community. Cooking at Popojito is never boring and my knowledge is always growing. Working with fish, as fresh as possible, from butchering to cooking is a favorite activity." In a few words, hip, vibrant and fun are words he uses to describe Popojito.
Popojito is totally gluten free with no gmo's, antibiotics, refined sugars, or Trans fats and our proteins and vegetables are locally sourced. At the time of my visit, wine and beer are offered with a full liquor license in the works. Our meal started with a large basket filled with three homemade dips and chips. A nicely textured chunky guacamole was a familiar starter, pico di gallo a delightful tomato based dip, and vegan chipotle eggplant a nice and spicy beginning. Next, a trio of soft shell tacos arrived, warm and in several varieties. We loved the pulled pork with salsa verde, the line caught seared mahi mahi and the cilantro and garlic shrimp fillings. Each was garnished with a dab of whipped avocado sauce, dairy free lime and cucumber crema , and pico de gallo. With a squeeze of fresh lime, you can readily see why these are a very popular menu item. Other possible fillings include grass grain fed beef barbocoa, mescal lime chicken and special ground beef seasoned with paprika, cumin, turmeric and coriander, sustainably sourced ahi tuna and calamari. There are also organically sourced vegetables from local farms. We loved the caramelized cauliflower and tomato relish and will return to try the charred Brussels sprouts and mushrooms and summer vegetable hash. Chef Hughes enjoys showcasing his vegetables in interesting preparations. The quesadilla at Popojito are delicious, as well. We enjoyed ours stuffed with cheese, roasted shredded pork, fresh pineapple chunks and scallions. Fresh lime and cilantro leaves added flavor to this fine choice.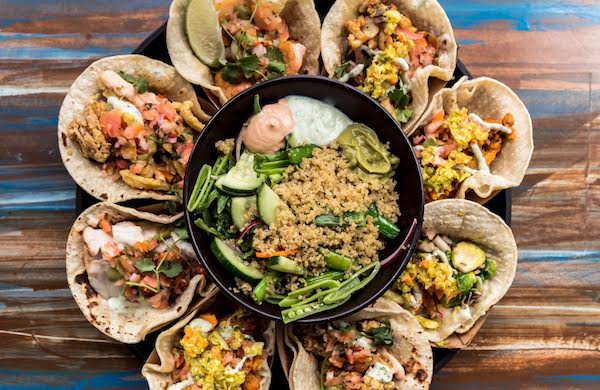 For the salad lover, try ensalada de la casa with farm fresh greens, tomato, seasonal garden vegetables and a med mex lime vinaigrette. You can top it with mahi mahi, chicken, chicken or beef. Another healthy choice is a med mex bowl of charred snap peas, quinoa, bitter greens, radish, cucumbers, and onion with crema and avocado sauce. These bowls can be topped with your protein of choice. Fajitas are offered with hominy, beans, chilies, onions and a choice of octopus, flank steak, shrimp or chicken. I'll try these on my next visit.
A weekend special of roasted garlic hanger steak was tender, beautifully seasoned and sprinkled with chimichurri sauce. With yucca fries on the side, it was a dish to return to soon. Yet to be sampled are homemade soups, fried calamari, spicy jumbo wings and loaded nachos.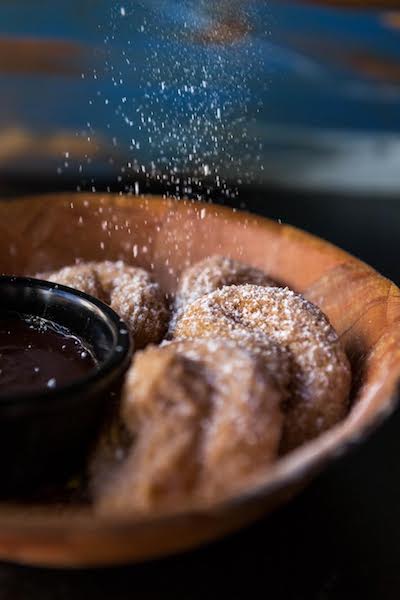 This truly community minded Popojito offers student specials of 2 tacos and a soft drink on school days as well as tacos, sangria, wine and beer on Mondays through Fridays from 2-5 for only 4 dollars each. For the little ones, cheese quesadillas, chicken tenders, brown rice and beans and sweet potato fries are offered.
I completed my tasting with a churro sundae. The churro, squiggly fritters, were prepared in gluten free style shaped like a cup. They were non oily and crisp and filled that rich and creamy Longford's ice cream and topped with warm chocolate sauce and a sprinkling of cinnamon. Yummy. Other dessert options are flourless bittersweet chocolate cake, blood orange macaroons and snickers fudge.
How nice to have a restaurant that offers options for all members of our community. Visit Popojito soon and enjoy a casual and friendly experience.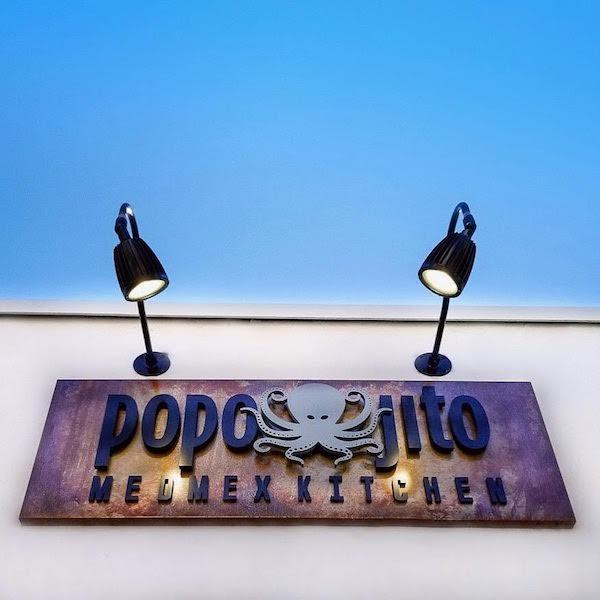 Popojito
MedMex Kitchen
46 Christie Place, Scarsdale
914-713-8964
Open for Lunch and Dinner
Marinated Hanger Steak with Chimichurri
Ingredients:
2 pounds cleaned hanger steak in 4 eight ounce portions
Marinade:
1 cup olive oil
1 Tbsp. black pepper
1 Tbsp. chopped rosemary
1 Tbsp. chopped cilantro
2 Tbsps. sherry vinegar
2 cloves minced garlic
1 minced jalapeno
Whisk marinade ingredients in a glass bowl. Toss meat in it and marinate for at least 2 hours.
Chimichurri:
1 cup chopped cilantro
1/2 cup chopped oregano
1 jalapeno seeded and minced
½ cup sliced scallion
4 cloves minced garlic
Zest of 1 lime
1 cup olive oil.
Mix all together and let it steep for at least 2 hours or overnight. You can also blend it all in a food processor.
Preheat oven to 450 degrees. Bring a heavy bottomed skillet to a high heat. Sear steak for 3 to 4 minutes per side. Roast in oven for 8 minutes or to desired degree of doneness. Let it rest for 10 minutes Slice thinly against the grain. Serve with chimichurri.