Family Fun, Food, DJ, Games to Rock Chase Park at PBA Community Day May 20
Monday, 14 May 2018 11:18
Last Updated: Monday, 14 May 2018 11:18
Published: Monday, 14 May 2018 11:18
Sarah Kazan
Hits: 3396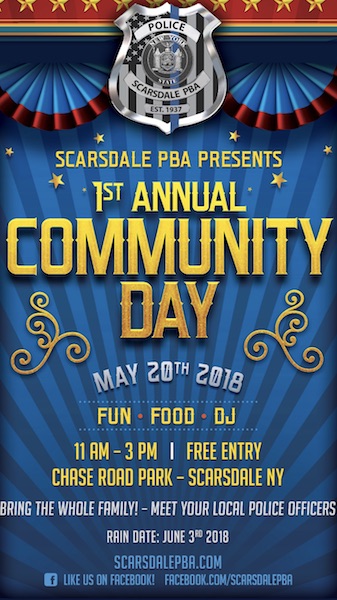 Scarsdale will be rocking Sunday, May 20, from 11 a.m. to 3 p.m., at Chase Park, as the community turns out for a fun, open-air Community Day sponsored by the Scarsdale Police Benevolent Association. This event, free to residents, business owners and workers in the Scarsdale community, promises food, music, games, entertainment and family fun. It will also be a casual, positive way for children and adults to get to know their local police.
The Scarsdale PBA represents the organized union of the village's uniformed police officers. They are the men and women who are present and visible in the village, around the schools and in Scarsdale's neighborhoods, serving the community every day.

According to Scarsdale PBA member Sergeant Ronnie Arefieg, one of the event organizers: "This Community Day was conceived as a fun, casual event in appreciation for the tremendous support that our police officers receive from the community as a whole. We want to demonstrate that we are all working together, and we want to send a message that we're grateful and thankful for the community's support. This kind of support is so important because it really makes for a healthy environment in which to live, work and interact. It makes our jobs much easier."

Part of the service ethos of the Scarsdale Police Department is to ensure public safety for residents and their families, business owners and workers in the community with a level of professionalism, compassion and care they would want extended to members of their own families. "A fun, casual outdoor event, centrally located in Chase Park which is like the heart of the village, seemed like the perfect way for all of us to come together in a positive way and for the Scarsdale PBA to say 'thank you' to this great community that we serve," Arefieg said.
Uniformed and off-duty Scarsdale police, all of whom belong to the Scarsdale PBA, will be present at the Community Day to socialize and mingle. "We want people, and especially kids, to know that we are there to protect them and help them. We want to be mentors to the kids and be a resource for them. All the kids in the community should know they can reach out and talk to a police officer whenever necessary, whenever they have a concern or just need to talk.
Other members of the community are getting involved in the Community Day too. One is Tony Domini, the owner of Lange's Deli in the village for the last 19 years. In support of the event, Lange's is generously donating food, such as hamburgers and hot dogs, for the public to eat.
"This should be a really nice day for everyone to come out and have fun together," said Domini. "It's my pleasure to be part of it."
"Lange's has long been an active institution in the village., and at least an entire generation of kids has grown up with Lange's," Arefieg said. "The Scarsdale PBA is delighted to work with Lange's for this event. Tony is a great guy, and his involvement shows how much he cares about the village."
By including music, games, food and lots of family fun, Community Day promises to be a fantastic opportunity to get kids away from digital technology and out of the house for a day of old-fashioned, hands-on fun.
"The Scarsdale PBA really looks forward to a big turnout. This will be a day of appreciation, kindness and support, all wrapped into one and directed toward this great community that we serve," Arefieg said. "It is our honor and privilege for the PBA to host this event. It is our small way of giving back, and it truly comes from our hearts."
In case of inclement weather, the Scarsdale PBA Community Day will be rescheduled to a rain date of June 3.