Moscato Ristorante – A Dining Gem in Scarsdale
Sunday, 06 October 2019 20:46
Last Updated: Monday, 07 October 2019 17:53
Published: Sunday, 06 October 2019 20:46
Judie Dweck
Hits: 3296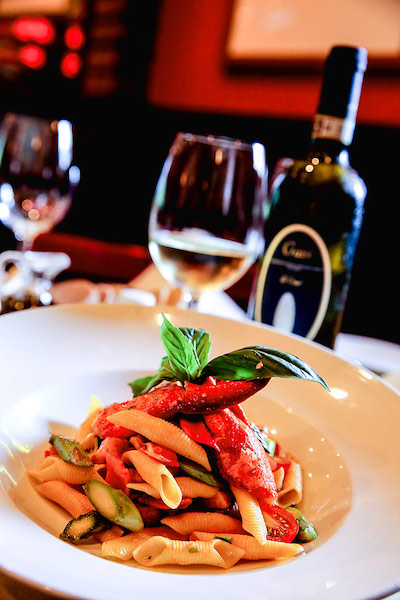 Italian restaurants seem to be the most popular genre in our lower Westchester area. With so many choices, Moscato in Scarsdale is on the top of my list of favorites for traditional fine quality Italian and Mediterranean dishes. Mario Fava heads a restaurant dynasty consisting of Lusardi's and Chat 19 in Larchmont and Chat American Grill and Moscato in Scarsdale. He visits each location daily to see that the kitchens and dining rooms are running at the highest level. Fava said," It is very beneficial to learn all aspects of the restaurant business." He came up through the ranks as dishwasher, busboy, and now, as owner of four successful restaurants." I am a glorified manager. It is of utmost importance to have respect for the freshest of ingredients, as well as for your staff and your guests." When asked how he felt about the many Italian and Mediterranean restaurants opening in the area he said, "Competition makes you better and keeps you on your toes. We are now seeing a new generation of the families that were here in our early days, which is very gratifying. Many members of our staff have been here since our opening and we are like family. I love meeting people and watching them enjoy their dining experience. Fava's dad instilled Mario's excellent work ethic and Mario would have loved to have his dad enjoy seeing the success he has achieved. When asked how he manages four restaurants, he said, "It's one big party. He clearly enjoys his work. For those who prefer to dine at home, Moscato delivers meals through Uber Eats and GrubHub, or you can pick up a fine meal when you get off the train.


The charming Moscato is conveniently located close to the train station as offers a parking lot as well as metered parking. Seating about 80 guests inside and 40 outside where tables are set up in the front and side of the restaurant. Colorful flower boxes are well cared for and separate the diners from the street. I describe Moscato as both sophisticated yet very comfortable… upscale without being pretentious. As you enter, you are greeted warmly by one of the managers. A small bar is near the entrance and you will be escorted to you white linen clad table. Dark wood, beamed ceilings, classic chandeliers, beautiful fresh flower arrangements, mustard colored walls and delightful black and white restaurant related artwork grace the walls.

To set the mood, the menu items are listed in Italian, but described in English. All of your senses are awakened as you savor the carefully prepared dishes at Moscato. Wonderful crusty bread, baked in the kitchen here each morning, will arrive at your table as you check out the menu of traditional exquisitely prepared dishes. The antipasti here are varied and it was difficult to make a choice. We chose polpo alla griglia. The tender-as-could-be octopus was grilled and presented with sliced fingerling potatoes, sliced Kalamata olives and oven roasted tomatoes. Enhanced with a touch of lemon and garlic oil, it was outstanding. Next, a covered cast iron pot arrived. The top was removed and an aroma of zuppa di cozze filled the air. These pristine Edward Island Mussels were swimming in an excellent spicy tomato broth. The crushed tomatoes added a zesty flavor to the just opened mussels, just spicy enough to tease the palate. Future appetizers may include salsiccia tartufata, grilled sausage over arugula and endive, eggplant rollatini, fantasia di mare, a mixed seafood salad or crisp artichokes in a mildly spiced tomato sauce. On previous visits I have especially enjoyed fegatini di pollo al balsamico. Here, the chicken livers are sautéed with balsamic vinegar, onions and mushrooms and served in a parmagiana basket with field greens. I remember being a meal in itself. If you enjoy starting your meal with a salad, there are classic and innovative choices. We loved the blood orange salad with baby arugula, strips of fennel, cubes of fresh red beets all tossed with toasted almonds in a wonderful dressing flavored with ginger and honey. A watermelon and arugula salad was a good choice, as well.

Among the dozen pasta selections, the gnocchi alla trentina could not be matched. The delicate handmade potato morsels were tossed with a ragu of braised
shredded shortrib. The result was rich and delicious. Homemade fettuccine al funghi with mixed mushrooms, parsley, garlic and oil, agnolotti alla Moscato filled with cheese in a pink sauce with crisp bacon on top and paglia e fieno, the green and white housemade pasta await my tasting. Note that, upon request, gluten free and whole wheat pastas are offered.

Entrees include preparations of chicken, beef, veal, calves liver, pork and fish. During my recent visit, I sampled branzino alle mandorle. A totally boneless filet of Mediterranean sea bass arrived coated with sliced almonds toasted to a golden hue. This elegant entrée was set atop sautéed green beans that tasted as though they were just plucked from the garden. Lemony sauce and a wedge of lemon completed this light and elegant dish. The simplicity of this dish makes the diner aware of the freshness and quality of the ingredients. At Moscato, there is no reason to cover up the dishes with overpowering sauces. Here, the gift of dinner is to marvel at the freshness of each ingredient without the use of heavy sauces to mask the ingredients. When commenting on a restaurant, ordering a veal scallop dish is a good test of the restaurant. One forkful of the vitello martini and you know you are dining at a quality restaurant. Here, the delicate veal scallopine is encrusted with parmagiano and simply served with a lemon and white wine sauce. Imagine eating veal with only a fork. No knife was need for this tasty dish. Fresh green beans, cooked until just crisp shared the plate. In the past, I have love the salmone al frutti di Cremona where the fish is brushed with Italian mustard fruits. Other nice entrees are flatiron steak, pollo scarpariello, grilled pork chop with hot and sweet peppers, onions and mushrooms and chicken breast saltimbocca. The wine list here is 95 % Italian.

If you have left room for dessert, they are all housemade. We loved the spolverato di choccolata. This individual chocolate mousse cake with a touch of coffee flavor was enrobed in a dark chocolate glaze and sat beside a scoop of housemade ice cream. A sprig of mint finished this lovely dessert. It was a dessert that a chocolate lovers dreams are made of. The traditional ricotta cheesecake with the chocolate drizzle on top was a nice ending, as well. Other housemade endings of tirami su, crema catalina, apple tart and baked Alaska are waiting to be sampled. If you can't decide a tasting dessert plate of three is offered. Just request "un momento dolce" as the conclusion of a superb meal at the warm and friendly Moscato, right here in Scarsdale.

How fortunate we are to have Moscato, a gem of the dining spot in our community, where fine dining and professional caring service combine to make it my "go to" spot for an elegant yet comfortable dining experience at lunch or dinner.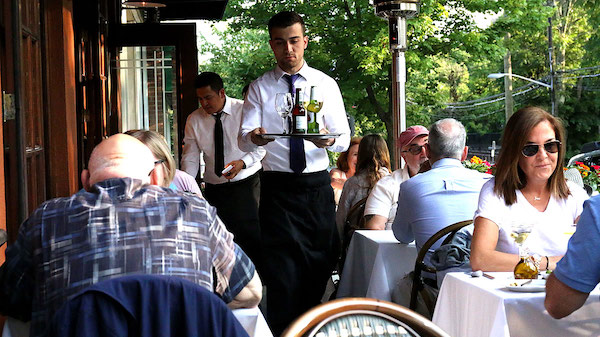 Moscato Ristorante
874 Scarsdale Avenue
Scarsdale, NY
914 723 5700