Honor Scarsdale Volunteers Who Have Made a Difference in Our Community
Thursday, 25 March 2021 08:25
Last Updated: Thursday, 15 April 2021 08:41
Published: Thursday, 25 March 2021 08:25
Joanne Wallenstein
Hits: 1060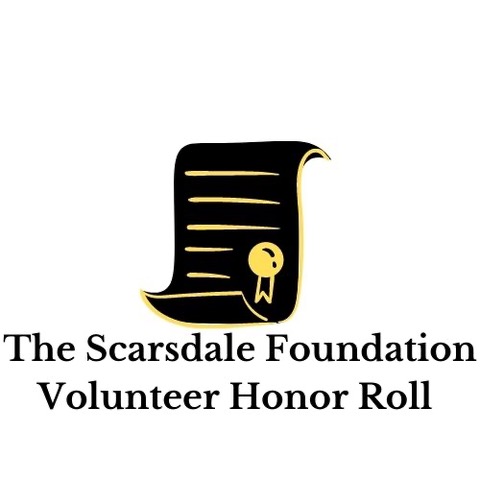 (Updated April 15, 2020)) This information was submitted by the Scarsdale Foundation)
The Scarsdale Foundation's Volunteer Honor Roll is on a roll! The 2021 fundraiser is underway for need based college scholarships for Scarsdale students. The volunteer honor roll celebrates those in our community who have taken the time to help others. So far over 500 honorees have been recognized and over $14,000 has been raised. Scarsdale Foundation hopes to reach 2021 honorees by June 20th. Honorees range from students to committee members to front line workers.
Anyone seeking to thank a volunteer from the community or support the 2021 Volunteer Honor Roll Campaign can click here:

Scarsdale is a community where we know that we can rely on each other, especially when the going gets tough. This was truer than ever this past year, as so many in our community have given their time and talent to meet life-changing challenges posed by the pandemic.Thank everyone who stepped in to help Scarsdale shine during a dark time, helping us to move forward.
As always, the money raised by the Honor Roll will help to provide crucial support to Scarsdale families facing financial hardship, making it possible to manage college tuition. We're sure it won't surprise anyone to learn that there is even more scholarship need than usual this year, as a result of Covid-related difficulties suffered by many.
We encourage you to name to the Honor Roll the many friends, colleagues and neighbors who have made a positive difference in our community during 2020 -- any community member who helped make our lives better in big ways or small is eligible.
Examples of ways people might have helped:
-Collecting food

-Assisting with vaccine access
-Connecting folks with necessary mental health support
-Delivering books or birthday cakes to homebound seniors
These generous donations of time and caring fueled positivity in our daily lives as we all contended with the pandemic.
The 2021 Scarsdale Foundation Volunteer Honor Roll is an easy way to keep the good vibe going. Your shout-outs and contributions of just $25 per honoree will help the Foundation provide scholarships to the growing number of Scarsdale students who require financial assistance in order to pay college bills. In 2020, the Foundation awarded $138,000 in scholarships to 32 talented and determined students. This year, the Foundation is setting an ambitious goal to raise $250,000 so that we can meet the growing post-pandemic need. We hope you will choose to participate in this simple yet profound way to show your appreciation for one another, and to help ensure that all of our Scarsdale students have the opportunity to realize their potential.
It's easy to make someone's day and help others, all for just $25/Honoree:
Click here to name your honorees:

Anyone may be placed on the Honor Roll!
Repeat honorees will be informed each time they are named!

Scarsdale Foundation Honor Roll members will be recognized:

-With a personalized e-certificate
-On the Scarsdale Foundation Website Honor Roll Board by July 1
-In local papers and local online media