Seniors Enjoy A Final Tradition, Outside
Thursday, 24 June 2021 11:23
Last Updated: Sunday, 27 June 2021 16:12
Published: Thursday, 24 June 2021 11:23
Jamie Robelen
Hits: 1225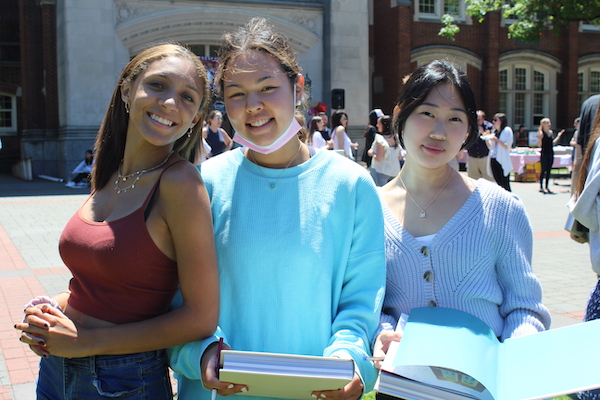 The school year is ending on a high note for the SHS Class of 2021. On Wednesday, June 23, Scarsdale High School seniors came back to SHS one more time before graduation for Senior Day. Seniors attended a college panel made up of SHS alums, to prepare them for their freshman year of college, practiced for the graduation ceremony and met with their deans one final time. Finally, they congregated outside of the Brewster entrance of the school, where they received their yearbooks, their caps and gowns, and enjoyed lunch provided by senior parents.
On what was possibly the most beautiful day of the school year, the entire class of 2021 got to sign each other's yearbooks and connect with their peers, many unmasked. They were also invited to reminisce on their time throughout the Scarsdale schools, with photo displays from each elementary school and the middle school up for all to see.
When asked what the biggest takeaway of the year was, SHS senior Emily Koevary offered this piece of wisdom: "you shouldn't waste time being someone you're not." She went on to explain that over the past few months, she's seen so many people start to express themselves in ways that they never had before. As the seniors didn't get to participate in many typical Scarsdale traditions, they are especially grateful to be able to have this final one. When asked how she felt about graduating, senior Simran Ruta said that "it's bittersweet, but I'm so happy that we get to have a real, full capacity graduation without masks. It's like we came full circle." Senior Dylan Hughson agreed, adding that "it's pretty great, after this entire year, that we finally get one tradition, and it's nice for them to give us a new tradition of decorating our caps." Check out the gallery for pictures from the event.