Purim Celebrations
Wednesday, 09 March 2011 11:02
Last Updated: Wednesday, 09 March 2011 11:15
Published: Wednesday, 09 March 2011 11:02
Hits: 3905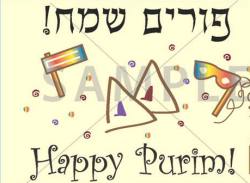 Three local temples will host Purim celebrations on the weekend of March 19th and the public is invited to attend: Purim Double Header at Shaarei Tikvah: On the weekend of March 19 and 20 Shaarei Tikvah at 46 Fox Meadow Road in Scarsdale will be packed with fun for adults and children.
On Saturday, March 19 the community is invited to the Adult Purim Panoply, a very adult musical adaptation of the Purim story with a live band,original lyrics and a dose of irreverent humor, directed by Bill Magaliff, a member of the community. A sample song can be heard at www.shaareitikvah.org.
Admission is $15 that includes the show, live music, an "after-party"with refreshments. The show begins at about 9:30 pm following the traditional Megillah reading at 8:00.
The Megillah (Scroll of Esther) reading celebrates the Jewish redemption from the death sentence given by the evil Haman in ancient Persia and it is tradition to shout and use a gragger (noisemaker) to drown out the name of Haman every time it is read in the text.Revelers dress in costumes if they wish, and celebrate with food and drink.
On Sunday, March 20, at 9:45 am there will be a Family Megillah especially reaching out to children, a reading which includes a costume parade and the synagogue's long-standing and hilarious Silly Symphony, a participatory instrumental ensemble. Young children are invited to a Tikvah Tots craft and story time starting at 10:15. Everyone will join together at 11:00 for a festive brunch and professional clown show. All events on Sunday are free and open to the community.
"Having Purim on a weekend affords us the opportunity to provide an array of programming for all ages," said Rabbi Dan Schweber. "Whether young or not-so-young, we hope everyone finds something that speaks to them so they can join in the mitzvah or obligation of celebrating Purim."
For information or to reserve your place (not required, but appreciated), call 914-472-2013 or visit http://www.shaareitikvah.org .
Shaaarei Tikvah at 46 Fox Meadow Road, is located just north of Scarsdale village. It offers the intimacy of a small synagogue, with a dynamic religious school and religious, educational and cultural activities for all ages. Affiliated with the Conservative movement Shaarei Tikvah actively welcomes Jews from all backgrounds, ages and levels of observance, including those with non-Jewish partners.
Purim Synaplex at Congregation Kol Ami:
Congregation Kol Ami invites you to celebrate the fantastic evening of Purim on Saturday night March 19th at 5 pm. Come hear the Megillah read and brought to life by Kol Ami's Adult Drama Club of an inspired musical spiel entitled "Grease – The Megillah".
Schedule:
5:00 – 6:30 pm Oz, "The Mentalist"
5:00 – 6:30 pm Carnival: Games, face painting, crafts, and activities for all
Live band
Purim BBQ: Hot Dogs, Hamburgers/Veggie Burgers, Coleslaw, Macaroni Salad, Potato Salad and beverages
6:30ish Purim Service and Megillah Reading and Adult Drama Club Spiel of "Megillah -Grease"
8:00 pm Israeli Dancing with Shmulik
Hamantashen and Oz Continues…
Purim BBQ – Adults $15, Children 12 and under - $10
Synaplex™ events are open to both temple members and non-members. Reservations are necessary for dinner. For more information or to make a dinner reservation, please call Ilene Miller at 949-4717 ext. 111 at Congregation Kol Ami, Soundview Avenue, White Plains, (914) 949-4717
Purim with a Purpose at Westchester Reform Temple
Westchester Reform Temple (WRT) welcomes the community to join in its "Purim with a Purpose" festival on Sunday, March 20th. The celebration begins at 9:45 AM with a family-friendly service and shpiel in the Sanctuary and will be followed by the annual Purim carnival.
Carnival games and lunch will take place until 1:30 PM. Tickets for children ages 3 and over are $15 at the door. Parents and children under 3 are free. Pizza and drinks, donated by Amore Pizza of Scarsdale, will be available for purchase as will bake items. All proceeds from the event will support several charities including the Lone Soldier program in Israel, the Food Bank of Westchester, the Boys and Girls Club of Mount Vernon and My Sister's Place in White Plains.
Community members attending the service are encouraged to bring boxes of pasta to use as groggers. Following the service, the pasta will be collected and donated to local food banks.
"Purim with a Purpose" is for everyone and accessible to all. If you have any questions, please contact WRTInclusion@gmail.com. Westchester Reform Temple is located at 255 Mamaroneck Road in Scarsdale, N.Y. For directions or information, call 914-723-7727, email to office@wrtemple.org, or visit the web at www.wrtemple.org