Rabbi Jacobs Tapped to Lead the Union for Reform Judaism
Tuesday, 22 March 2011 15:56
Last Updated: Tuesday, 22 March 2011 16:42
Published: Tuesday, 22 March 2011 15:56
Hits: 3949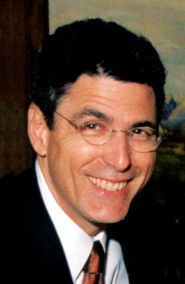 The Union for Reform Judaism (URJ) announced today the nomination of Rabbi Richard Jacobs for President of the organization, replacing Rabbi Eric H. Yoffie, who will retire in 2012. Rabbi Jacobs, Rabbi at Westchester Reform Temple (WRT) for almost 20 years, and a resident of the Scarsdale community, will be only the fourth president of the URJ in the last 68 years.
"What an exceptional honor and enormous responsibility that has been bestowed upon me," said Rabbi Jacobs. "Taking on this demanding new position means leaving a place I love and the remarkable sacred community we are still creating. But I became a rabbi almost thirty years ago to serve God and the Jewish people wherever I could do the most good. At this dramatic moment in the life of Reform Judaism, I feel deeply that I have a responsibility to serve our wider Jewish community."
"With this profound honor, of course, comes a degree of sadness for our community," said Lisa Messinger, WRT President. "For more than 19 years, Rabbi Jacobs has led our congregation. Together, we have celebrated holidays and life cycle events, taken action for justice, joined together to address human needs around the globe, and, of course, prayed, studied, celebrated and mourned. We are proud that his leadership will be the guiding vision for the Reform Movement in the 21st century."
WRT Executive Director, Yoel Magid, stated simply, "Rabbi Jacobs always challenges himself as a man and as a rabbi, and inspires others through his example. Now 900 congregations will be inspired, as well as the world."
The Union for Reform Judaism was founded in 1873 by Rabbi Isaac Mayer Wise (as the Union of American Hebrew Congregations). It has grown from an initial membership of 34 congregations in 28 cities to more than 900 congregations in the United States, Canada, the Bahamas, Puerto Rico and the Virgin Islands. It is the largest Jewish movement in North America and represents an estimated 1.5 million Jews.
Rabbi Richard Jacobs has been Rabbi at Westchester Reform Temple in Scarsdale, New York, since 1991. From the moment he arrived, he played a visionary role in guiding the educational mission of the community, creating meaningful ways to worship and heal, and most recently leading the lay and administrative team in building a new "green" sanctuary, as well as transforming the original sanctuary into new classrooms for the Religious School and adult learners.
Rabbi Jacobs was ordained in 1982 by Hebrew Union College-Jewish Institute of Religion (HUC-JIR) in New York, and he served as the Rabbi of the Brooklyn Heights Synagogue from 1982 until 1991. In the early 1990s, Rabbi Jacobs was part of the founding group of Synagogue 2000, an organization committed to revitalizing synagogues throughout North America. Working with rabbis across the country, he continues to address synagogue transformation as a board member and program fellow of Synagogue 3000.
Believing that change cannot stop at the local or national level, Rabbi Jacobs sits on the Board of American Jewish World Service, an organization providing nonsectarian humanitarian aid and emergency relief to underprivileged people worldwide. Since a 2005 trip to Chad, he has worked tirelessly to bring an end to genocide in Darfur. Rabbi Jacobs was a member of the international board of the New Israel Fund from 1992 to 2001, and now serves as the Chair of the Pluralism Grants Committee. For more than fifteen years, Rabbi Jacobs has studied at the Shalom Hartman Institute in Jerusalem and in 2007 became a senior rabbinic fellow. Rabbi Jacobs served on the Board and Executive Committee of the Central Conference of American Rabbis, as well as boards of the Union for Reform Judaism, New York's UJA-Federation, and ARZA/ World Union. Formerly a dancer and choreographer with the Avodah Dance Ensemble, Rabbi Jacobs has led workshops on movement and prayer at HUC-JIR, Union Theological Seminary and in many synagogues and educational settings. Rabbi Jacobs lives in Scarsdale with his wife, Susan K. Freedman, and their three children.