The Coddling of the American Mind: How Good Intentions and Bad Ideas Are Setting Up a Generation for Failure
Tuesday, 23 April 2019 14:59
Last Updated: Tuesday, 23 April 2019 17:05
Published: Tuesday, 23 April 2019 14:59
Joanne Wallenstein
Hits: 2520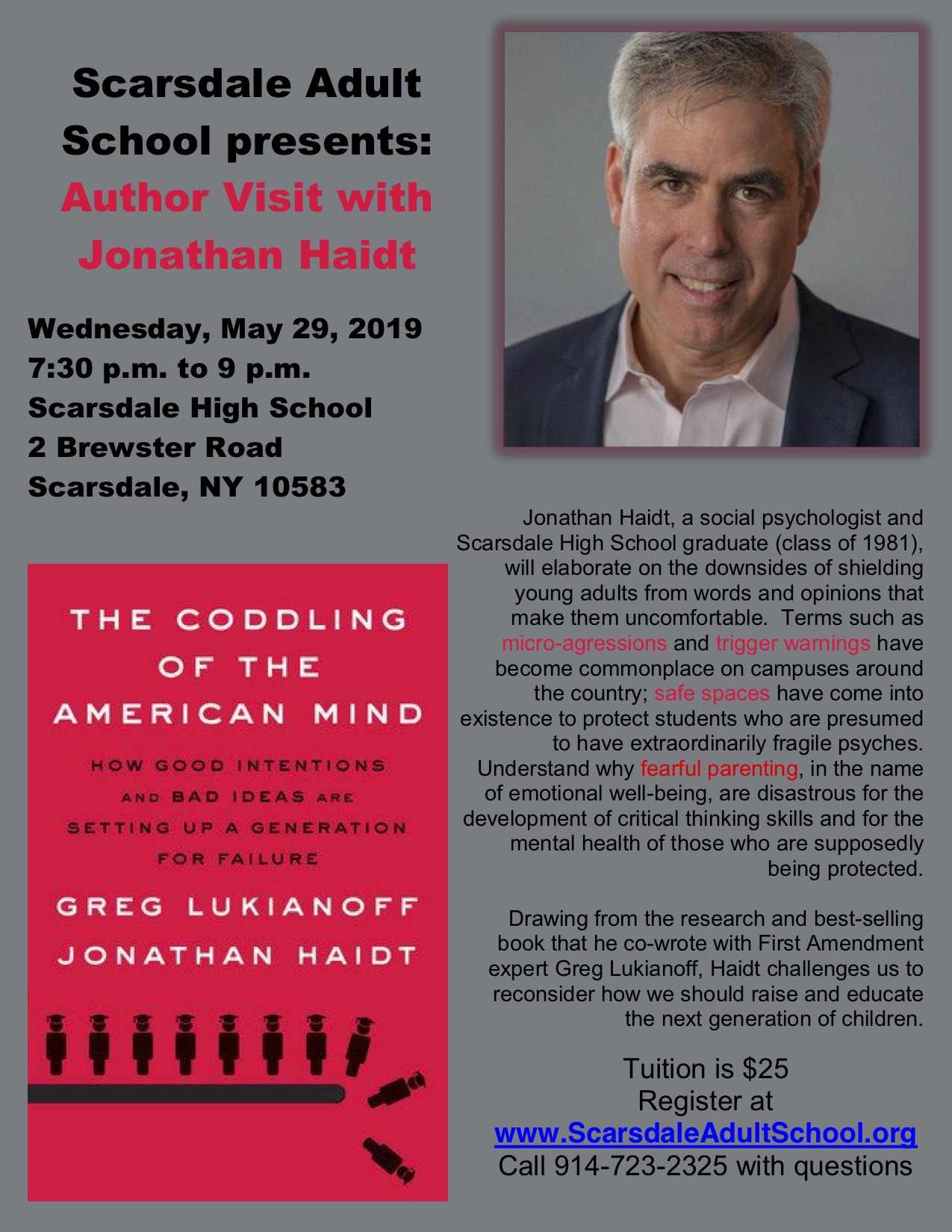 "Rising intolerance for opposing viewpoints is a challenge not only on college campuses but also in our national political discourse. The future of our democracy requires us to understand what's happening and why—so that we can find solutions and take action. Reading The Coddling of the American Mind is a great place to start." —Michael Bloomberg, 108th Mayor of New York City
Jonathan Haidt, co-author of "The Coddling of the American Mind: How Good Intentions and Bad Ideas Are Setting Up a Generation for Failure," will speak in Scarsdale on May 29 at an event sponsored by The Scarsdale Adult School. Haidt is a 1981 graduate of Scarsdale High School and will challenge parents to reconsider how they should raise and educate their children.
In his best-selling book, Haidt argues that today's generation needs to learn to tolerate all viewpoints ... and that universities should allow an active exchange of ideas, even when some of these ideas are uncomfortable to hear. He says, "The consequences of a generation unable or disinclined to engage with ideas that make them uncomfortable are dire for society, and open the door – accessible from both the left and the right – to various forms of authoritarianism."
According to Haidt, "Something has been going wrong on many college campuses in the last few years. Speakers are shouted down. Students and professors say they are walking on eggshells and are afraid to speak honestly. Rates of anxiety, depression, and suicide are rising. How did this happen?"
Jonathan Haidt (pronounced "height") is a social psychologist at New York University's Stern School of Business. He received his Ph.D. from the University of Pennsylvania in 1992, and taught for 16 years in the department of psychology at the University of Virginia.

Haidt's research examines the intuitive foundations of morality, and how morality varies across cultures––including the cultures of progressive, conservatives, and libertarians. His goal is to help people understand each other, live and work near each other, and even learn from each other despite their moral differences. Haidt has co-founded a variety of organizations and collaborations that apply moral and social psychology toward that end, including HeterodoxAcademy.org, OpenMindPlatform.org, and CivilPolitics.org.

See Haidt in person at Scarsdale High School at 7:30 pm on Wendesday May 29. Tuition is $25. Register at www.ScarsdaleAdultSchool.org.