NYS Regent Judith Johnson Passes Away
Wednesday, 06 November 2019 20:59
Last Updated: Thursday, 07 November 2019 11:26
Published: Wednesday, 06 November 2019 20:59
Joanne Wallenstein
Hits: 1987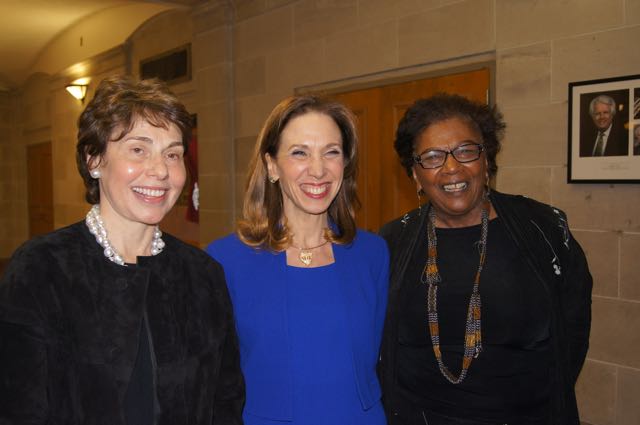 Merryl Tisch, Amy Paulin and Judith Johnson at Scarsdale High School in April 2015This week we learned the NYS Regent Judith Johnson passed away at the age of 80. She died at Memorial Sloan Kettering Cancer Center due to complications from surgery. In 2015 she was appointed to serve a five-year term on the Board of Regents and was a champion for education of all children, especially the underserved.
She began her career as a teacher in the NYC schools and then worked as a school administrator in Westchester and Rockland. During the Clinton presidency she worked in the Department of Education and later became the first African American and the first woman to serve as Superintendent of the Peekskill Schools. As as Regent, she represented Dutchess, Orange, Putnam, Rockland and Westchester counties.She paid several visits to Scarsdale, most recently in February 2019 when she participated in a panel discussion organized by the PT Council. Here are her comments:
About Scarsdale she said, "You are the model of what all schools should look like…. We shouldn't take dollars from you to help schools in need." Providing some information on the work of the regents she discussed funding for the arts, saying, "Every child in NYS should have the opportunity to learn music or pick up a paint brush." She also said, "We are changing the graduation standards and what it means to have a high school diploma. We are rethinking the five regents exam to earn a high school diploma…. We are working with the Yale Center for Emotional Intelligence to bring joy back to the classroom."
State Assemblywoman Amy Paulin issued this statement on the death of NYS Regent Judith Johnson.
"Judith Johnson devoted her entirely life to the notion that every child deserves a quality education. She was an award-winning teacher, a supportive mentor, a passionate advocate, a thoughtful administrator, a visionary Superintendent and finally, a knowledgeable and incredibly candid member of the Board of Regents. She was trusted and respected by parents, teachers, administrators, and legislators alike, and her contributions toward improving public education for the students of Westchester County and New York State will last a lifetime."