Broadway Actress Weds Naval Officer
Monday, 11 November 2019 14:32
Last Updated: Monday, 11 November 2019 16:46
Published: Monday, 11 November 2019 14:32
Joanne Wallenstein
Hits: 3599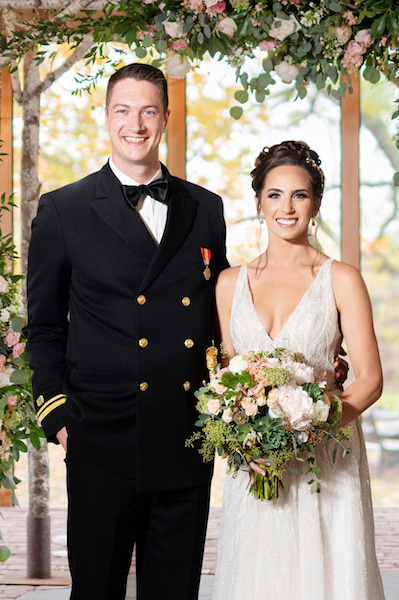 Dani Spieler, the daughter of Jill and Gary Spieler of Scarsdale, and Cory Pihl, son of Marilee Fraizer Pihl and Gary Pihl of Acton, MA, were officially married at the New York City Clerk's Office on July 23rd, 2019 in front of their parents. Recently, the couple celebrated with family and friends on October 20th, at Red Maple Vineyard in West Park, NY with a ceremony led by Curtis Holbrook, a friend of the couple.
The bride, Scarsdale High School Class of 2003, and groom met through the online dating app, OKCupid. Since graduating with honors from The University of Michigan with a BFA in Musical Theatre in 2007, Dani has been living in New York City and performing on Broadway in such shows as CATS, CHICAGO, A BRONX TALE and LEGALLY BLONDE. The groom graduated from Acton-Boxborough Regional High School in 2003, and then from Penn State University with a BS in Criminal Justice in 2008. After college, he worked as a Special Investigator at the New York City Department of Investigation for 8 years. He recently was admitted to the New York State Bar, after getting his JD from New York Law School in 2018. Cory began work as an attorney as a Lieutenant Junior Grade in the US Navy Judge Advocate General Corps immediately following the wedding, and is stationed at Joint Base Pearl Harbor-Hickam.
The bride's parents, who have lived in Scarsdale for 43 years, are both retired. The bride's mother, the 2019 recipient of the Scarsdale Bowl, is a former president of the Scarsdale School Board, and had a career in graphic design for many years. Her father spent 45 years working in mainframe computer software technology and sales. The father of the groom has been the guitarist for the band Boston since 1985. His mother worked as a teacher in the Community Education Extended Day Program before retiring in 2015.
The couple plans to honeymoon in Australia and New Zealand. They will reside in both Honolulu, HI and New York, NY.