Sarah Novatt Weds Mark Schulz
Monday, 18 November 2019 16:19
Last Updated: Monday, 18 November 2019 18:17
Published: Monday, 18 November 2019 16:19
Joanne Wallenstein
Hits: 2995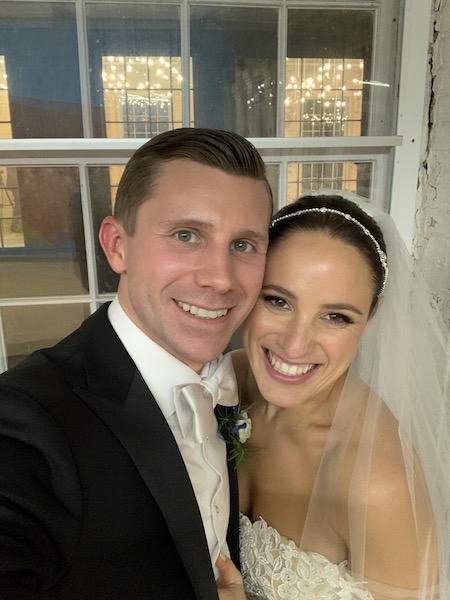 Sarah Novatt and Mark Schulz were married on Saturday, November 9th at the contemporary art museum, MASS MoCA, in North Adams, MA. Mara Natkins, an aunt of the bride, will officiated in a Jewish ceremony. Ms. Novatt, 32, is the Communications Director of North America for KAYAK. Previously, she spent over seven years at the NYC based PR firm, Sunshine Sachs. She graduated Scarsdale High School in 2005 and received a bachelor's degree from the University of Rochester in psychology. The bride is the daughter of Priscilla Natkins and Seth Novatt of Sleepy Hollow, NY and Crested Butte, CO. Ms. Novatt's father currently works at Salchow and Sons, Bowmakers, where he focuses on the restoration of rare violin, viola and cello bows. Previously, he worked on Wall Street for over 30 years as an Executive VP at Oppenheimer and Company and Managing Director at Alliance Bernstein. The bride's mother runs Reservoir Communications, a marketing consultancy working with non-profit organizations and corporate CSR programs. Prior to that, for nearly two decades she was an Executive Vice President at the Ad Council, where she oversaw campaign development, research and corporate partnerships.
Mr. Schulz, 31, is CFO Team Lead at Geller & Company where he focuses on the venture capital business of a global technology and media firm. Previously, the groom was Vice President of Finance at Fortress Equity Partners and Manager of Corporate Finance at Moody's. He received a Bachelor of Business Administration in Finance from the University of Wisconsin School of Business in 2010 and earned a Post Graduate Certificate in International Business from St. Mary's University while working abroad in London in 2011. Mr. Schulz is the son of Barb and Ron Schulz of Long Valley, NJ. The groom's father is the Senior Vice President and Treasurer for the professional baseball team Somerset Patriots in Bridgewater, NJ. His mother is Vice President for Douglas Kelly Associates, a commercial mortgage banking firm located in Cedar Knolls, NJ.
Sarah and Mark, met on Bumble in 2017 and had their first date at L& W Oyster Bar in NYC. Sarah may have been only half joking on that first date when she suggested tagging along on Mark's upcoming trip to Colombia. Ten weeks later they tested their new relationship with a week long trip to Cartagena and Medellin. Sarah and Mark moved in together in August 2018, and Mark officially became a dog dad to Theo, Sarah's rescue Schnauzer-Terrier. Mark proposed at Sarah's family home in Crested Butte in March 2019. After a 3:30am wake up and a near-miss text message to ruin the surprise, he managed to convince her to take a snowshoe hike before all their friends arrived. They trekked up to the top of a snow covered field (with their dog!) and he completely caught her off guard and proposed.