Greenwald Honored For Contributions to Civic Life by Eleanor's Legacy
Wednesday, 27 November 2019 09:28
Last Updated: Wednesday, 27 November 2019 13:04
Published: Wednesday, 27 November 2019 09:28
Joanne Wallenstein
Hits: 2284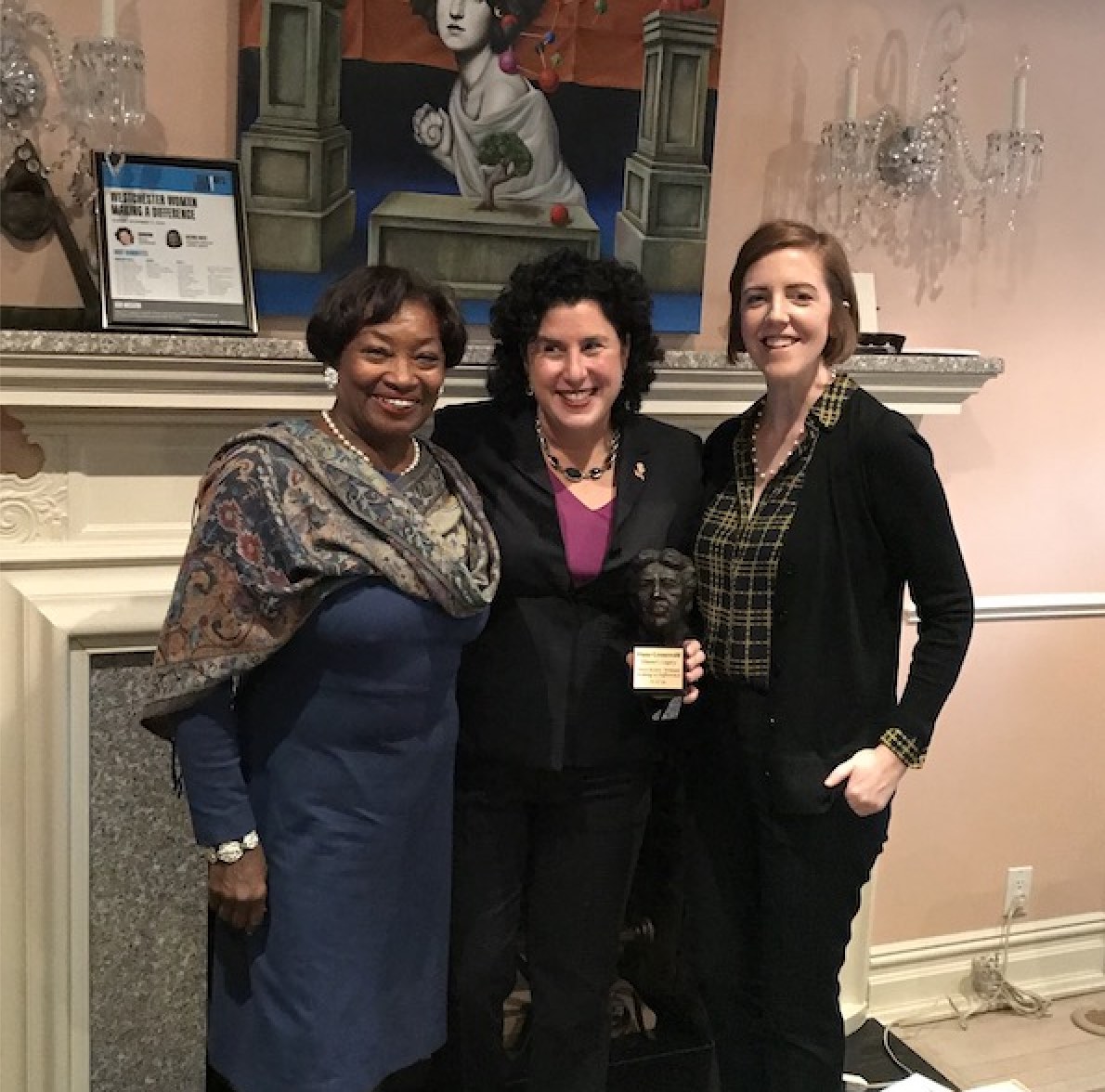 Andrea Stewart-Cousins, Diane Greenwald and Brette McSweeneyWestchester Democrats have been known to show up to march, volunteer, vote, and run, and on Sunday, November 17, over 100 gathered in Scarsdale to celebrate one Westchester woman who has made a difference, Diane Greenwald of Scarsdale. Presented by Eleanor's Legacy, the pro-choice Democratic women's organization, the Westchester Women Making a Difference reception honored Diane Greenwald for her contributions to Scarsdale's vibrant civic life.
Special guest speakers included Attorney General Tish James, Congressman Eliot Engel and Senate Majority Leader Andrea Stewart-Cousins. Assemblywoman Amy Paulin hosted the reception at her home. Also in attendance were State Senators Alessandra Biaggi and Shelley Mayer, Assemblyman David Buchwald, and Westchester County District Attorney Tony Scarpino.
"Around the state and around the country for the past three years, women have been turning out in historic numbers to volunteer, march, vote, and run for office," said Eleanor's Legacy President Brette McSweeney. "But Westchester has always been defined by passionate civic engagement. Westchester is home to the first chapter of the League of Women Voters and the first woman to lead the New York State Senate, Andrea Stewart-Cousins. Diane Greenwald's contributions to Scarsdale's schools, library, and vibrant civic life continue this legacy of active participation and leadership of Westchester women. We are thrilled Diane accepted our invitation to honor her and we thank her."
Past recipients of the Westchester Women Making a Difference Award include Geri Shapiro, longtime aide to then-Senator Hillary Clinton and Senator Kirsten Gillibrand, and Cheryl Brannan, founder of Sister to Sister International, Inc. and Brannan Solutions Group, a consulting firm specializing in eliminating health disparities in communities of color.

Founded in 2001 by Judith Hope, the first woman to chair the New York State Democratic Committee and the first woman elected a town supervisor on Long Island, Eleanor's Legacy recruits, trains, and fund pro-choice Democratic women for state and local office. In the 2019 local election cycle Eleanor's Legacy endorsed and provided campaign grants to 191 women candidates in 29 counties across the state. Of the 25 candidates Eleanor's Legacy endorsed in Westchester, 21 won.
In her acceptance speech, Greenwald expressed her gratitude for being acknowledged for supporting women who achieve their goals for political leadership, and explained, "12 years ago, I met Kirsten Gillibrand and have been her supporter ever since. In 2009 she became my senator, a woman who is about my age, with two growing sons, who often talked about issues that mattered to me. It made me consider what it means to be represented. I am lucky to be represented by two more women in this district – my Assemblywoman Amy Paulin and my State Senator Andrea Stewart-Cousins, Senate Majority Leader, who all lead with compassion and integrity and pass legislation on topics that impact families, children, safety and equality. They are known as collaborative, cooperative, tenacious, brave and smart. In other words," Greenwald joked, "they lead like women!"