Local Boy to Appear in Caroline, or Change on Broadway
Wednesday, 26 February 2020 07:46
Last Updated: Thursday, 27 February 2020 14:20
Published: Wednesday, 26 February 2020 07:46
Joanne Wallenstein
Hits: 1692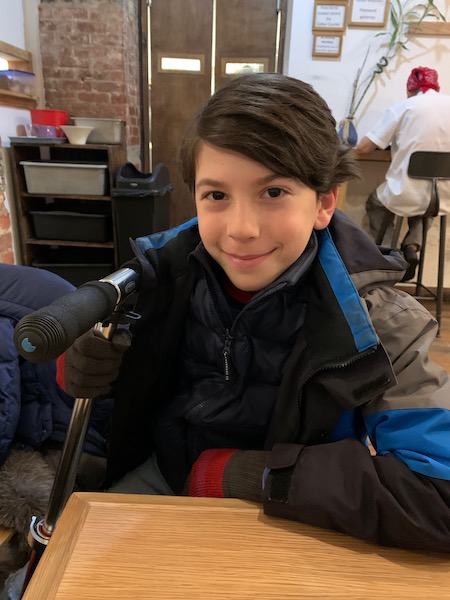 Ten year-old Jaden Myles Waldman, formerly of Scarsdale, is currently rehearsing to perform in the Roundabout Theatre production of Caroline, or Change. Written by Tony Kushner, the musical is set in Lake Charles, Louisiana in 1963 and tells the story of African American maid Caroline and her relationship with Noah, a young boy in the Jewish family for which she works. The backdrop is the American south at a pivotal time in the fight for racial equality. Jaden is now rehearsing for the role of Noah and learning to sing the score, composed by Jeanine Tesori.
We had lunch with Jaden in midtown Manhattan during a break in his busy week. We walked and he arrived by scooter, which Mom Stacie says makes it easier for Jaden to get around town.
Due to the six-day a week rehearsal schedule, Jaden and his mom have sublet an apartment near the theater district so that he could get to work on time without having to commute from Connecticut, where the family now lives.
Stacie explained that Jaden is not missing his schoolwork during the run of the play. Roundabout has two highly skilled tutors that work with him three hours a day so that he keeps up with his fourth grade class. She says that the tutors are excellent and sometimes even give Jaden extra work.
This is not Jaden's first gig -- he has performed in many commercials, recently co-starred on an episode of the Amazon Prime series The Marvelous Mrs. Maisel and will appear in HBO's miniseries The Plot Against America in March. Jaden has recently done film work and he played the principal role of Ben in the Radio City Christmas Spectacular twice. Caroline, or Change, however, marks his Broadway debut and his first musical; he seemed to be thriving with the vocal coaching, dance instruction and the intensive acting lessons involved in learning his role.
Previews begin March 13th and the show opens April 7th. As an alternate, Jaden is guaranteed to perform each week and also has to be at the theater for all performances. It seems like a lot to ask a boy of ten, but Jaden was clearly enjoying it.
What about his Dad and sister back home in Connecticut? Stacie said with help from her mother and wonderful neighbors, sister Carly has been managing just fine.
Watch for Jaden Waldman in the Roundabout Theatre production of Caroline, or Change at Studio 54 beginning March 13, 2020.