From Finance to Food: Scarsdale Resident Makes the Right Move at the Right Time
Monday, 23 March 2020 12:13
Last Updated: Monday, 23 March 2020 12:14
Published: Monday, 23 March 2020 12:13
Joanne Wallenstein
Hits: 3900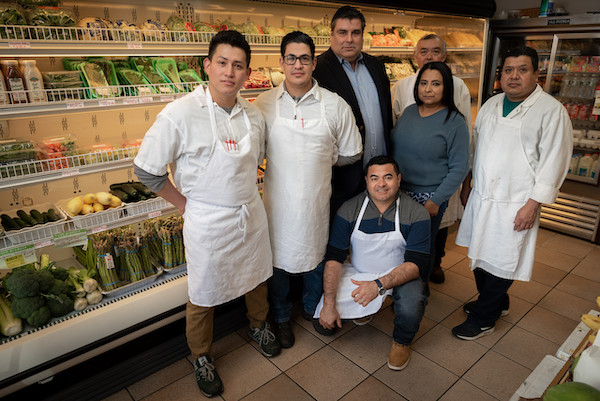 Financier Jon Solodar made a prescient career change is happy he did!At least a few local businesses are thriving during the outbreak. Those providing products deemed "essential" by the state are in high demand in these unusual times. Scarsdale resident Jon Solodar made a risky career change in December, moving from finance to one of these essential businesses, food, and now finds he made the right move.
Here's the story: After a long career on Wall Street as an equity sales trader, Jon Solodar had an epiphany... he was due for a change. The long hours, stress, and commoditization of the sales trading industry became unsustainable and he decided change was inevitable. "Making a career shift at this stage in life wasn't easy. I spent a long time looking for the right opportunity with the help of my close friends," Solodar said. His search finally paid off with the discovery of a high-end butcher in Armonk called Village Prime Meats (VPM). "The food was off the charts. I probably went to the butcher every other week for years," Solodar said. The quality of the meats and special marinades they have perfected over two decades are what drew Solodar to the business, but he also saw the talent behind it. Recognizing the dedication and knowledge of junior butcher John Rubio, Solodar planted the seeds for a potential partnership. "I needed to be a part of this. I told Rubio that if the senior partner ever wanted to retire, I would be thrilled to partner with him."
In December 2019, Solodar and Rubio officially partnered and bought Village Prime Meats. Rubio, who has more than 18 years of experience as a professional butcher, took the role of senior butcher and oversees day-to-day operations. Solodar, with his financial and sales background, runs the financial side of the business as well as business development. As partners, Solodar and Rubio are on a mission to make VPM not only the best butcher in Westchester, but in all of New York.
Village Prime Meats was established in 1986 and has won "Best of Westchester" top butcher awards. Solodar said, "We are not messing around with our 100% Prime USDA Meats, Bell & Evan chickens, and our famous marinades. Customers love the fact that they can take home a complete meal with quality meat that has been marinating and is ready to grill, sear, or sauté at home. They love the easy, delicious results."
The new partners have already made some changes and upgrades to the store. Solodar's favorite part of his new role is building relationships with customers. "We are listening to our loyal customers about what they would like to see in the store." VPM has added healthy new dishes (like healthy chicken salad), several gluten free and organic options, and other high-end products that complement the meats and poultry. "We have expanded the gourmet prepared foods section that has been a big success and added a specialty sandwich board highlighting our new commitment to our deli section."
Since most are now homebound given restrictions due to the virus, Solodar finds that their shop's meats and prepared foods are highly valued. He reports that, "People are buying a lot of steaks and chicken. The most popular steaks being Skirt, Filet, Strip, Shell. The marinated chicken and steaks freeze well along with our homemade soups. Two thirds of our foods are for everyday consumption.
What else? Solodar says, "Our meatballs (beef, chicken and turkey) are very popular as are our signature salads from our deli section. Fan favorites are our Bell and Evans fried chicken and rotisserie chickens that sell out daily. People come in and buy 20 burgers at a time as you probably won't find a better burger. The lamb and veal chops are very popular as our turkey and beef meat loaves." Also in demand are our chicken and beef stir fries. People buy these by the quart and its very convenient for them to go home and cook for ten minutes or so on the stove. Our marinade is so popular that we are thinking about ways to sell it outside of the store."
Solodar says, "With restaurants closed, schools closed and kids home from college, people are doing more cooking than ever."
The store is only 12 minutes from Scarsdale and is open six days per week. Meats can be freezer wrapped and dated. Solodar says their supply is plentiful and there is no need for panic purchasing. The store is small so there are never more than a few people inside at a time. Those who are concerned about coming inside can call and order beforehand and their food will be brought to the curb.
Village Prime Meats
475 Main Street
Armonk, NY
(914) 273-5222
villageprimemeats.net
Photos by Jon Thaler