Scarsdale's First Official Virtual Wedding
Wednesday, 29 April 2020 08:56
Last Updated: Wednesday, 29 April 2020 09:09
Published: Wednesday, 29 April 2020 08:56
Joanne Wallenstein
Hits: 5011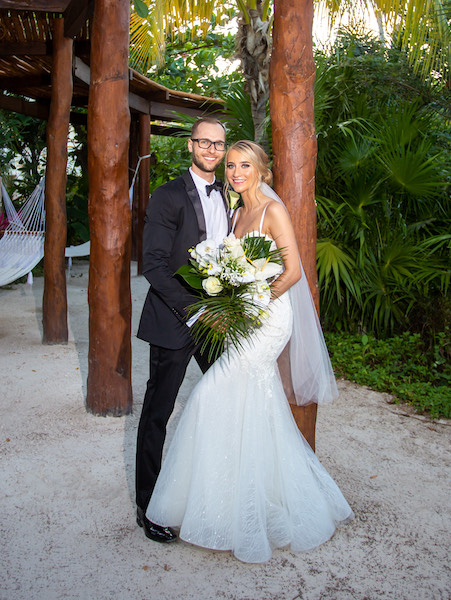 Abbie Genautis and James Singer.Here's a first for Scarsdale: Former Village Trustee Deb Pekarek, in her official capacity as Scarsdale Marriage Officer, performed the Village's first virtual wedding via Zoom on Tuesday April 28 as permitted pursuant to the Governor's Executive Order 202.20 signed on April 20th.
Friends and family signed on to Zoom to watch the wedding of bride Abbie Genautis to groom James Singer. The couple, who are originally from Clawson, Michigan, now live in Elmsford. They celebrated their nuptials in Mexico on March 15, 2020 and followed it with a legal wedding on Zoom on April 28, 2020.
James and Abbie moved from Michigan to Westchester last year for his job is an Oral and Maxillofacial Surgery resident who rotates at both Westchester Medical Center and Metropolitan Hospital. Abbie is a nurse at Westchester Medical Center.
The couple had a symbolic wedding ceremony in Riviera Maya, Mexico in March with close family and friends. While they did have to cut their honeymoon short and return home early, they were happy that they were still able to have their ceremony and reception.
When they returned home, they were unable to have their legal ceremony as New York had shut down due to the pandemic. So when they heard that Governor Cuomo was allowing legal marriages via Zoom they were so excited. Abbie said, "It was important to us as frontline workers that we are legally married, as every day is uncertain during this time."
Abbie continued, "James reached out to the Village of Scarsdale and Village Clerk Donna Conkling and Marriage Officer Deborah Pekarek made setting the ceremony up a breeze. All of our family lives in Michigan, so we were very happy to be able to share our legal ceremony on Zoom with them! Deborah's husband was even kind enough to sign our marriage license as a witness! We can't thank Donna, Deborah, and the Village of Scarsdale enough for making this happen!
See photos here of the Zoom meeting and the Mexico wedding.