New to the Dale and Loving It: Meet Your New Neighbors
Wednesday, 03 November 2021 17:53
Last Updated: Thursday, 04 November 2021 14:21
Published: Wednesday, 03 November 2021 17:53
Joanne Wallenstein
Hits: 1126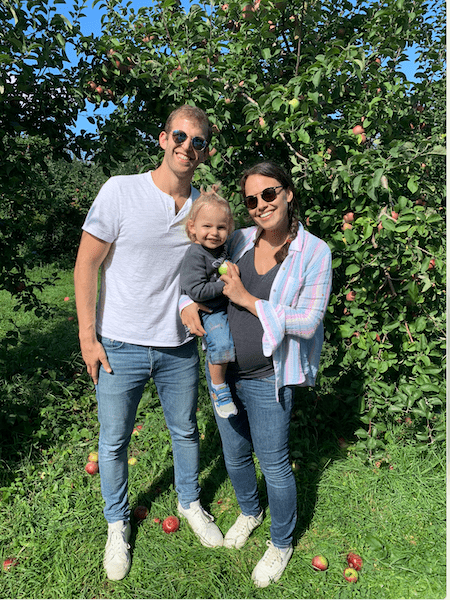 It wasn't easy to get here, but now that they live here they love it. That's what we're hearing from some of the new families that moved to Scarsdale during the pandemic. The COVID crisis caused some to leave the city earlier than they had planned, when they found themselves trapped inside apartments with little room to move. Though they had originally planned to move to the suburbs when their children entered elementary school, they found themselves wanting to get out as soon as possible.
For some, finding and buying a house in Scarsdale was not easy either. There was limited inventory, bidding wars were common and prices increased dramatically, making it a challenge to find a suitable home within their budgets.
Despite the obstacles, with the help of friends and realtors, these young couples found the right houses, made the transition to Scarsdale and are happy they did.
Here are their stories:
Samantha Orringer Kennedy and Jordan Kennedy
When the pandemic hit, Samantha Orringer Kennedy, Jordan Kennedy and their two year-old son August (pictured above) were living in Greenwich Village. Samantha explained their journey to Scarsdale: "With so much sadness, we knew we had to leave, moving back to both of our childhood homes (NJ and CT), bouncing between families until we finally found our Scarsdale house in October 2020."
How was the house hunt and why Scarsdale? Samantha said, "With my family in New Jersey and Jordan's in Connecticut, Scarsdale was the perfect midway point between the two. We fell in love with Westchester and how green and beautiful it is and we both have many friends from Scarsdale so we knew the school systems were great too.
"We began looking for a home in July 2020 and the market was extremely difficult since no one wanted to sell their house during COVID and those who did, did not want you in their home looking. It was a long process but we finally found our beautiful home in October and finally moved in to a house in Edgewood in late January after doing some renovations."
"I work at Snapchat and my husband works at Botify. Both of us have been lucky enough to work mostly from home, which means we get to steal lots of hugs and kisses from August throughout the day. We have another on the way. August is going to have a little brother in February 2022!"
Are they happy in Scarsdale? She said, "We absolutely love it here. Because we are not from the area, everything is a discovery or new to us. I was worried about going from a city where everything is at your fingertips to a suburb, but so far it feels like everything is still at your fingertips in Scarsdale. The people I have met so far (especially most recently through my son's pre-school) are so kind, down to earth and friendly and we love how walkable and friendly our neighborhood is."
Any surprises? She replied, "How big it is! I knew it wasn't small, but I am amazed at the size of it (and of the high school!). And yet ... how small the community feels. I love that the town has offerings like window painting or Halloween parades."
What were the challenges? "COVID still makes things a challenge. Meeting new families when no one is totally comfortable being indoors yet makes it harder to get together (especially if the weather is bad that day). Now that it is starting to get colder, it's getting increasingly difficult to get together."
Would she recommend it to a friend? "Absolutely! Scarsdale has so much to offer and the people here are kind, smart and wonderful. There is so much to do here from restaurants, to parks and things to do!"
Sasha Kelemen and Chris Blankenship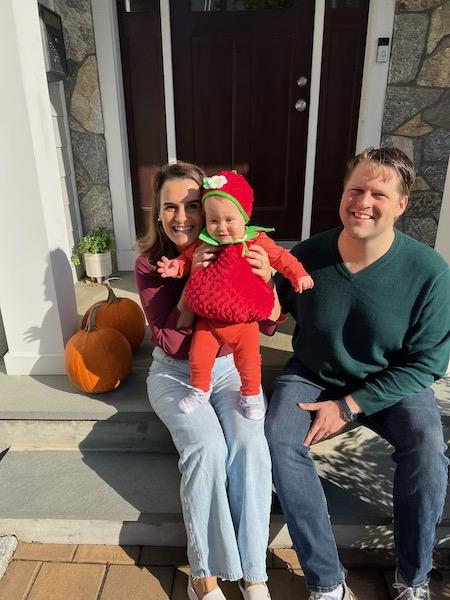 Sasha Kelemen and Chris Blankenship with Olivia
Sasha Kelemen and Chris Blankenship also settled in Edgewood after a thorough search of the NYC suburbs. Sasha said,"Chris and I previously spent the last 4 years living in NYC and moved to Scarsdale at the end of July 2021. We have a 1-year-old daughter, Olivia, and are lucky enough to have grandparents living with us for a few months to help with the transition. We both work in finance in Manhattan but have been working from home for the most part. We went from having most of our meals at the office to sharing dinner together and stealing kisses and hugs from our daughter in between zoom meetings. We have really appreciated the opportunity to spend more time together and see our daughter, Olivia."
And why Scarsdale? "We moved to NYC four years ago after graduating from business school. We tried a few neighborhoods, starting in Chelsea, then Brooklyn, and finally Jersey City. Unfortunately each location was not a perfect fit and we always dreamed of buying a house in the suburbs. The birth of our daughter, Olivia in November 2020 and COVID-19 definitely accelerated our plans to leave the city. We prioritized suburbs with good commutes to Manhattan with excellent public schools: Scarsdale was at the top of our list but housing inventory was limited. We actually originally put an offer in on a house in Summit, NJ but that contract fell through and the same weekend we, by chance, stumbled upon an open house at what would become our dream home in Scarsdale. We saw the house on a sunny Sunday in March, had an offer in by the following morning and signed the contract within four days. It was a competitive process and we had to make a decision fast. We loved this house and knew immediately it was the one for us. However, our closing process was very delayed and we didn't end up moving in until the end of July. We are just two blocks from Edgewood elementary school and absolutely love the neighborhood!"
And how is it going? "We love Scarsdale! The village is so quaint, everyone is friendly and we are so conveniently located. We never thought we'd love a grocery store as much as we love DeCicco's and we have already found our favorite bakery (Martines), wine shop specialist (Javier at Zachy's), and empanadas (Nonno's)."
She continued, "The biggest surprise has been how amazingly warm and welcoming our neighbors have been. On our closing day, our neighbors across the street ran to their front porch and welcomed us with big smiles. After we moved in, neighbors arrived with handwritten cards, pies, cookies, and flowers. It's the kind of experience you see in movies and it actually happened!"
"The neighborhood also really came together during the recent hurricane, which hit exactly one month after we moved in (hello homeownership!). Our neighbors instantly reached out to help as we experienced flooding in our basement. As first-time-homeowners we had zero equipment and were not prepared. Two neighbors lent us their wet vacuums, another lent us his dehumidifier and fan, while others shared helpful tips such as where to get free wifi when AT&T was down."
Daniela Retelny and Andrew Blum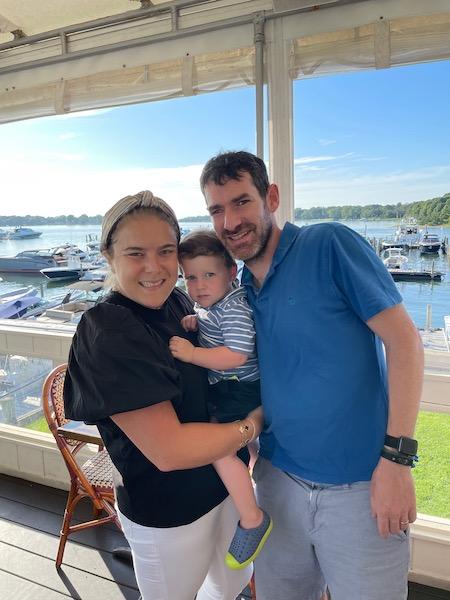 Daniela Retelny and Andrew Blum with HarrisFor those who grew up here, there's no place like home. Daniela Retelny, her husband Andrew Blum and their two year-old son Harris were living in the city prior to moving to Scarsdale. He works at Grubhub and she works at Instagram. They are both currently working from home but will most likely be back in the office in the new year.
Daniela grew up in Scarsdale and loved it. Her parents still live here. They were likely to move back at some point but the pandemic accelerated their plans. After living with the in-laws in the Hamptons for most of the pandemic, they realized how amazing it was to have space. Their son was at the age where he was running around nonstop and "their two bedroom apartment in the city just wasn't cutting it anymore."
Retelny says, "Finding a house was challenging. We were lucky that we weren't in a rush, which allowed us to be patient and find a house that was right for us. We were also lucky that my mom and sister, Angela Retelny and Jessica Shames, are realtors in Scarsdale, which made the whole process a lot easier! They kept an eye out for the right house, which saved us a ton of time. The process took around six months. We moved in at the end of the summer and live in Fox Meadow."
And what do they like about living here? Retelny says, "I am enjoying rediscovering all of my favorite places and sharing those experiences with my husband and son. We are also loving having a spacious home with so much room for our son to play, run around, and have fun. Finally, we have loved meeting so many new friends (and reconnecting with old classmates) and can't wait to watch our kids grow up together. I am surprised by how many young families there are. I was always under the impression that people moved to the suburbs once their kids were a little older but that definitely isn't true!"
What do they miss? "My husband grew up in New York City so it's been a bit of an adjustment for him to get acclimated to suburban life. I'm sure once we start commuting to work, I will miss the 10 minute walk to the office I used to have!"
Erica Moreira and Gregg Brody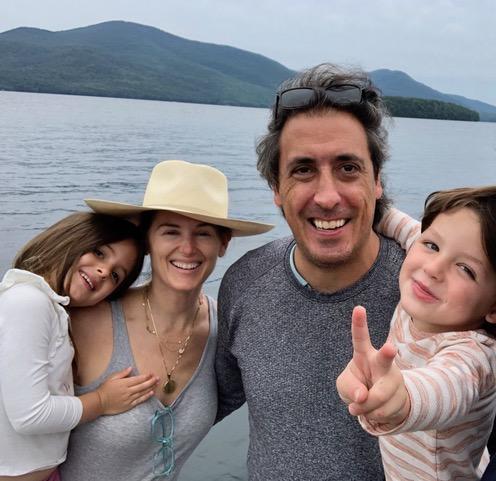 Erica Moreira and Gregg Brody with thier two children.
Erica Moreira who practices entertainment law and her husband, Gregg Brody a research analyst moved to Quaker Ridge from the Meatpacking district on December 31, 2020 with their two children, Emma and Lucas ages five and three. Moreira says, "The movers left at 5 pm on New Year's Eve and we rang in the New Year with a bunch of boxes."
When they were house hunting, realtor Abby Sroka advised them to act fast if they liked what they saw. They began their search in the summer of 2020 and focused on Scarsdale because the schools, proximity to the city and because they have family in town. Moreira said, "I had only seen our house for 30 minutes before we put in an offer."
Moreira was attracted to the house because of the pool, the mature trees and plantings. She said, "For me it was all about getting some green space." She is still enjoying exploring the garden and spotting and identifying the plants that come up on her half acre property.
As they moved into town in the middle of the year, Sroka advised them to put their names on the waitlist for nursery schools while they were looking. Fortunately, the Little School had room for both children when they arrived. They started school just a few days after they moved in and have made many friends at the Little School where they met other recent transplants from the city.
What are they enjoying? Moreira says, "The kids love all the space. We live on a cul de sac so they can ride their bikes in the street. Our neighbors were very welcoming and we all get together with the kids every Thursday."
Inside the house, they have converted their basement into an indoor playground with swings and trapeze bars hanging from the joists of the house.
What do they miss? Moreira laughed and said, "Where is the Super?" She said, "There are so many aspects of managing a house that I never appreciated … so many vendors and things to learn that I never wanted to know. The sprinkler system has to be blown out, the pool needs to be closed for the season and who knows what else."
Now that she's here, would she recommend Scarsdale to others? She said, "If your goal is to go to a nice community with great schools and an easy commute to the city, yes. I am begging my cousin to buy the house next door."