Speed and Strength Training at Scarsdale High
Thursday, 11 August 2011 13:36
Last Updated: Thursday, 11 August 2011 13:42
Published: Thursday, 11 August 2011 13:36
Hits: 5177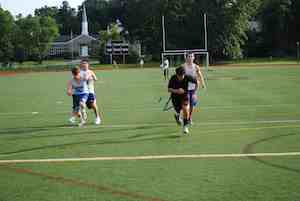 While some high school students are spending their summer relaxing by the pool, many student athletes are using this time to prepare for their upcoming athletic season. About 55 male and female student athletes, ranging from rising 8th graders to post graduates, arrive daily at Scarsdale High School to participate in a Speed and Strength Training Camp. The camp is run by Andrew Verboys, Scarsdale High School's varsity football coach and a few members of his staff, including Alex Greenberg and Devin Hoover, a physical education teacher at Scarsdale High School.
The camp, which is in its third year at Scarsdale High School, "is a way for athletes to become bigger, faster and stronger", said Hoover. The camp also teaches exercises that aid in injury prevention.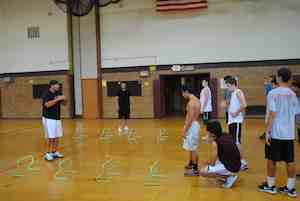 camp is run from Monday through Friday, rain or shine. The two-hour a day training camp begins at 4 pm with a thorough stretch led by one of the coaches. After the stretch, the group is separated into two groups, older varsity athletes and younger freshman/junior varsity athletes. "Therefore the athletes can have a more specific workout based on their speed and strength levels," explained Hoover. Hoover added that each group spends time focusing on both speed training and time in the Scarsdale High School weight room. The speed training "concentrates on speed, agility and explosiveness," said Hoover. In the weight room, athletes are given a "specialized weight lifting schedule."
A couple of Scarsdale High's varsity sports teams have taken advantage of the training program. The varsity football team and varsity ice hockey team are both requiring their athletes to take part in the training camp in order to prepare for their upcoming seasons. The camp provides other benefits, as senior football captain Tim Leone explained. "The training camp offers a great opportunity for upcoming football players to meet and train with [athletes on the football] team". Besides these teams using the training camp, representative from Scarsdale High Schools girl's volleyball team, cross-country team, soccer team, boy's lacrosse team, wrestling team, boy's and girl's basketball teams and field hockey team are all attending the camp, as well as many athletes who just want to get in shape.
The camp is offered in two week sessions and athletes can sign up for the training camp on the Scarsdale Rec Department's website.

This article is written by Jake Bank, a member of the Lacrosse Team at Scarsdale High School.