Police Ask For Your Help On Halloween
Tuesday, 04 October 2011 17:02
Last Updated: Tuesday, 04 October 2011 17:06
Published: Tuesday, 04 October 2011 17:02
Hits: 2569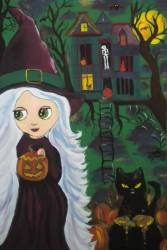 Make this Halloween more meaningful for your kids by participating in a charitable drive sponsored by the Scarsdale Police and P.B.A. Police are asking residents to take the money kids may have used to buy toilet paper, shaving cream and silly string and use it to purchase toiletries for victims of domestic abuse at My Sister's Place in White Plains.

Scarsdale Police Chief John Brogan shared the thinking behind the effort with Scarsdale10583. He told us that after a particularly destructive Halloween in 2005, Scarsdale Police met with representatives from the schools to see how they could ensure kids safety in the future. They agreed to step up police presence on Halloween and take a zero tolerance policy toward those who exhibit disorderly conduct and unruly behavior. In addition, police went to the schools beforehand to talk to kids about the potential risks of destructive behavior on Halloween.
On a positive note, they also decided to organize a charitable drive to help My Sister's Place and this tradition continues this year.
My Sister's Place has requested the following:
Toiletries

New blankets for adults and children

New large towels for showers and baths

New or slightly used large and extra large duffel bags

New twin sheet sets

Blankets and comforters in bright colors

Packages of diapers in all sizes

Baby wipes

New or gently used children's and infant clothing
These items can be dropped off from now until November 4th at the Scarsdale Police Trailer at Post and Fenimore Roads. Police expect to move into the new Public Safety Building in the next few weeks – so if the trailer is dark, please leave your items in the lobby of the new Public Safety Building, also at Post and Fenimore Roads.