Pediatric Cancer Foundation Hosts Luncheon at Trump National
Monday, 24 October 2011 14:45
Last Updated: Tuesday, 25 October 2011 15:26
Published: Monday, 24 October 2011 14:45
Hits: 3505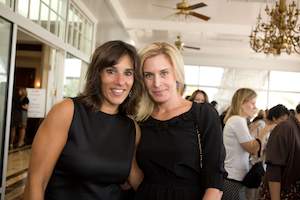 Pediatric Cancer Foundation held its 41st opening fall luncheon on Wednesday, October 5 at Trump National Golf Club in Briarcliff Manor. Over 350 people were in attendance at the event which was sponsored by Neiman Marcus Westchester.
Pediatric cancer survivor Julie Goodfriend, spoke eloquently about her cancer journey and all the angels who helped her along the way. Pediatric Cancer Foundation Luncheon Chairs, Bonnie Boilen, Dana Hokin, Jackie Kabot, Wendy Schimel, Denise Warshauer, and advisor, Susan Cohen, remark "Our Luncheon had a brilliant and successful life of its own. We thank our guest speaker, committee members, attendees and Neiman Marcus Westchester for their commitment to us in our mission to …hold the hand of a child. "
Pediatric Cancer Foundation (PCF) is a non-profit charity whose mission is to find a cure for childhood cancer. They raise money for research, treatment, state of the art equipment and instruments and parent/patient care and support doctors at five leading tri-state hospitals including: New York-Presbyterian Morgan Stanley Children's Hospital/Columbia University Medical Center; Memorial Sloan–Kettering Cancer Center; Stephen D. Hassenfeld Center for Cancer and Blood Disorders at NYU Langone Medical Center; The Steven and Alexandra Children's Medical Center of New York; and Maria Fareri Children's Hospital at Westchester Medical Center
To find out more about Pediatric Cancer Foundation, call Executive Director, Nancy Joselson at: 914-777-3127 or visit www.pcfweb.org.
Pictured at top: Jennifer Stone, PCF Board member and Shari Phillips, PCF Board Members from Scarsdale