Scarsdale Historical Society Gives $100,000 for Library Renovation
Tuesday, 14 March 2017 16:48
Last Updated: Tuesday, 14 March 2017 16:51
Published: Tuesday, 14 March 2017 16:48
Joanne Wallenstein
Hits: 3355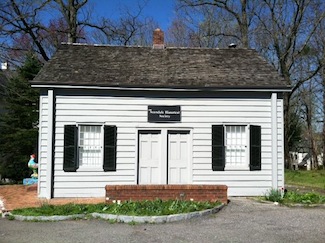 The Scarsdale Historical Society has provided a $100,000 grant to the Friends of the Scarsdale Library to assist in the renovation of the Library. "The Scarsdale Historical Society is very pleased to be able to assist in this important community project. We look forward to continuing to work with the Library on developing a Scarsdale History area as part of the renovated library," said Randy Guggenheimer, Scarsdale Historical Society President.
"We're thrilled by this gift, which will immediately be doubled through a one-to-one match offered by two very generous donors," said Library Board President Terri Simon. "The Historical Society's commitment underscores community recognition of the Library's enduring value not only as a repository of materials, but as an active place of research for Scarsdale now and for generations to come."
"The Historical Society and the Library have had a successful partnership for many years. We are grateful for the continued support and look forward to collaborating on many future projects," said Elizabeth Bermel, Director of the Scarsdale Public Library.

The Scarsdale Historical Society has previously given grants to the Library for digitization of the Scarsdale Inquirer newspaper and for funding summer internships. The Scarsdale Historical Society and the Library are working together on a "Bring Your Scarsdale History" event which will take place this spring.
About the Scarsdale Historical Society
The Scarsdale Historical Society exists to discover, preserve, and disseminate historical information as well as inspire others to learn about and contribute to the history of Scarsdale and the Central mid-Westchester region.