The Class of 2020 on Parade
Wednesday, 24 June 2020 07:59
Last Updated: Saturday, 27 June 2020 22:28
Published: Wednesday, 24 June 2020 07:59
Joanne Wallenstein
Hits: 2449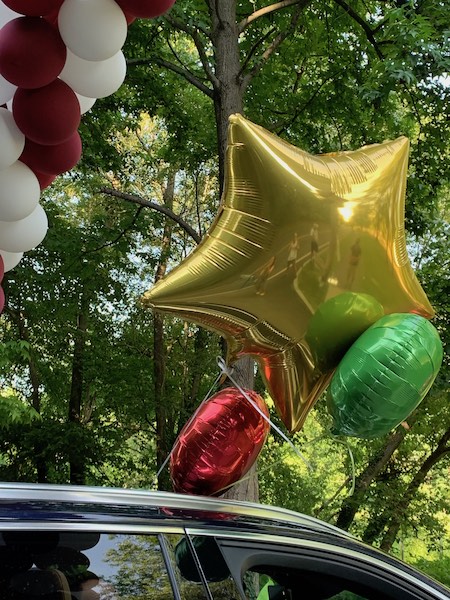 Though many had doubts about the graduation for the Class of 2020 during the COVID epidemic, a first-ever, gleeful graduation car parade proved that there are many great ways to celebrate four years at Scarsdale High School.
Since social distancing rules prevented the traditional graduation ceremony on Dean Field, a Senior Events Committee came up with a month full of fun events for June, culminating in the car parade on Tuesday June 23 and diploma ceremony planned for Friday June 26.
The days events began with a moving virtual graduation ceremony that the entire community was invited to view. Watch it here:
Following the virtual graduation ceremony which was livestreamed at 2:30 pm, students and their families lined up in cars to drive through the high school lot where they were greeted by cheering teachers, deans and administrators. A special parade soundtrack was broadcast on The Peak. Cars were decorated with hand painted greetings, custom made signs, decked out with balloons and streamers, trailing cans, and blaring music to celebrate the grads. There were jeeps, convertibles, pick-up trucks and many grads popped up through their sunroofs to greet the faculty.
Moms, dads, sisters, brothers and grandparents were on board too, making for a party in motion. Some wore masks and kept their windows rolled up, while others hung out of windows and car roofs or even perched in the back of a truck.

Students were grouped by deans and assigned a start time to drive into the gravel lot on Brewster Road and proceed down the motorcade. The event began at four pm and ended promptly at six in a well-orchestrated parade. Some students, including twins or those with two family groupings, drove through the parade twice.
It was a joyous event, sure to be the envy of SHS graduating classes down the line.
If you would like to add your graduatio parade photo to the gallery, email it to us at scarsdalecomments@gmail.com.