Scarsdale Athletes Back on the Field
Wednesday, 07 October 2020 16:31
Last Updated: Wednesday, 07 October 2020 16:44
Published: Wednesday, 07 October 2020 16:31
Anna Cho
Hits: 1055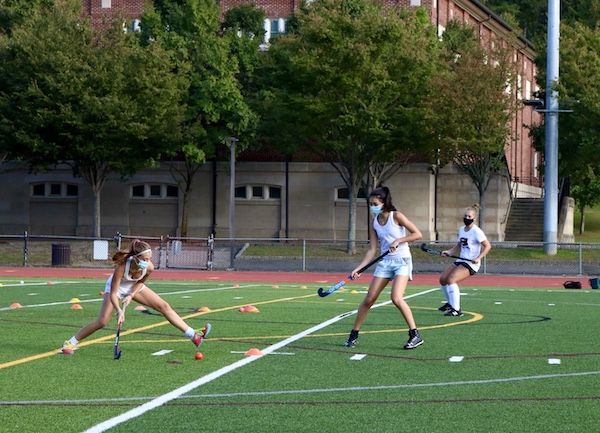 Grades 9-12 of cohort A playing field hockey coached by Coach Bryant and Coach Barton.After a delayed start to the season, student athletes are now out on the tennis courts, track and fields at both Scarsdale High School and Scarsdale Middle School. From the early morning hours as the sun comes up to evenings as the sun goes down, players can be seen training and conditioning throughout the town. While there is still a lot of uncertainty surrounding the fall sports season, the players are making the most of their training.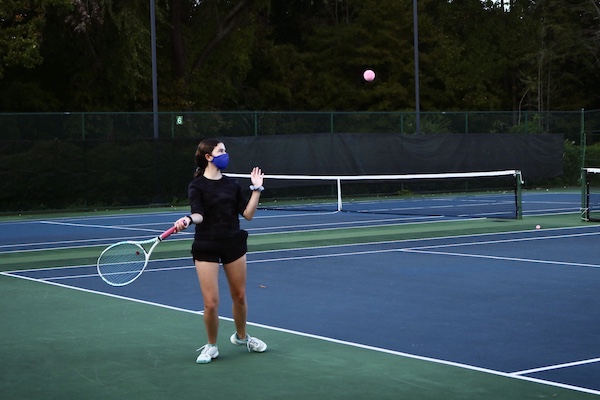 Day one of tennis tryouts for cohort A.
Not all of the traditional fall sports teams are playing. Only cross country, field hockey, boys soccer, girls soccer, and girl's tennis are able to have their fall season this year. Cheerleading, football and volleyball, which are usually fall sports, will wait to begin their seasons until March 1, 2021. Additionally, because Scarsdale High School is split into two cohorts, cohort A and cohort B, coaches are required to keep the two cohorts separate during practices. Both cohorts practice every day, but at separate times.
Senior Varsity A tennis player, Natalie Schonfeld said, "the season is definitely different than I hoped it would be but I'm glad we are able to play." Players feel grateful that they are permitted to play this season at all, especially seniors who are now able to participate during their last year on the team.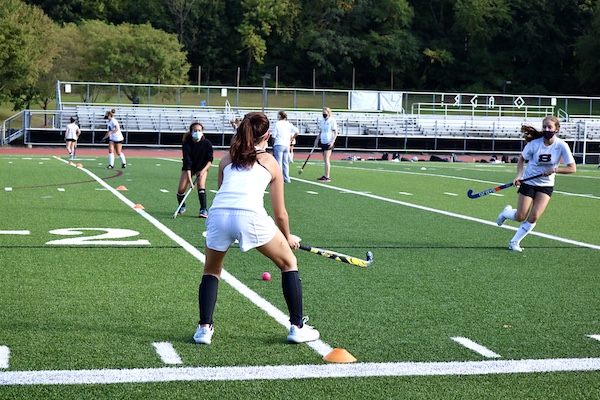 Athletes wear their masks during practice.
Boys soccer, girls soccer, and track and field plan on playing games this season against other schools. However, coaches for the girls tennis and girls field hockey remain unsure about whether games will occur this season since cohorts cannot be mixed. Senior Emily Felder who plays on the field hockey team explained, "Our first game was supposed to be Saturday, but we can't combine cohorts until hopefully the 15th. If we can combine cohorts, then hopefully we can play games."
Fortunately for girl's tennis, doubles will continue as planned this season. A very noticeable difference this year, is the appearance of masks on everyone's faces, one of the many consequences of COVID that makes it difficult to breathe at times. Natalie described, "It's a little challenging adjusting to these changes. Playing with a mask is a little tricky, but as I play more often with it, I think it is getting easier. Mask breaks during games also help."
While the sports teams do face some obstacles, both athletes and coaches alike remain optimistic about this season and hope that eventually the cohorts will be able to mix to form full teams.