Greenacres Residents Discuss Plans for the School, Extended Day and Recycling at Town Hall Meeting
Tuesday, 14 March 2017 22:28
Last Updated: Tuesday, 14 March 2017 22:45
Published: Tuesday, 14 March 2017 22:28
Josie Blatt
Hits: 3531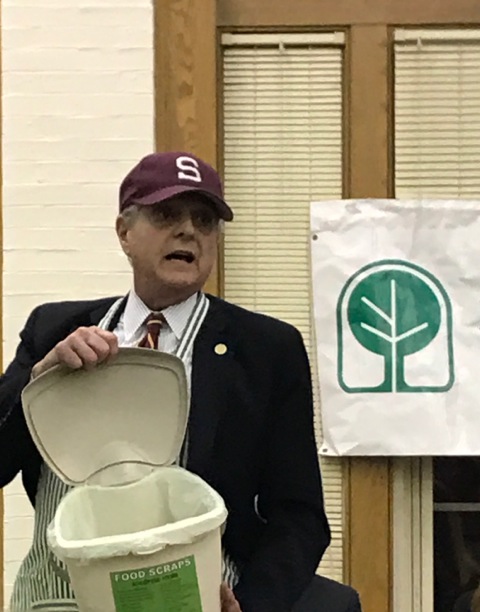 On Thursday, March 9, 2017, the Greenacres Neighborhood Association hosted its 19th Annual Town Hall Meeting at Greenacres Elementary School. Approximately 100 Greenacres residents gathered to hear a panel speak on various aspects of the community and the school, and to ask questions. The meeting was moderated by Greenacres Neighborhood Association president Andrew Sereysky.
Panelists present were Mayor John Mark, Village Manager Steve Pappalardo, Police Chief Andy Matturro, Fire Chief Jim Seymour, Recreation Department Superintendent Brian Gray, Volunteer Fireman Ken Mazer, School Superintendent Thomas Hagerman, Greenacres Principal Sharon Hill, Board of Education President Lee Maude, and Greenacres PTA President Joey Silberfein.
First, each panelist spoke for three minutes about recent highlights in their respective fields. Greenacres Principal Sharon Hill spoke on the school's new wellness program: "This year, students in grades K through 5 participated in yoga classes where they learned a variety of yoga poses and breathing practices that they can access for enhancing stress reduction." The elementary schools, along with the middle and high school have all focused on wellness this year.
Mayor John Mark discussed Greenacres resident Michelle Sterling's food scrap recycling program, and demonstrated how to use a composting kit. Fire Chief Jim Seymour spoke on the Fire Department's new technical rescue trainings. Board of Education President Lee Maude discussed upcoming topics for school board meetings which included next year's extended school day and mapping out construction for 10-15 years. School Superintendent Thomas Hagerman mentioned that engineering will start to become part of the elementary school curriculum next year. He also mentioned the noteworthy retirement of Middle School Principal Michael McDermott at the end of this school year. Rec Dept. Superintendent Brian Gray invited meeting attendants to an information session on the Scarsdale Rec Camps on March 16, at 7:00 pm at Village Hall.
There was not much discussion of the possible building of a new Greenacres School, except one question was asked about what Greenacres residents and parents can do to help in the decision making process. School Superintendent Hagerman answered that there's not much that can be done until the architects are further along in their work. He added, "There will be ample opportunity to have everybody a part of this community have an opportunity to respond, and hopefully we won't find ourselves at the onset being completely polarized. Hopefully we can start somewhere closer together, and we can make those conversations a little bit easier." Hagerman also stated that a decision about the school would likely be made either late this spring, or early next fall.
A concerned Greenacres parent asked what the rationale behind extending the school day for elementary schools. The parent said she understands the value of the extra time for older children, but thinks that for younger kids the extra time would only add stress. School Superintendent Hagerman explained that there is a minimum number of instructional hours required per day, and Scarsdale Schools have not been meeting those requirements. Moreover, science and social studies curricula have been short changed in elementary schools, and students should be having daily physical education classes.
A Walworth Avenue resident asked what it would take for the cracked curbstones on Walworth Avenue to be fixed. Village Manager Steve Pappalardo responded, saying that it would take several million dollars to accomplish that, thus he does not see the curbstones being fixed anytime soon.
Another Greenacres resident asked about the findings of the investigation surrounding the armed robbery on Donellan Road in January, and why it took three hours to officially alert the community. Police Chief Andy Matturro "We determined the person didn't follow the victim from the train, we determined that they were in a vehicle, and that's an active investigation, at this time we have no DNA evidence. We could have done a better job reaching out to the community, and we will, that's something we learned from this."
Additionally, there were a number of questions asked related to traffic and road safety. One question was about adding stop signs, one about preventing speeding on Gorham Road, one about criteria for deciding what roads to fix, one about adding a crossing guard at Huntington and Putnam roads, and one about informing pedestrians to run/walk against traffic, not with traffic. Responding to the last question, Greenacres PTA President Joey Silberfein said that nothing is currently done to address that issue, but that it could be included in a safety assembly at Greenacres School.
At the end of the meeting, attendants were invited celebrate the volunteer service of Kathy and Bob Steves, who will be honored at the Scarsdale Bowl dinner on Wednesday, April 26, at The Fountainhead in New Rochelle.