What To Do If You See a Coyote
Monday, 05 October 2020 09:48
Last Updated: Wednesday, 02 December 2020 14:30
Published: Monday, 05 October 2020 09:48
Joanne Wallenstein
Hits: 1680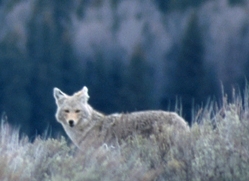 Scarsdale Police are reporting several coyote sightings in recent weeks throughout the Village. Here is some information from the New York State Department of Environmental Conservation (NYS DEC) about what to do should you come across a coyote.
According to NYS DEC, if you see a coyote:
Be aggressive in your behavior – stand tall and hold arms out to look large. If a coyote lingers for too long, then make loud noises, wave your arms, throw sticks and stones.
Contact your local police department and DEC regional office for assistance if you notice coyotes exhibiting "bold" behaviors and having little or no fear of people, or if you see them repeatedly during the daytime in a human-populated area or near residences. Seeing a coyote occasionally throughout the year is not evidence of bold behavior.
Do not allow pets to run free. Supervise all outdoor pets to keep them safe from coyotes and other wildlife, especially at sunset and at night. Small dogs and cats are especially vulnerable.
Teach children to appreciate coyotes from a distance.
Of course, if there is ever an emergency involving a coyote, please contact the Scarsdale Police Department at (914) 722-1200. A police officer will be dispatched.
Please check the DEC website for further guidance and information.
DEP Regional Office: 845-256-3000