A Fragrant Newcomer to Scarsdale Village
Monday, 23 November 2020 14:48
Last Updated: Tuesday, 24 November 2020 08:39
Published: Monday, 23 November 2020 14:48
Joanne Wallenstein
Hits: 1211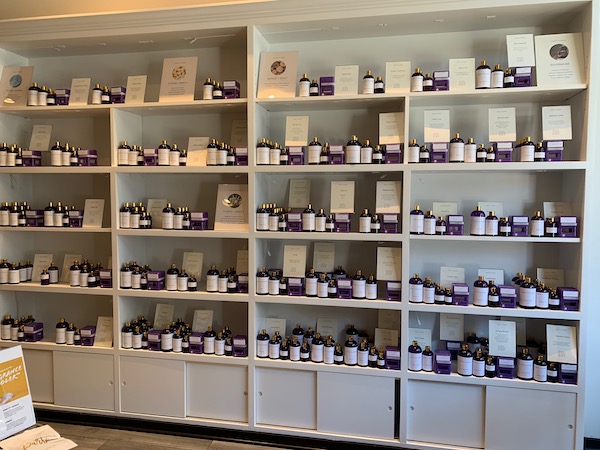 The scent library at ScentfluenceWith so many of us spending more time than ever at home, we're embarking on home improvement projects, converting play spaces to workspaces and reconfiguring outdoor areas for year-round alfresco entertaining. However, there's one element of your home environment that you may have overlooked. How does your home smell? When you enter are you greeted with the scent of a fresh bouquet or the stale odor of last night's dinner?
That's where Scent Fluence can help. In an age when many retailers are closing their doors, Scarsdale resident Caroline Fabrigas has taken a bold step, opening a unique aroma boutique on Harwood Court in Scarsdale Village. The store provides curated home scents and an array of atomizers to disperse these tantalizing aromas throughout your house.
Step into the store of a tour of their scent library where you can catch a whiff of a wide variety of fragrances from florals like Gardenia, Pure Rose and Bergamont to naturals like citrus, woody and ginger. Fabrigas explains that in her house they diffuse some Eucalyptus and another scent called "Full of Energy" to wake up kids who get sleepy after many hours on Zoom. For the holidays there's Apple Pie, Berry Tart, Candy Cane, Cognac, Ginger Bread and Pumpkin Spice.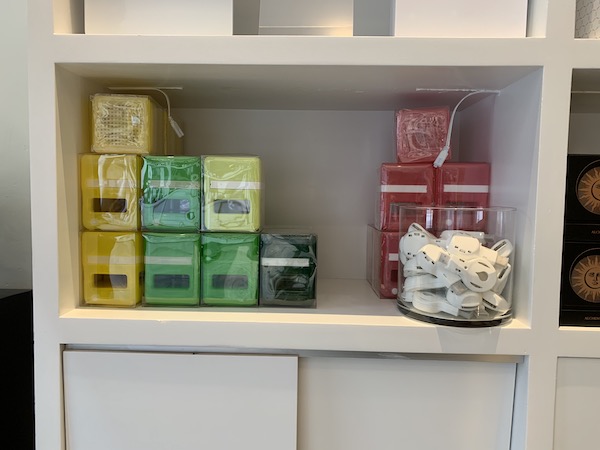 Battery operated diffusers are available in many colors.
Fabrigas reports that some customers are purchasing multiple scents and diffusers for different areas of their homes.
There are many scents to choose from and Fabrigas is also happy to curate a mix for you, based on what you find appealing. To diffuse the scents, there are atomizers in all price ranges, from a small battery operated device priced at $35 to more complex devices in all price ranges. There's even a small diffuser that you can plug into the USB port of your car or home computer.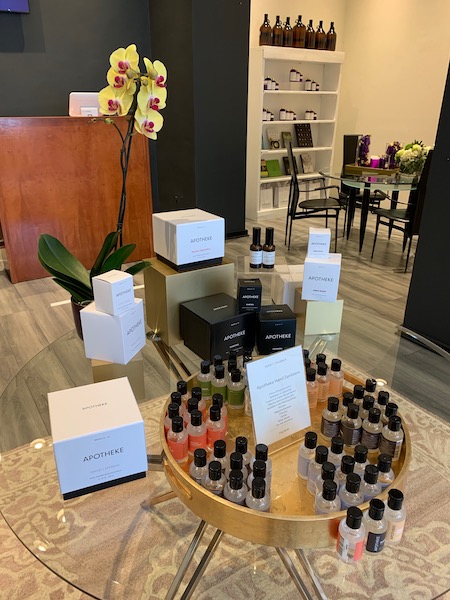 Scented hand sanitizerThe scents and diffusers are unique holiday gifts and Fabrigas is offering grab and go gifts for the holidays. For as little as $50 you can have a unique gift for anyone on your holiday list.
Fabrigas has spent a lifetime in the beauty and fragrance industry and inherited this business when her husband suddenly passed away. She explained, "For the past eight years, I've been the CEO of Scent Marketing Inc., which I inherited after the sad loss of my late husband and Scent Marketing Pioneer, Harald H. Vogt. Scent Marketing Inc. is a full-service Scent and Sensory Marketing company that has become the trusted resource for Fortune 500 global brands such as Baccarat Hotel & Residences, 1 Hotel, Auberge Resorts Collection, Hyatt, Neiman Marcus, The North Face, Campari Brands and Citizen watches to name a few."
Now she is offering these scents to customers to use at home in her first ScentFluence Aroma Design Studio.
Stop by Scentfluence at 22 Harwood Court in Scarsdale Village to tour their scent library. It's a breath of fresh air.
Scent Fluence
22 Harwood Court
Scarsdale, NY 10583
www.scentfluence.com