Latimer Calls the COVID Fight a "Footrace Between the Disease and the Vaccines."
Tuesday, 09 February 2021 09:32
Last Updated: Wednesday, 19 May 2021 12:25
Published: Tuesday, 09 February 2021 09:32
Joanne Wallenstein
Hits: 1029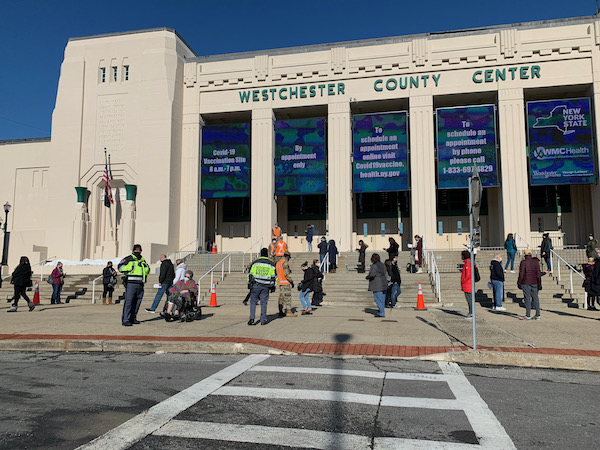 At a briefing on Monday February 8, County Executive called the county's COVID-19 efforts a "footrace between the disease and the vaccines." As of Tuesday February 9, the number of active cases in Westchester has fallen to 8014, down from 11,500 just two weeks ago and the positive rate for the county remains at 5.3%. In Scarsdale, the count is 63. The county is administering vaccines in multiple locations hoping to stem the tide of hospitalizations and deaths.
Sadly, Latimer reported that 59 people died from COVID in the past week, and 491 people were hospitalized. In total, the county expects to hit 100,000 positive cases in the next few weeks, which means that 10% of the county's population will have been infected.
He reported the following number of vaccines administered by the county to date:
-6,344 at the Court Street Department of Health
-38,688 at the Westchester County Center
-560 at the newly opened Westchester County Center
Concerning the vaccine supply, Latimer said, "there is a dearth of vaccines." The county expects to get 1,110 doses this week, along with a bonus of 20% more doses. He explained that the Governor has now further opened the list of those eligible to people who have co-morbidities and underlying conditions. However, these people, if they are under 65, will not be available to sign up until February 14, 2021. He also assured those who received a first shot that their second shot would be available.
Latimer discussed complaints about long lines for the vaccine at the County Center on Sunday morning February 7, 2021. As the County Center was closed on Monday and Tuesday due to snow, 2,400 people had to be rescheduled. And with more snow forecasted that day, some showed up early. He said, "it is not a first come, first serve situation." He said people should go to their appointments at the scheduled time. On Sunday, the County Center did remain open until 7 pm and gave out all the scheduled doses. If the County Center has to close again due to snow, a message will be posted on the Westchester County Government Facebook Page here.
High School Sports
After the Governor gave the go ahead to allow high risk sports like basketball and hockey, the county gave permission to the school to work out their protocols. He said that these decisions are now in the hands of school administrators and coaches.
Schools
Similarly, Latimer said, "Our position is we would like to open schools for in school learning," but the guidelines are established by the state. The county is helping by trying to get vaccines for teachers and school staff and also try to get COVID test kits. He said, "The decision to open is not up to the county."