Infection Rates Down, Vaccinations Up as Westchester Fights COVID-19
Wednesday, 24 February 2021 11:36
Last Updated: Wednesday, 24 February 2021 11:49
Published: Wednesday, 24 February 2021 11:36
Joanne Wallenstein
Hits: 692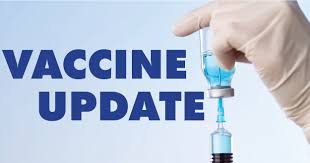 Diminishing infection rates, active cases and hospitalizations are all good news for Westchester County where the virus is on the decline and vaccinations are on the rise. At his briefing on Monday February 22, 2021 County Executive George Latimer provided statistics on COVID-19 and the progress of the vaccination effort in Westchester.
Here are the latest numbers as of February 24, 2021: You can see the daily counts here.
-Active Cases in Scarsdale: 60

-Active Cases in Westchester: 5,997 – down from 10,500 in January

-Positive Rate: On Monday 2/22, 410 people tested positive, a 4.2% infection rate, which is a big improvement over prior months.

-Hospitalizations are down to 403 this week from 507 two weeks ago, also a dramatic decrease.

-Deaths: This past week 33 people passed away, down from 50 deaths the prior week and 77 two weeks before that.
Vaccinations
Latimer reported the results of a major effort to vaccinate Westchester residents. To date, 60,731 vaccines have been administered at the Westchester County Center. This includes both first and second doses. In total, 70,438 vaccines have been given county wide to date. He cautioned that there is not yet sufficient supply to meet the demand from all eligible people.
He also explained that appointments were cancelled due to snow that prevented the arrival of the vaccines and the opening of the site. The priority for rescheduling will be given to those who need a second dose, as these have to be timed.
If your appointment was cancelled and you have been unable to reschedule, call 914-995-7425 for help. Anyone who is trying to schedule a first appointment should visit https://am-i-eligible.covid19vaccine.health.ny.gov/ or call the vaccine hotline at 1-833-NYS-4-VAX, (1-833-697-4829). The line is open from 7 am to 10 pm, seven days a week.
New Vaccination Site
Another large vaccination center will open on February 24 in Yonkers at the armory at 2 Quincy Place on North Broadway just south of Ashburton Avenue. This site is expected to administer 1,000 doses a day. For the first week appointments will be limited to those in specific zip codes in Mt. Vernon and Yonkers, but beginning March 3, anyone in the county can use this site.
Vaccination Supply
For week 11, the Westchester County Department of Health will receive 2500 doses, and other sites around the county will also receive vaccines. See the entire list here:
COVID Commemoration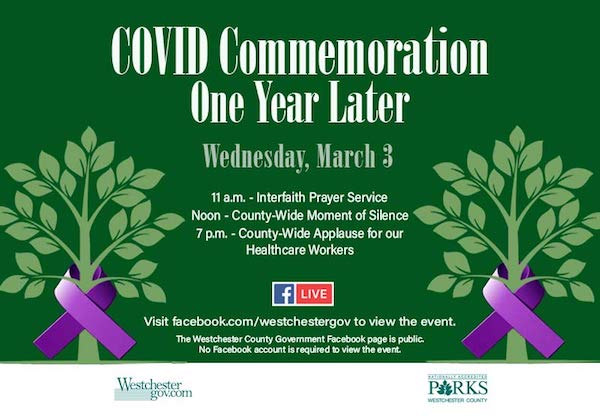 Last, on March 3, the county will hold a ceremony to remember those lost to COVID in the year since the virus claimed the first life in Westchester. At11 am an interfaith prayer vigil will be held, at noon there will be a county-wide moment of silence and at 7 pm there will be county-wide applause for healthcare workers.
You can view the event on facebook.com/westchestergov.