120,000 Vaccines Administered in Westchester County to Date
Monday, 01 March 2021 15:20
Last Updated: Monday, 01 March 2021 15:20
Published: Monday, 01 March 2021 15:20
Joanne Wallenstein
Hits: 617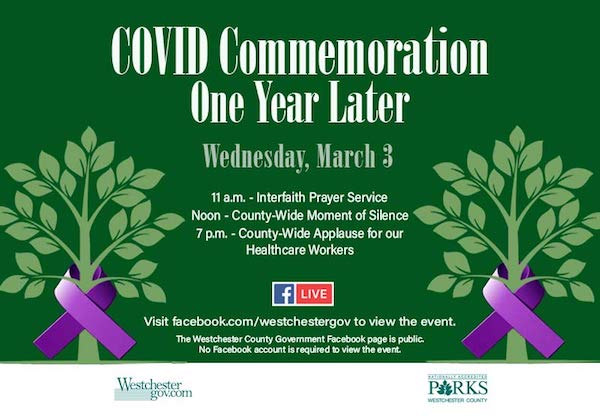 The downward trend in the numbers of COVID cases, hospitalizations and deaths continued this week with County Executive George Latimer reporting that the count of active cases fell to 5,893 on Monday March 1, down from a high of 11,494 cases in January 2021. Take a look at the situation in Westchester County here.
He said, "this is a steady downward trend," and "there was not uptick from Super Bowl Sunday."
In terms of hospitalizations, there are 340 COVID inpatients today, down from 562 hospitalizations five weeks ago. A total of 2,097 Westchester residents have passed away from COVID since the onset of the crisis a year ago.
Vaccinations are proceeding at a steady pace. To date, at the Westchester County Center, 74,757 first and second doses have been administered, with an additional 13,906 at the two county health clinics for a total of 88,000 doses from the County. Including other sites, such as pharmacies and pop-ups, a total of 120,000 doses have been given in Westchester.
Latimer is encouraged that the one-dose Johnson and Johnson vaccine will soon be available and said this should speed the process of vaccinating the population.
Deputy County Executive Ken Jenkins said that the new vaccination site in Yonkers will be open to all eligible Westchester residents as of Wednesday March 3.
He advised, as demand exceeds supply, anyone who is eligible but having difficulty scheduling an appointment should call the NYS vaccine hotline at 1-833-697-4829 or 1-833-NYS-4-VAX.
In terms of supply, Westchester County is getting 2,500 doses a week, as well as a supplement of 900 this week, for a total of 3,400 doses. Other smaller sites, such as pharmacies are receiving about 100 per week.
Last, the county will hold a COVID Commemoration day on Wednesday March 3. The day will begin with an interfaith prayer vigil at 11 am, a moment of silence at noon, the ringing of church-bells county wide and applause for first responders at 7 pm. Flags will be flown at half staff.
Latimer ended with a story about his father. As a boy, Latimer remembered struggling with math and complained bitterly to his father that he had to take a math test every week, with the score either zero or 100 for a perfect test. His father reacted by slamming his hands on the kitchen table and said, "You're complaining that you're tested once a week! As a man you will be tested daily!"
Latimer reminded residents that every day is a test, so we have to keep on trying.