Candidate Sameer Ahuja Says Scarsdale Should Prepare for a Generational Shift
Saturday, 06 March 2021 14:21
Last Updated: Monday, 08 March 2021 07:07
Published: Saturday, 06 March 2021 14:21
Joanne Wallenstein
Hits: 1534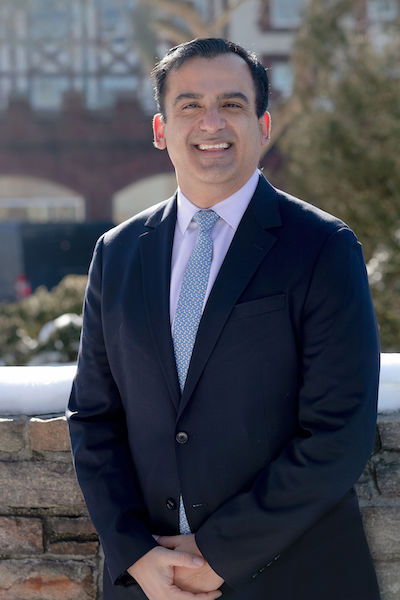 Sameer Ahuja is running for his first term as Scarsdale Village TrusteeSameer Ahuja grew up in Scarsdale and returned 22 years after high school to raise his own family here. He graduated from Scarsdale High School in 1992 and moved back with his family in 2014. He currently serves on the Village Advisory Council on Communications. Professionally, Sameer has been an entrepreneur for nearly 20 years; he currently works as the COO (GM) of GameChanger Media Inc., a NY-based sports technology company owned by DICK'S Sporting Goods.
Ahuja is running for his first term on the Scarsdale Board of Trustees on the Scarsdale Citizens Non-Partisan Party slate. Here are his thoughts on Scarsdale and the challenges he will face as Village Trustee. Remember to vote on Tuesday March 16.
-As someone with career experience in technology, how do you envision that the Village might use technology to better serve residents?
There are opportunities, but I would caution that technology isn't always a panacea. I have found it effective to take an iterative approach, making small incremental changes versus transformational projects that can often fall short of expectations. Can we easily implement software tools to help the staff deliver the same or better level of services to residents? What about widely used communication tools to assist in engaging a broader swath of the community? I would suggest that we test some things out, learn from these tests, and iterate. If a tool helps, let's keep using it. If not, let's find that out quickly.
-What aspects of the job of Village Trustee are of most interest to you?
Three areas in particular.
First, outreach and communications with residents. I personally derive a lot of energy from interactions with others and would be excited to draw in the views of a larger segment of the village population. Perhaps some communications tools can help. However, I often like to say at work when we are trying to light a spark with our customer community that you need to "do things that don't scale". In this case, that means investing the time to simply reach out and talk to more people. Let them know you want to hear them out and that you are here to help.
Second, I view the increasing diversity of the Village as a great strength for the community and would be proud to bring a new voice to the Board.
Finally, thinking to the future, echoing what Jane Veron hopes to bring as our Mayor - I am excited to contribute to a vision, a long-term strategic framework for Scarsdale that can continue across multiple boards and years.
-What are the biggest challenges facing Scarsdale today – and how do you believe you can contribute to the solutions?
Short-term, is of course the budget. But a bit further out, I believe we are facing a generational shift. I expect remote work to be a lasting trend which will impact how companies work and where people work and live. We need to be preparing the Village for these changes and ensure that Scarsdale remains a community where those of the highest character, integrity, intellect, and achievement want to live.
-Given the fall off in revenues and the budget gap, do you think residents might be willing to pay a bit more in taxes or fees to maintain services?
I want to commend the Village staff for maintaining, during the pandemic, the quality of service that our Residents have come to expect. We need to continue our conversations with residents to understand what they truly value and what they view to be key differentiators for Scarsdale. These conversations will hopefully lead us to the lowest possible tax increase consistent with what our Residents expect from life in Scarsdale.
-The Village pursued a public-private partnership to raise the funds to renovate and expand the library. Can you envision other ways that the Village might work with private individuals, businesses or foundations to finance infrastructure or programming needs?
I am passionate about public-private partnerships; my first entrepreneurial venture was exactly that, working with NY State and City to bring a tourist attraction to post-9/11 Lower Manhattan. There are some very intriguing success stories in other communities. This is actually an area where technology offers more transformational opportunities. I think we can start quite easily - simply by saying clearly and openly that we are excited to do more of this, that we are here to work in partnership with the private sector. This is where Jane Veron's vision is so exciting. She has proposed four pillars for the work of the Village Board and with it three areas that we need to make progress in
Communications
Sustainability
Technology
I would start to consider public-private partnerships that elevate and accelerate our community's progress in these three areas.
I also want to say that for me any public-private partnership rests on three guiding principles. 1) A sense of equal and true partnership between parties; 2), Complete transparency from beginning to end; and 3) Clear and comprehensive documentation of the specifics of the partnerships. Only with these can Residents be sure the partnership is in the best interests of the community.
-At times it feels like a few very vocal residents are the only ones giving input to the Village Board. Do you believe that the Village hears from a representative swath of residents? How can you know if you're voting in the interest of the majority if so many are disengaged?

I want to commend those residents who make the time to analyze the issues facing the Village and speak up. In talking to friends and neighbors, I know that a larger swath of the population has viewpoints they would like to share. I am ready and excited to do the work to bring these new voices into the process. And that is my message to our Residents - get involved!
-What was your role as part of the Village's Advisory Council on Communications? Tell us about the work of that committee and what it accomplished. What work is still to be done?

I feel privileged to be part of the ACC. It is composed of some of our most dedicated residents and I have made good friendships while serving the community. Chair Dara Gruenberg has established a clear and exciting vision for the council. The committee has created video content about the Village, has implemented strategies to increase and diversify volunteer participation on Village Boards and Councils, and has advanced the redesign of the website in conjunction and coordination with Village Staff. This work will continue and the council has some exciting ideas for communications protocols, the Village's visual identity/branding, and social media.
I am leading the council's work on the website redesign. It is a multi-month endeavor, working closely with Village staff and CivicPlus (third-party design firm) on rewriting dozens of pages of site content and revamping the site's design and look and feel. I am particularly excited about the part of the process when we reach out to residents for feedback on the proposed enhancements, as this input will be crucial to having a site that represents Scarsdale well.
-Anything else?
To conclude, I have seen for nearly four decades how Scarsdale has been so welcoming to so many wonderful people. No different than a business where customers have choices, folks have a choice of where to live. We need to always be working to ensure that the best people come here. The opportunity to live in a place as special as Scarsdale is not something I ever take for granted. That is why I want to work to support and build this community as a Village Trustee. And I could not be more excited to be able to do that with my fellow candidates, who bring so much experience, intellect, and commitment to the table.