Speakers Condemn Hate and Violence at Vigil in Scarsdale Village
Sunday, 28 March 2021 12:33
Last Updated: Sunday, 28 March 2021 12:53
Published: Sunday, 28 March 2021 12:33
Joanne Wallenstein
Hits: 850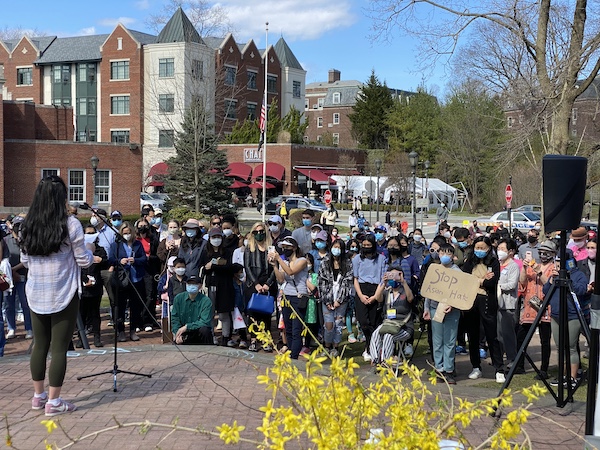 A compelling issue and beautiful weather brought many to Chase Park on Saturday March 27 to condemn hate and memorialize those lost in gunmen's attacks in Atlanta and Boulder. The Vigil Against Hate was sponsored by students from the Scarsdale High School Asian Conscientization and Empowerment Club and the Scarsdale Chinese Association to mourn the senseless loss of lives, to condemn hate and bias against Asian Americans and Pacific Islanders (AAPI) and to call for love and respect for all human beings.
The event drew government officials and lawmakers who spoke about policy changes to support equity, inclusion and diversity.
There were speeches by SHS students, Scarsdale Mayor Marc Samwick, School Board VP Alison Singer, Congressman Jamaal Bowman, State Senator Andrea Stewart-Cousins and Assemblywoman Amy Paulin as well as the daughter of a hate crime victim in White Plains.
We also spotted many local officials in the crowd including Mayor Elect Jane Veron, Police Chief Andy Matturro, Village Manager Steve Pappalardo, Ellen Hendricks, County Legislator Damon Maher and members of the Chinese community Jingqing Chair, Vivian Lin, Jing Lu and student organizers Vivian Guo and a committee who hosted the event.
Other vigil activities included moments of silence, song singing, reflective yoga moments, music, and a shrine decorated with pictures, poster boards, flowers and cranes.
Speakers list:
Peter He (SHS) MOC/Host
Vivian Guo (SHS, Co-founder of ACE)
Karen Lee (SHS, Co-founder of ACE)
Janmariz Deguia (SHS)
Rishika Bansal (SHS)
Olivia Liu (SHS)
Jingqing Chai (SCA Chair)
Jing Lu (Board Member of SCA)
Anna Wang (Lead singer of the closing song)
Linda Toh (Daughter of the victim of White Plains attack on March 12th, 2021)
Regina Lee (Yoga Instructor)
Marc Samwick (Scarsdale Mayor)
Alison Singer (Vice President of the Scarsdale Board of Education)
Jamaal Bowman (Congressman)
Andrea Stewart-Cousins (New York State Senate Majority Leader)
Amy Paulin (New York State Assembly Member)