The Tipping Point
Monday, 14 December 2009 10:28
Last Updated: Saturday, 19 December 2009 16:26
Published: Monday, 14 December 2009 10:28
Hits: 4308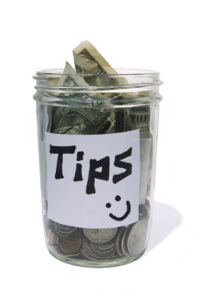 'Tis the season…to whip out your wallet and give tips. And while we all are feeling the effects of the recession, chances are those who are servicing you and your family are feeling it even more. So, this week remember to set aside a special envelope for all the people who make your life just a little bit easier.

Our tips on who, and how much, to tip:

Regular Saturday Night Sitter: A small gift, or gift card, plus an average evening's pay.

Au Pair or Nanny: A week's pay and a small gift.

Day Care: A gift or $25 per staffer.

Teachers: A gift ($20-$25 value) or a gift card of the same value.

Housekeeper: One week's pay plus a small gift.

Hairdresser: Unless your stylist is the owner give double your regular tip, be sure to get all the support staff as well (hair washer, blow out person, colorist).

Mail Carrier: The Postal Service rule is a non cash gift up to $20 is acceptable.

Manicure/Pedicure: Double your usual tip.

Newspaper Carrier: $10-$30 dollars or small gift.

Pet Walker/Sitter: Up to a week's pay or a gift.

Garbage Collectors: $20 per collector (tape a clearly marked envelope to the top of the trash can).

Child's Extra-curricular Teachers (music, art, sports, etc.) A small gift or $20 for instructor, $10 per extra staff if there are any helpers

Others who you want to acknowledge this time of year: Dry Cleaner, pharmacy delivery man, crossing guard, or anyone who helps you out on a regular basis: A token gift of a $5 gift card to Starbucks, Panera or Dunkin Donuts is a really nice way to show your appreciation.

Note: I eat breakfast at Paneras about three times a week. There is a cashier who knows what I like (a small coffee and a toasted, scooped out whole grain bagel with low fat cream cheese) and gets it ready for me as soon as she sees me walk through the door. They don't accept tips, so to show her that I really appreciate her extra effort I gave her a $15 gift card to  Annie Sez.

Did we forget anyone, or suggest too little or too much?  Add your comments on tipping below.

Betsy Cadel is an Edgemont resident, freelance writer, and morning fixture at Paneras Café on Central Ave.