EHS Senior Cody Fisher Prompts CPR Training
Monday, 14 December 2009 19:49
Last Updated: Monday, 14 December 2009 19:51
Published: Monday, 14 December 2009 19:49
Hits: 13788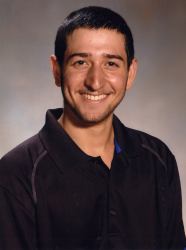 Last summer, while he was a counselor at a sleep away camp Nock-a-Mixon, Edgemont High School Senior, Cody Fisher, nearly died of a sudden cardiac arrest. It was the camp staff's quick response with CPR and the use of an Automatic External Defibrillator (AED) that helped save his life.  He was diagnosed with, and treated surgically for, Wolff-Parkinson-White Syndrome. Since that harrowing experience,Cody has become affiliated with the American Heart Association and recently shared his story at the Edgemont Board of Education meeting, urging all faculty, not just those associated with sports, to be trained in both CPR and use of the AED device.

"You really never know when something could happen, and it's not always around a physical activity." Cody said.
District Superintendent, Nancy Taddiken, and Edgemont faculty received his request with enthusiasm and took action. At the Superintendent's Conference on Wednesday November 11th, 24 members of the Edgemont faculty completed a three-hour workshop to become certified in CPR and use of an AED, and 14 others were recertified. By law, medical and sports staffs are trained in both.
"I was so proud of Cody and his compelling plea. He turned what had happened to him into something that could benefit others." Taddiken said.

His experience peeked the interest of more than just the local community. On November 16th Fox 5 will air a feature segment about Cody's story. He was recently interviewed, in his home, by Fox anchor, Ernie Anastos. FOX cameramen also filmed his follow up surgery, which confirmed that he was free from the life-threatening condition.

Cody, like many high school seniors, has just completed his college applications and is  anxiously awaiting responses. Thanks to the trained staff at camp, Cody not only has college to look forward to, but also has made a life-long commitment to encouraging others to be fully certified in use of these life-saving protocols.

Watch the video of Cody's story on Fox 5 now: http://www.myfoxny.com/dpp/news/local_news/091116-Teens-Heart-Stops-But-Lives

Betsy Cadel is the mother of a Seely Place 4th grader, freelance writer and frequent contributor to Scarsdale10583.com.