Snow Emergency Ends Wednesday am: Two-Hour Delay for Schools on Wednesday
Monday, 13 March 2017 13:21
Last Updated: Thursday, 16 March 2017 13:23
Published: Monday, 13 March 2017 13:21
Joanne Wallenstein
Hits: 4023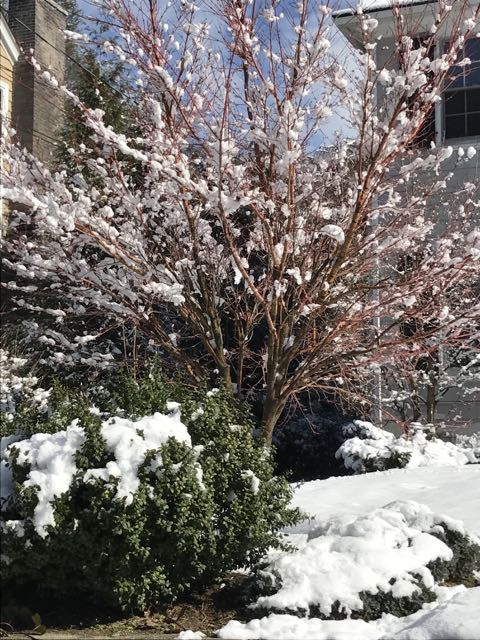 (Updated at 7:30 am on Wednesday March 15) The Village of Scarsdale has cancelled the state of emergency as of Wednesday morning. Streets are reopened for drivers and parking. The school district will be open on a two-hour delay Wednesday morning.

Here's the information from the Village:

The Snow Emergency declared this morning at 12:01 a.m. is still in effect and will remain so until all streets are cleared for safe passage.

Public Works crews are currently plowing curb-to-curb onall roads and will apply deicingmaterials afterwards, as temperatures are predicted to drop below freezing tonight. As of now,the Village anticipates another ten hours to twelve hours of plowing and deicing, including clearing of the 25 miles of residential walkways in time for the morning commute.

For questions and concerns about snow removal operations, the SNOW Hotline, 914-722-1150, will remain active until 11:00 p.m. tonight. Residents may call the Public Works Department at the same number beginning at 9:00 a.m. on Wednesday, March 15th.

The Village requests the support and assistance of residents and other property owners in making sure that contractors hired to help clear driveways and other private property DO NOT push the snow onto the public right-of-way, as this will only confound our efforts to make the roads and residential walkways passable.
During this emergency, it shall be unlawful to operate a vehicle on any designated snow emergency street in the Village of Scarsdale. These streets are posted with identifying signs. In addition, it shall be unlawful to park a vehicle on any public or private street in the Village during this snow emergency. Violators may have their vehicle towed and impounded at their expense.
The Scarsdale Public Schools were closed on Tuesday March 14th and will open two hours late on Wednesday. Here is the note from Dr. Hagerman:

"All schools will be on a two hour delay tomorrow due to current weather conditions. This also means that there will be no before school programs or meetings. A two hour delay means that your school's start time will be exactly two hours later than usual. If there is a need to change the typical delayed building schedule, your principal will notify you directly."

The following information and tips will help you and your family to stay safe during this major winter storm event. Please also take time to check on friends, family, and neighbors that may be unable to navigate the range of conditions that one may encounter during a severe winter storm. Also, refrain from non-essential travel.
In the event of a power outage:
Close-off unused rooms to retain heat;

Wear layered clothing and use blankets or sleeping bags to stay warm;

NEVER use generators or outdoor heating or cooking equipment indoors, such as a grills, camp stoves, or gasoline/propane heaters;

NEVER heat a home with a stove;

If driving is absolutely necessary, keep disaster supplies in your vehicle, make sure your vehicle is properly equipped, and use extra precaution on the roads; and

Limit your time outdoors. If you are outside, protect yourself from frostbite and hypothermia by wearing several layers of warm, loose-fitting, light-weight clothing.

If you observe a downed power line, please call 911. ConEd customers should report power outages and check service restoration status at http://www.conEd.com, or by calling 1-800-75-CONED (1-800-752-6633). When reporting an outage,customers should have their Con Edison account number available, if possible, and report whether their neighbors also have lost power.
Con Edison offers the following storm tips to customers to help weather the possible effects of a storm:
If you see downed electrical wires, do not go near them – call 911. Treat all downed wires as if they are live. Never attempt to move them or touch them with any object.

Be mindful that downed wires can be hidden from view by snow, tree limbs, leaves or water;

If a power line falls on your car while you're in it, stay inside the vehicle and wait for

emergency personnel;

If your power goes out, disconnect or turn off appliances that would otherwise turn on automatically when service is restored. If several appliances start up at once, the electric circuits may overload; and

Check to make sure your flashlights and any battery-operated radios or

televisions are in working order. Make sure you have a supply of extra batteries.
Weather updates and news on restorations of electrical service can be heard on most local radio and television stations.
Storm Cancellations:
The Village Board Finance Committee and Regular Village Board meetings scheduled for Tuesday, March 14th, at 6:30 p.m. and 8:00 p.m., respectively, have been rescheduled for the same times on Wednesday, March 15th;

Sanitation collection for Tuesday, March 14th, has been canceled. The Tuesday collection will occur on Friday, March 17th;

The Wednesday, March 15th, recycling collection is currently planned to occur, but will be curbside only;

The Scarsdale Public Library will be closed on Tuesday, March 14th

The Recycling Yard will remain open until 8:00 p.m. tonight, Monday, March 13th, for residents wishing to drop-off waste or recycling ahead of the winter storm;

The Freightway Garage rooftop levels 5A and 5B will be closed and barricaded tonight at 11:00p.m. to facilitate snow plowing operations; and

Residents are reminded of the existing overnight parking prohibition on any village street or open/surface parking lot between th e hours of 2:00 a.m. and 6:00 a.m.

Effective at 7:00 a.m. on Tuesday, March 14h, the Village will deploy a "Snow Desk" for residents to call or non-emergency, snow-related issues or concerns. The phone number is 914-722-1150. Although the Village may experience reduced staffing, normal Village Hall operating hours are expected this week, including tomorrow, Tuesday, March 14th.