Varsity Baseball Team Off to a Strong Start
Tuesday, 16 April 2019 22:16
Last Updated: Wednesday, 17 April 2019 20:42
Published: Tuesday, 16 April 2019 22:16
Anna Cho
Hits: 2238
Pitcher, Trevor Lambert (18), pitching a strike against New Rochelle in the first inning.The Scarsdale Varsity Baseball team started their second week of the season with a close 5-4 win against New Rochelle High school on Wednesday April 10. The boys played a focused game, marked by enthusiasm and hard work. Whether on or off the field, there was never a lack of support for one another. Constant cheering could be heard from the boy's dugout during both the ups and downs of the game. The team displayed an abundance of talent and determination to carry them through the season.
Benjamin Lehrburger (3) batting against New Rochelle in a 5-4 win
First baseman, Michael DiSanto (21), in action against New Rochelle. (Pic 1)
Third baseman, Cole Thaler (2), making an out for his team against New Rochelle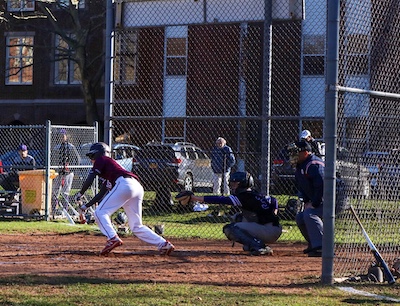 Scarsdale's Kevin Walker (10), hits a bunt allowing him and his teammate, on first, to run safely onto their respective bases.