Bring The Family To See Bye Bye Birdie This Weekend At SHS
Thursday, 16 May 2019 13:49
Last Updated: Thursday, 16 May 2019 13:51
Published: Thursday, 16 May 2019 13:49
Jamie Robelen
Hits: 4312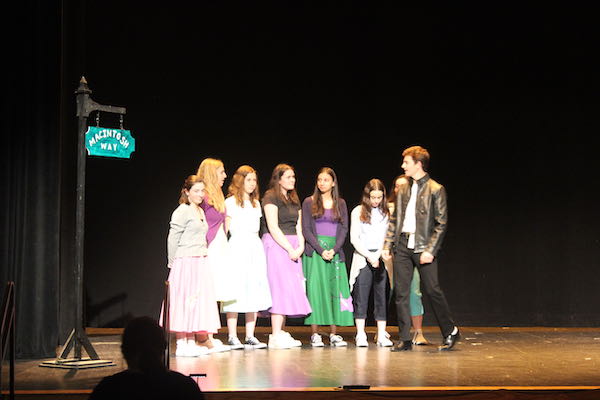 L to R: Danielle Lemisch as Deborah Sue, Becca Skar as Kim, Amanda Ruzumna as Margie, Julia McMurray as Helen, Amanda Glik as Suzie, Emily Lattman as Alice, Talia Schulhof as Nancy, Ben Schwartz as ConradThe SHS senior class musical is a tradition that Scarsdale kids look forward to every year. It's a chance for students who aren't involved in drama at the high school to have their moment onstage to shine, and it's also a chance for kids who are involved with the drama club to step into production and leadership roles. This year, the show picked was the 1960 classic musical Bye Bye Birdie. The show will open on Friday, May 17th, at 7:30pm. There will also be performances on Saturday, May 18th at 7:30pm and Sunday, May 19th at 2:00pm. The production is directed by senior Katie Nova in her directorial debut, with technical supervision and mentorship throughout the process from Mr. Steve Bogardus.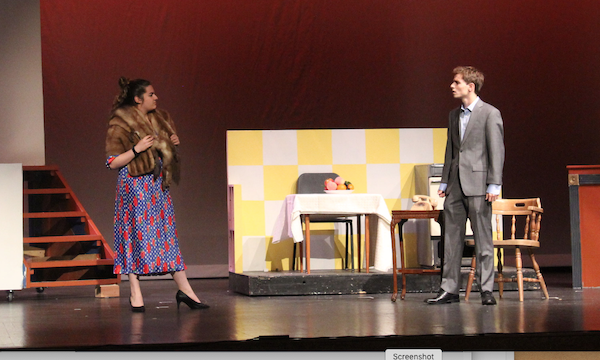 Christina Coco as Mae Peterson, Noam Cherki as Albert PetersonThe plot of the show follows Albert Peterson, a songwriter for the pop star Conrad Birdie, his girlfriend and secretary Rosie Alvarez, and Conrad himself, as they put together one last publicity stunt before Conrad goes to war. Their big idea is for Conrad to have one last "goodbye kiss" with a fan, Kim MacAfee, which stirs things up with Kim's family and newly-steady boyfriend, Hugo. The production stars Noam Cherki as Albert, Lindsay Gelles as Rosie, and Ben Schwartz as Conrad, featuring Becca Sklar as Kim and Joey Lane as Hugo, with Simon Krohn and Izzy Riback as Kim's parents and Zach Reyman as Kim's brother. While some members of the cast have outside theatre experience, for many it's their first show.
The senior class has been working hard to put this all together. The whole family will enjoy it! To see the show, buy tickets here or at the door on May 17th, 18th, or 19th.