Three Days of Fun at the Scarsdale Sidewalk Sale
Monday, 29 July 2019 11:09
Last Updated: Monday, 29 July 2019 13:02
Published: Monday, 29 July 2019 11:09
Jamie Robelen
Hits: 2970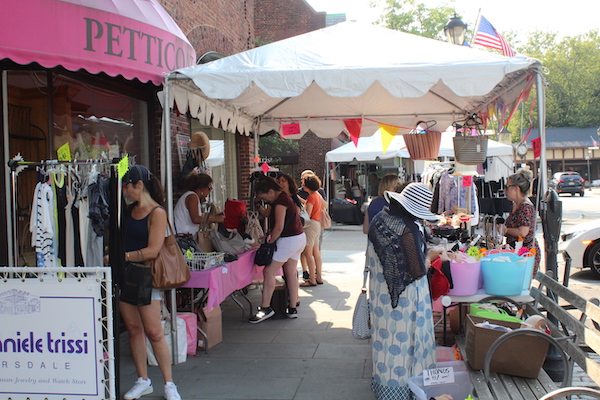 Scarsdale Village was bustling with shoppers during the Scarsdale Business Alliance's Annual Summer Sidewalk Sale. The sale was a 3-day affair, held from Thursday, July 25, through Saturday, July 27, from 10am to 6pm each day. Almost every store in the village participated, with some sort of display outside of the storefront; one exception to this, however, was Learning Express, who participated in the sale but kept everything inside to beat the heat. This year, for the first time, the SBA allowed vendors to participate who didn't have brick-and-mortar stores in the village. There were food trucks in front of Boniface Circle to keep everyone full, and Stretchlab Scarsdale had a tent offering free 15-minute stretches. Scarsdale's newest bookstore, Bronx River Books, had tables full of novels outside their storefront. At LF, teens were digging through bins of shirts and shorts, some looking for new college clothing. On Saturday, families flocked to Chase Park at 11am for a kiddie concert. Songs for Seeds played tunes like "Wheels on the Bus" and "Can't Stop the Feeling" for kids and their parents. Only one year left until next year's sidewalk sale- mark your calendars!
This event was sponsored by the Scarsdale Business Alliance (learn more here).
Marcy Berman-Goldstein, Vice-President of the SBA, offered this comment:
"By including home based businesses, businesses outside of Scarsdale, and inviting people to run activities for grown ups and kids on the streets, we increased participation and engagement. I think it was very successful, I think our goal of inclusivity and action on the street was met. I think overall we achieved what we set out to do and we'll only be be able to achieve more with the platform we've created."