Revised Bike Path Route Will Require Users to Cross Traffic on the Fenimore Road Bridge
Wednesday, 25 September 2019 11:03
Last Updated: Wednesday, 25 September 2019 11:14
Published: Wednesday, 25 September 2019 11:03
Joanne Wallenstein
Hits: 2881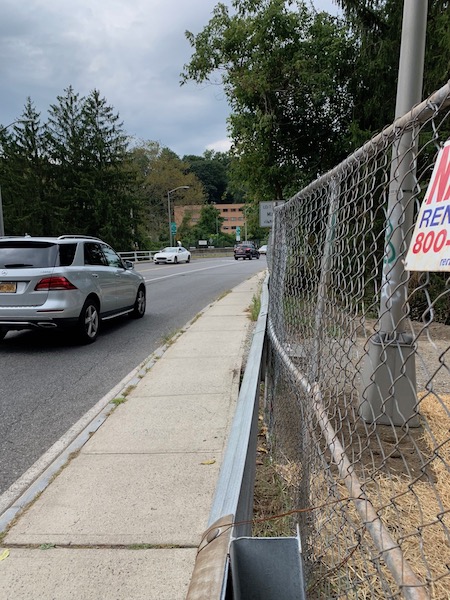 After we posted an article last week about the construction of the bike path to link Scarsdale Village to Fenimore Road we were alerted by several readers that the plans had been changed. Due to a million dollar budget cut - and other reasons - the county has revised the route.
It turns out that the new plan will put users atop the Fenimore Road bridge and require them to cross the bridge and the south entrance ramp to the Bronx River Parkway.
Under the previous plan, the path would have extended underneath the Fenimore Road Bridge and across the tracks to the bridge at Greenacres Avenue. This would have prevented bikers and walkers from crossing into traffic.
However, now, users will have to brave traffic on both the entrance ramp and the busy bridge to link from one side of the path to the other.
Why was this change made? We exchanged emails with Westchester County Director of Park Facilities David DeLucia who explained it this way:
"The route to connect to the existing pathway was changed. The trail will cross Fenimore at a new crosswalk, and flashing lights operated by a push button. The crosswalk will take trail users across the South bound entrance ramp where it meets Fenimore Road, and then cross Fenimore Road just to the East of the entrance ramp to just east of the entrance to the Railroad station.
The original ramp structure with concrete piers to the north of Fenimore leading up to Greenacres Avenue was a new element in the historic landscape of the Reservation. This would have been difficult to construct and still keep the historic character of the landscape. The current configuration involved less tree removal and ground disturbance.
The budget changed by about one million dollars. The plans changed due to costs, historic and environmental reasons."
We asked DeLucia if he was aware of how dangerous it was to cross the bridge as the road leading to it veers sharply and is a blind curve. He said, "The plans were developed by our consulting engineers, and reviewed and approved by our traffic engineers. I know the intersection well and are making it as safe as possible. There will be a system of signage, striped cross walks, flashing lights, and a push button alert."