Who Should Receive the 2021 Scarsdale Bowl? Committee Seeks Recommendations for Honoree
Saturday, 31 October 2020 15:45
Last Updated: Saturday, 31 October 2020 15:50
Published: Saturday, 31 October 2020 15:45
Joanne Wallenstein
Hits: 876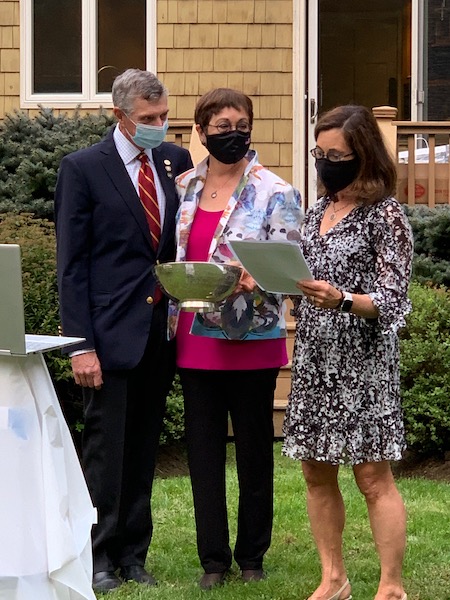 2020 Bowl Honorees Jon Mark and BK Munguia with Bowl Chair Nancy MichaelsThe 2021 Scarsdale Bowl Committee will begin working to select the 2021 recipient of the Scarsdale Bowl award at its meeting on December 13 and is seeking recommendations from the community for next year's honoree.
The Scarsdale Bowl, under the sponsorship of the Scarsdale Foundation, has been awarded annually since 1943 to an individual (or in exceptional cases, to a married couple) who has given "unselfishly of their time, energy, and effort to the civic welfare of the community." The founding donors of the Bowl believed that "many who serve generously and voluntarily, without office, honor, or publicity, are those deserving of having their names permanently inscribed on the Scarsdale Bowl." The community celebration dinner is currently scheduled to be held on Thursday, April 22nd, 2021 at Brae Burn Country Club in Purchase.
Randy Guggenheimer, President of the Scarsdale Foundation, announced that Nancy Michaels will once again serve as chair of this year's Scarsdale Bowl Committee, and Abby Sroka will continue as the Secretary/Treasurer. Members of the Bowl Committee serve a staggered two-year term. The members of the newly-appointed class of 2022 are Sergi Flaster, Elyse Klayman, Michael Rosen, Svati Shashank, Scott Silberfein, Loretta Vickers, and Han Zou. The continuing class of 2021 is comprised of Matthew Martin, Dana Matsushita, Jeff Robelen, Andrea Seiden, Janice Starr, and Amber Yusuf. Jennifer Love, a Scarsdale Foundation trustee, will serve on the Committee as liaison.
The Scarsdale Bowl Dinner 2021, themed "Shine on Scarsdale," will pay tribute to the 2021 recipient, as well as officially honor 2020 Bowl winners BK Munguia and Jonathan Mark because we were unable to gather as a community during the pandemic. The Committee is grateful that despite the dinner's cancellation, the Scarsdale community has been generous, waiving ticket reimbursements and making donations toward the Foundation's college scholarships, which are now more crucial than ever. The hope is that next year the community will be able to properly celebrate the spirit of volunteerism, central to the civic life of Scarsdale, and that another group of deserving students will benefit from the evening's proceeds. In addition, the new Honor Roll will allow everyone to recognize the day-to-day volunteerism of friends and neighbors while generating more support for the Foundation's projects.
The Bowl Committee welcomes community input for suggestions for the next Bowl honoree. Recommendations are requested by November 25th, but will be accepted any time before the December 13t meeting. Nominees must be Scarsdale residents who do not currently hold elective office. Any member of the Bowl Committee will gladly answer questions, and Chair Nancy Michaels may be reached at 725-8310 or at NancyMichaels311@gmail.com. Nominee recommendation forms may be accessed here.
Additional information about the Scarsdale Foundation and the Scarsdale Bowl may be found at www.scarsdalefoundation.org. Looking forward to being together next year!