COVID, COVID, COVID: Infection Rate on the Rise In Westchester
Tuesday, 10 November 2020 08:36
Last Updated: Tuesday, 10 November 2020 20:26
Published: Tuesday, 10 November 2020 08:36
Joanne Wallenstein
Hits: 3366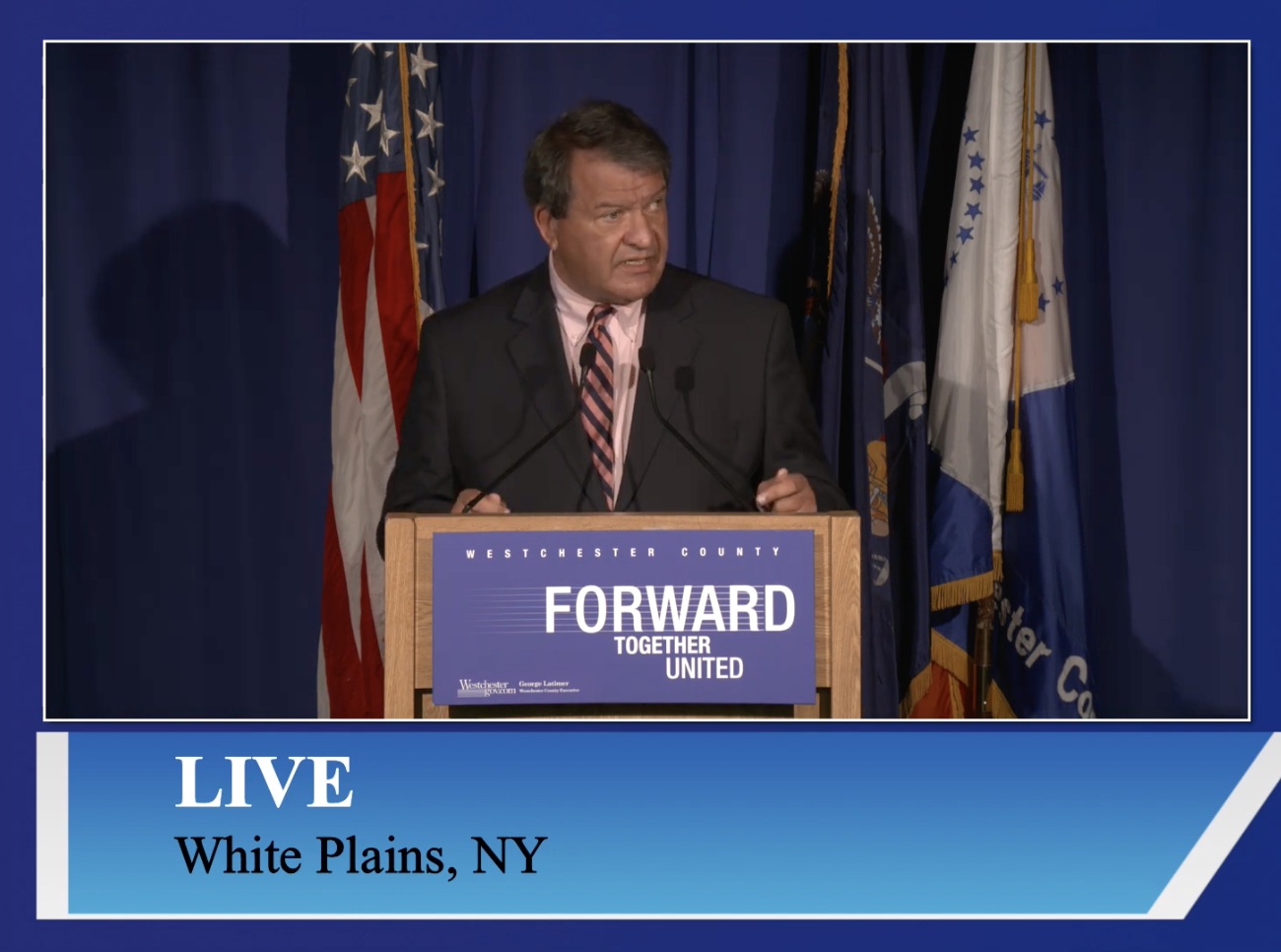 Though the number of active infections in the Scarsdale Schools remains low, there are signs that COVID is on the uptick in Westchester County.
As of November 5, the NYS Department of Health reports 1 positive student at Fox Meadow Elementary School, 1 positive staff member at Edgewood Elementary School, and 4 students and 1 staff member positive at Scarsdale High School for a total of 7 cases district wide. However here were additional reports from the school district since November 5, so that case count may be higher.
According to the district, over 100 students are currently quarantined due to exposure to those who are positive, primarily from contacts outside school.
According to Westchester County, as of November 9 there were a total of 10 active cases in Scarsdale.
But countywide, the numbers are far more concerning. As of Monday November 9, County Executive George Latimer reported rising infections, hospitalizations and fatalities and announced that a "yellow zone" had been declared in Port Chester and parts of Rye Brook. Latimer said, we are "seeing a steady increase in the virus."
Here are the numbers:
-Year to date there are 42,179 cases in Westchester County.
-There are currently 2,048 active cases of COVID in the county. This is dramatically higher than the summer months when, on August 8, there were only 442 active cases, almost one fifth of the current count.
On November 8, 6,606, people were tested and 225 came back positive – a 3.4% rate of infection, while on August 8 the infection rate was only 1.1%.
Year to date, there were a total of 908,000 tests given in the county, a count that does include multiple tests for some people.
As of November 6, 82 people were hospitalized as compared to 48 on November 1. The number of hospitalizations has doubled in just one week. Latimer said, "The trend line is moving in the wrong direction."
In terms of deaths, Latimer reported "We have lost 1 person a day for the last 3 days. … But we only lost 7 people in July and only 4 people in August. In the month of October, 20 people passed away."
Latimer concluded that more people are testing positive at a higher percentage though we have not reached the crisis levels experienced in March and April. He said, "The trend lines are concerning."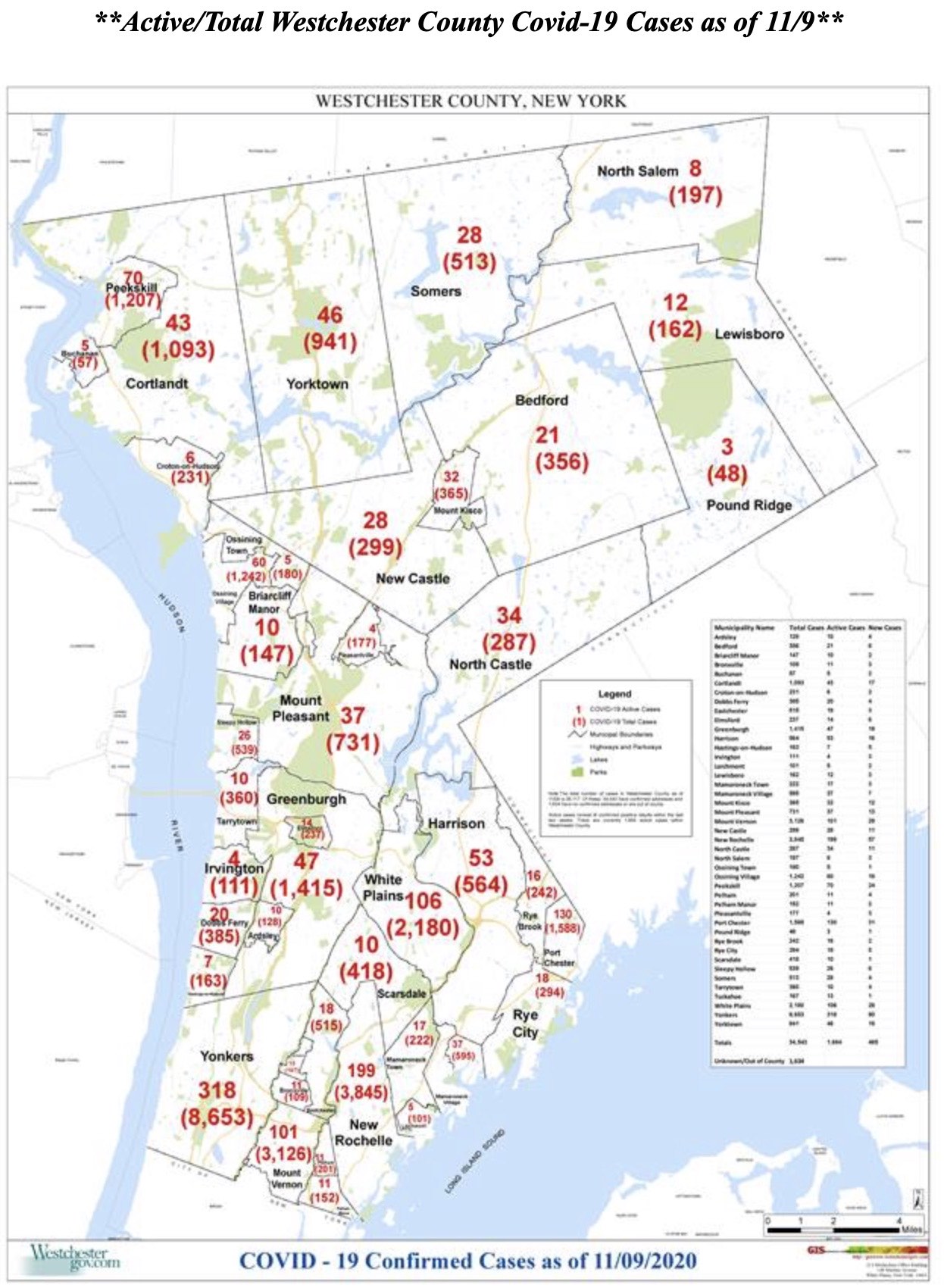 He urged residents to wear masks and practice social distancing until a vaccine is available. He noted that colder weather would bring more indoor activities and the potential for the virus to spread further.
Latimer also discussed the Governor's decision to declare a yellow zone in the Village of Port Chester and a portion of the Village of Rye Brook. According to Latimer, "The yellow zone designation is not a shutdown. It is a cautionary note to slow down due to an increase in the infection rate.
Here is what a yellow zone means as defined by Governor Cuomo:
-There is a limit of four people to a table at restaurants.
-Outside events are limited to 25 rather than 50 people.
-There are restrictions on the number of people who can attend services at houses of worship.
Latimer noted that Portchester borders Connecticut where there is also a rise in the infection rate. He said that rapid COVID testing has been ramped up in Port Chester to identify those who are positive before they spread the disease.