Will Marijuana Dispensaries and Smoking Lounges Be Permitted in Scarsdale?
Thursday, 17 June 2021 07:48
Last Updated: Monday, 27 September 2021 10:24
Published: Thursday, 17 June 2021 07:48
Sammy Silberberg
Hits: 2773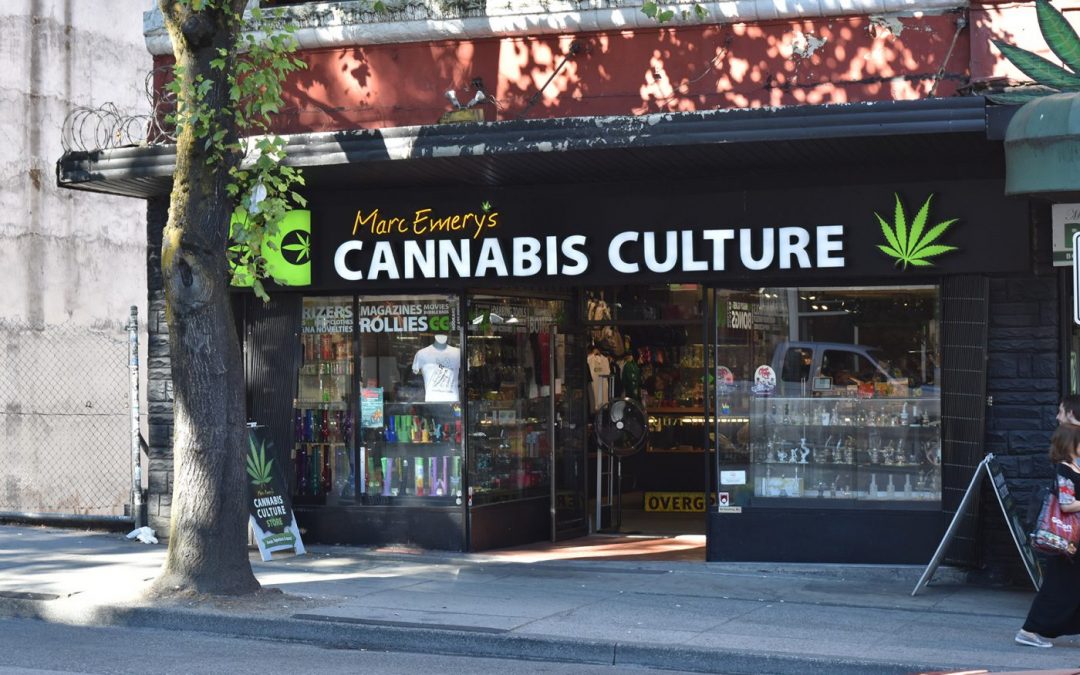 Marijuana, cannabis products, dispensaries and even smoking lounges are legal in New York State, but are they going to be a fixture in Scarsdale's future? That is a question the Board of Trustees tackled during this week's highly anticipated work session on Tuesday, June 15.
The new Marijuana Taxation and Regulation Act (MRTA) was signed into law in March 2021, legalizing the possession and use of marijuana. As of March 31, 2021, anyone over the age of 21 may possess, display, and transport up to 30 oz of cannabis and can transfer up to 3 oz of cannabis without compensation. It is also legal to use, smoke, or inject cannabis products, purchase cannabis paraphernalia, and plant or cultivate cannabis in a personal residence. You can find a complete overview of the law HERE. The framework of MRTA is similar to alcohol regulation and will be managed by the NY State Cannabis Control Board. Similar to liquor stores, sales will take place at retail dispensaries, which are anticipated to open in late 2022 or early 2023.
Public consumption of cannabis products will be treated the same as tobacco and will be banned in areas such as workplaces, food service establishments, public and private educational intuitions, commercial establishments, hospital grounds, public libraries, and indoor areas.
While most of the law's implementation is decided by the state, individual municipalities have some agency over the sale of cannabis within their borders. By December 31, 2021, towns must decide if they want to "opt-out" of the sale of cannabis by passing a local law banning the practice. If no law is adopted by that date, retail cannabis dispensaries and on-site consumption businesses can open. A municipality can also choose to allow dispensaries but not on-site consumption centers, or vice versa, if that is the preference of the community. If a town chooses to opt-out, they may repeal the provision and "opt back in" at any time. If a town opts out, it will forfeit the highly anticipated tax revenue that comes from these sales. By state law, MRTA will add a 4% tax to all retail sales, of which 1% will go to the county and 3% will go directly to the town.
If Scarsdale permits dispensaries and consumption sites, the village can govern the time, place, and manner of operation of these establishments as long as such provisions do not make the functioning of those facilities unreasonably impracticable. Local governments can also implement additional smoking and vaping restrictions on property owned by the municipality, such as parks and playgrounds. In addition, these retail shops and consumption sites cannot be located within 500 feet of school grounds or 200 feet of a house of worship.
Given these restrictions, Village Planner Greg Cutler identified only two possible sites for cannabis retail stores or on-site consumption facilities in Scarsdale. In the maps below, the orange zone represents the 200-foot buffer from houses of worship, and the red zone represents the 500-foot buffer from schools. Within these parameters, only certain areas of the Village Center and the Golden Horseshoe Shopping Center would be potential areas for these businesses to operate.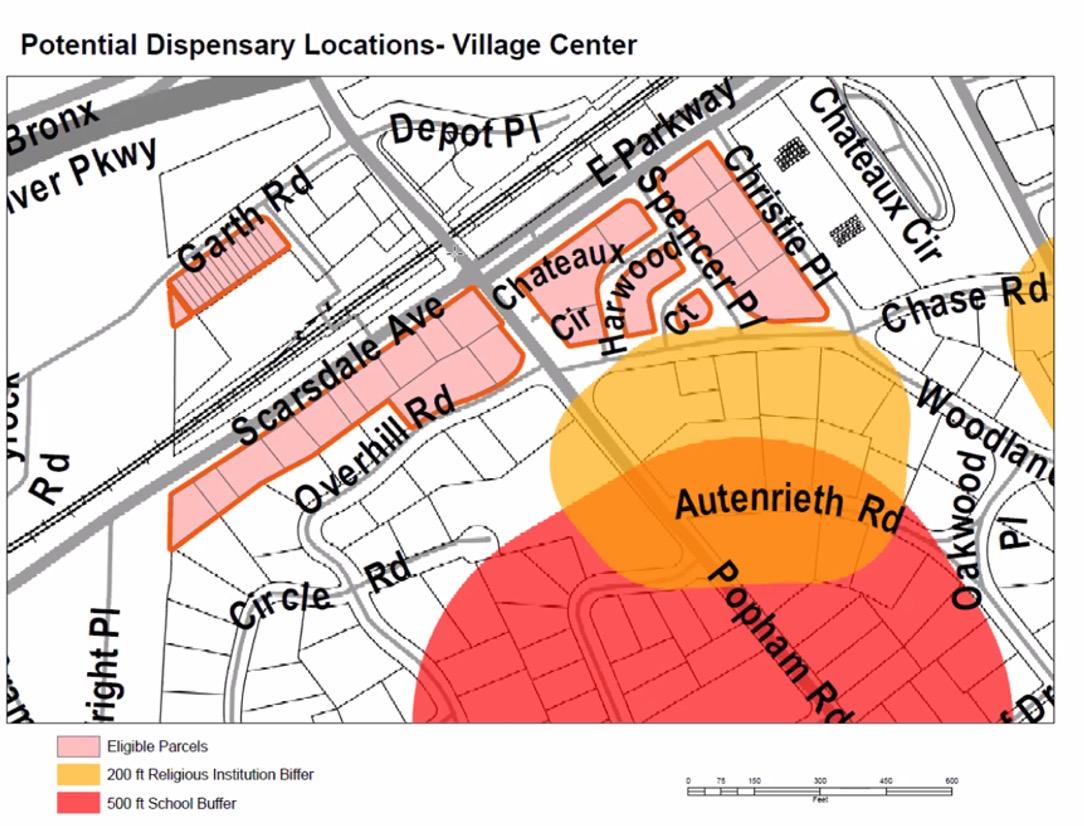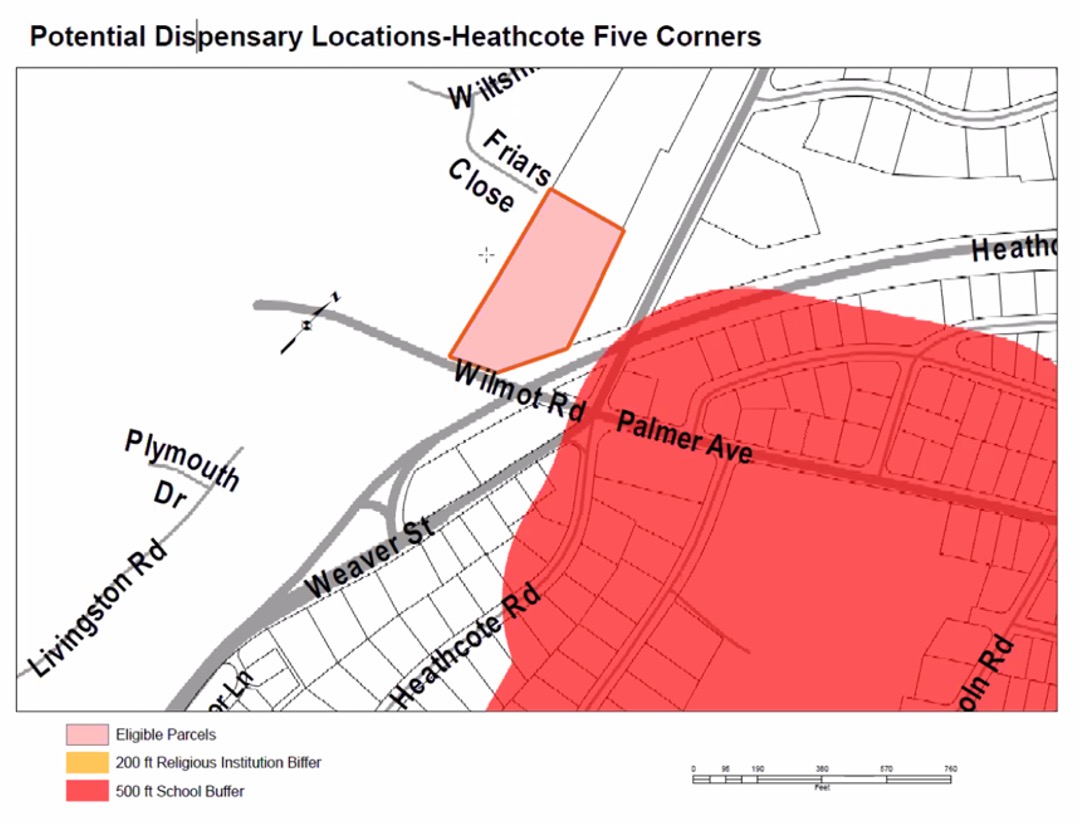 After the presentation by Village Attorney Pozin and Village Planner Cutler, Board members shared their first impressions before opening the discussion to public comment. Trustee Lewis pointed out that the village is currently facing severe fiscal challenges, and that Scarsdale could collect cannabis revenue while further restricting facility locations. He also stressed the need for the Board to consider how this issue will affect the downtown revitalization plan.
Trustee Whitestone raised his concern that substance use is increasing among teenagers. He stated that while social views on marijuana have evolved, revenue cannot be the paramount concern. Wendy Gendel, who later spoke as the Chair of the Drug and Alcohol Task Force, also emphasized the need to educate our students on the dangers of marijuana.
Sharing his thought process, Trustee Arest explained that he was originally against the idea of permitting cannabis sales. While he remains opposed to an on-site consumption facility, he now recognizes the economic value of a dispensary. Because consumption, delivery, and home-grown cannabis are legal, there is little the Board can practically do to limit the drug's use. For this reason, Arest said we must be cognizant of the possibility that other towns, such as Eastchester (on Garth Road) and New Rochelle (in parts of the Golden Horseshoe), might take advantage of this opportunity. For example, if Scarsdale opts out but New Rochelle chooses to permit dispensaries, a store could potentially open on the border of two towns and Scarsdale would not gain any of the tax revenue.
Attorney Pozin shared what he knew so far about the neighboring towns. Mamaroneck, Briar Cliff, Dobbs Ferry, Elmsford, Tuckahoe, and Rye have started scheduling public sessions to get community feedback on the issue. New Rochelle is most likely going to permit the sale of cannabis in retail shops, while Eastchester is leaning towards opting out.
Trustee Brew urged the Board and the public to keep an open mind and evaluate the situation with facts. She said, "my gut reaction was to no, and I am still in my gut thinking no to on-site consumption lounges, but I've really started opening my mind to dispensaries… I hope we can look at this with information, data, and logic rather than emotion." She later added that she would never look at the situation strictly from a financial perspective, but based on her own experience with her two daughters, "marijuana use is thriving" at SHS. She reported that rates were skyrocketing even when cannabis was illegal, so now that it is legal, it would be a safer and more secure to sell it in a licensed location that will be strict on IDs. If Scarsdale outlaws sales but a dispensary opens in a neighboring town, Trustee Brew speculated that this may increase rates of people driving while under the influence of drugs.
Trustee Crandall shared that she lost her 39-year-old brother in a car accident where a driver was under the influence of substances. She is sensitive to possible marijuana addiction and the dangers of driving while impaired, and for this reason, she is "strongly against on-site consumption." That being said, Crandall stated she is open to allowing a high-end dispensary.
Many residents spoke during public comment and voiced a wide array of opinions. Similar to Trustee Crandall, Susan Douglass declared that she is against an on-site lounge, but is open to the idea of an upscale retail establishment. Resident John Schwarz had the opposite perspective and said how dangerous drug use can be. He stressed how impressionable children are, and said that he doesn't want marijuana use to be a habit that kids witness. Mr. Schwarz also said he would rather raise our taxes by whatever it takes than permit the sale of cannabis. This sentiment was echoed by Carol Silverman, who stated that she's against all marijuana sales and that taxes should be raised to whatever extent necessary to prevent the legalization of a retail shop or consumption site.
Resident Anne Hintermeister was concerned that people will be smoking on sidewalks, outside of restaurants, and in their backyards. She worried especially that in the backyard, cannabis smoke will bother neighbors. Attorney Pozin clarified that to a large extent, streets and sidewalks are village property and the Board can regulate that. With regards to neighbors, while it may be unpleasant, legally you must treat cannabis use the same as tobacco products. While smelling a neighbor's cigarette smoke is not ideal, there is nothing the village can do to regulate it.
Resident Kevin Broom took a practical approach, and said that "however you feel about it, the state law is there." He proposed the Scarsdale align to the greatest extent possible with the surrounding communities. If neighboring towns are permitting these sales, he believes it wouldn't be practical or wise to exclude Scarsdale. Resident Andrew Sereysky had a similar thought process. He stated that "the cat is out of the bag. Pot is here. Anyone can walk down the middle of Scarsdale and smoke a joint, it's perfectly legal." He also does not think White Plains or Hartsdale will pass up this revenue opportunity, and while it is important to protect our children, we also must consider what the financial disadvantages will be if Scarsdale is one of a small number of surrounding towns to opt-out. Mayor Veron added as a clarifying point that under MRTA, the municipality would not need to pool revenue with neighboring towns, and therefore a higher portion of the tax revenue generated would go directly to the village as compared to other types of sales.
While the meeting did not end with broad consensus among the trustees or the public, the conversation was the first of many that Scarsdale will have about this topic. Cannabis sales are coming to New York soon, and Scarsdale must decide whether to opt-out of the retail system by the end of this year.
Juneteenth
At the work session, Mayor Veron recognized the significance of Juneteenth, a holiday celebrated on June 19th to mark the freedom and emancipation of African American slaves in the United States. The holiday commemorates the day in 1865 when union troops arrived in Galveston, Texas, two months after the fall of the confederacy, to enforce the emancipation proclamation and ensure that all slaves knew they were free. Mayor Veron emphasized the need to recognize the importance of this moment, honor and celebrate the day, and work towards building a better future for all.