Paulin Sponsors Legislation to Combat Gerrymandering
Wednesday, 23 June 2021 21:47
Last Updated: Wednesday, 23 June 2021 21:54
Published: Wednesday, 23 June 2021 21:47
Joanne Wallenstein
Hits: 740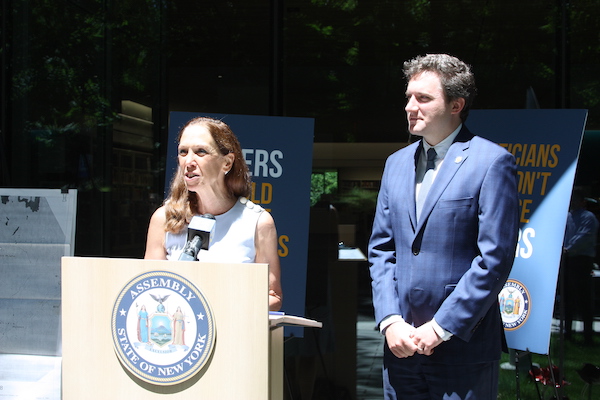 Amy Paulin and James SkoufisAssemblymember Amy Paulin and Senator James Skoufis, joined by Scarsdale Mayor Jane Veron and members of the League of Women Voters of Westchester and Scarsdale held a press conference at the newly re-opened Scarsdale Library on June 23 to announce the passage of legislation to require all counties to follow fair redistricting standards.
The legislation is aimed at preventing counties from gerrymandering for political gain and from disenfranchising voters by dividing villages and towns with common interests. It requires the 23 counties in New York that operate under a charter to follow the same redistricting standards as all other counties in New York. Their bill modernizes those standards to further ensure towns from being divided for unjust purposes and to bring the standards in line with generally accepted best practices for redistricting. Importantly, the updated standards include ensuring that equal weight is given to all residents in the allocation of representation, that districts are not drawn to favor voters of one political party, that districts are compact and contiguous, that districts are formed to promote the orderly and efficient administration of elections, and that districts are not drawn with the intent or result of denying or abridging the equal opportunity of racial or language minority groups to participate in the political process.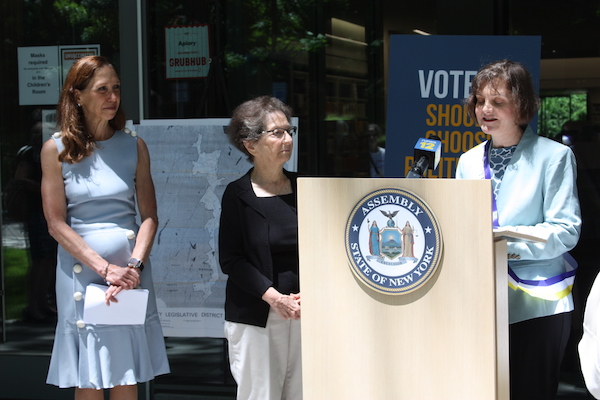 Amy Paulin, Renee Baylor and Alissa Baum, President of the LWVS"Representation matters, and for those living in self-chartered counties such as the three I represent, this legislation takes us one large step toward preserving the will of the people by standardizing how legislative districts are drawn and redrawn," said Skoufis. "Just shy of 20 years in the making, this is a bill with serious teeth and I call on the Governor to sign it so that these reforms are enacted just in time for the 2022 once-a-decade county redistricting proposals. I am grateful to Assemblymember Paulin for her partnership and years of dedicated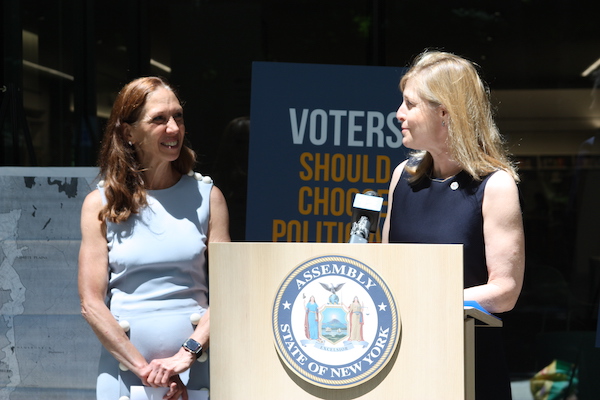 Assemblymember Paulin with Scarsdale Mayor Jane Veronleadership on this issue."

The passing of this legislation represents the culmination of 20 years of work by Paulin who first fought for fair county legislative districts as president of the Scarsdale League of Women Voters ("LWV") in 1991. At that time Scarsdale was split into two separate districts, and the Town of Scarsdale, along with the Scarsdale LWV, sued Westchester County on the grounds that the state Municipal Home Rule Law ("MHRL") prohibits towns from being divided. The Town of Scarsdale's lawsuit was dismissed due to lack of standing, and although the Scarsdale LWV lawsuit proceeded it was never decided by the courts.

Scarsdale, a small town of only 6.6 square miles, was then split into 3 districts in 1993. At that time Paulin, who was now the President of the County LWV, again sued the County over unfair redistricting. The case went to the NYS Supreme Court, and then to the appellate level. Ultimately the NYS Appellate Division upheld the lower court decision that Westchester County was not required to follow the criteria in the MHRL because it operates under a charter form of government and is bound only by the redistricting criteria in its charter.

The County had two subsequent redistricting cycles in 2001 and 2011, when fair districting was restored.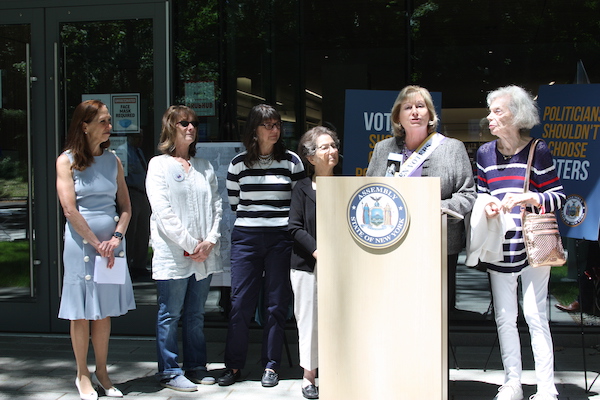 LWV Westchester Members with Amy PaulinHenry Neale, a Scarsdale resident and the attorney who represented the LWV in its lawsuit, said, "All counties in New York State should follow the same standards for redistricting—something I have been advocating for a long time. It is not logical and clearly unfair that voters in a chartered county can have their votes diluted by splitting towns or packing members of one political party or another into a district, when voters in the rest of the state are protected."

"This legislation will prevent towns like Scarsdale from being split into multiple legislative districts, which dilutes the vote of residents and leaves them without a clear, singular representative to advocate on their behalf," said Paulin. "With this legislation, the integrity of cities, towns and villages in Westchester and other chartered counties.
Veron, also a former President of the LWV of Scarsdale thanked Paulin for her excellent representation and the League of Women Voters of Scarsdale and the LWV of Westchester voiced their support for the new legislation.