Announcing the Winners of the 2018 Halloween Window Painting Contest
Monday, 22 October 2018 19:17
Last Updated: Thursday, 25 October 2018 00:32
Published: Monday, 22 October 2018 19:17
Joanne Wallenstein
Hits: 6519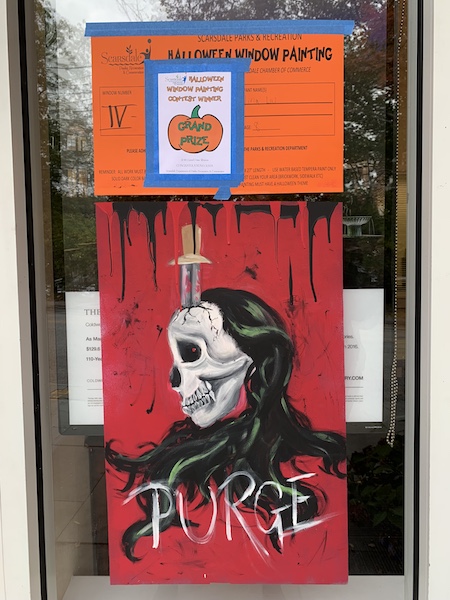 The Scarsdale Recreation Department has announced the winners of the 2018 Halloween Window Painting Contest that took place on Sunday October 21 at locations around town. The Village reports that 260 windows were painted and with team entries and parent-child windows, 600 people participated.

The Grand Prize winner was Olivia Liu with her painting titled "Purge" which was done at the office of Coldwell Banker.
The award ceremony will take place on November 1, 2018 in the auditorium of the Quaker Ridge School.
See the complete list of winners and the first place paintings below:

Group 1 Winners
1ST Weston, Finley Zachy's Liquor Store
2ND Friedland, Rebecca Pookie & Sebastian
3RD Israel, Ellis VACANT
MOST COMICAL Zitrin, Adena Rudy's Music
Group 1 Honorable Mention
Rieber, Eden Parkway Coffee Shop 1
Rudsenske, Whitney Pookie & Sebastian 7
Group II
1ST Koch, James Value Electronics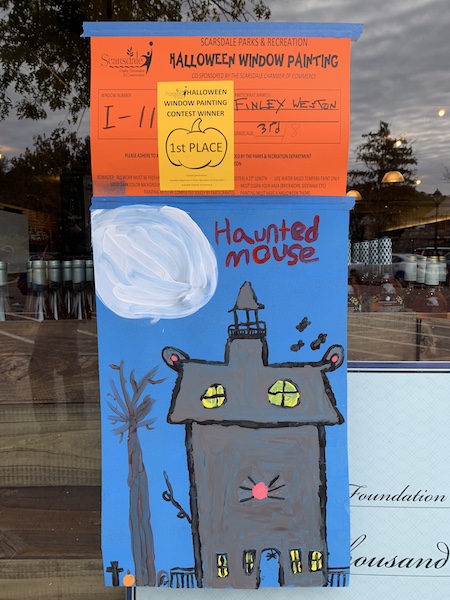 2ND Cecil, Michael Value Electronics
3RD Mazer, Lena Merle Norman Cosmetics
MOST
COMICAL Bennett, Daisy Douglas Elliman Real Estate
Group 3 Winners
1ST Dong, Joshua Lange's Deli
2ND Cecil, Elizabeth Bronx River Books
3rd Israel, Alexandra Learning Express

MOST COMICAL Bochner, Matthew Gregory Giliin
Group III Honorable Mentions
Luo, Sarah DeCicco's
Lenskis-Kristian, Lilah Learning Express
Rudsenske, Blair Learning Express
Hodes, Talia Great Stuff
Bochner, Sara Bronx River Books
Barro, Julia Lange's Deli
Culang, Camryn Lange's Deli
Liebman, Grace Parkway Coffee Shop
Group IV Winners
1ST Henry, Anna Henry's Barber Shop
2ND Pollack, Zoe Authentic Pilates
3RD Matula-Osterman, Claire Authentic Pilates
MOST
COMICAL Kristol, Zachary Authentic Pilates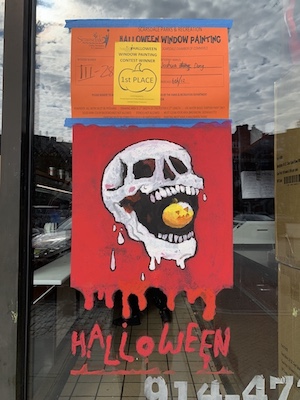 Group IV Honorable Mentions
Akbarian, Ava Scarsdale Hardware Company
Hanson-Carlson, Annika Authentic Pilates
Barro, Danielle Remax
Zik, Flora Remax
Group V Winners
1ST Stefanou, Anastasia Rothman's
MOST
COMICAL Kantor, Patrick Rothman's
Group VI Winners
1ST Daniel, Emma Gabrielle Daniel Vintology Wine & Spirits
2ND Detmer, Lucy Brooke O'Grady Heathcote Hand Laundry
3RD Etkes, Liam Elinor Etkes NuMint Nail & Spa
MOST
COMICAL Walker, Anna Layla Ghahremani Chase Bank
Group VI Honorable Mentions
Rifkin, Sabrina Tessa Berger Metro Deli
Fischer, Ivy Skylar Allen Jean Claude Hair Design
Group VII Winners
1ST Goldban, Natalie Sammy Goldban Embassy Cleaners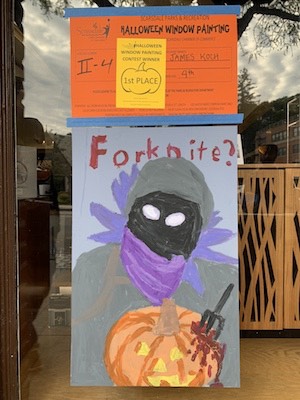 2ND Paquin, Ursula Ali Greco Bank of America
3RD Friedman, Greta Isabella Xirau Bank of America
MOST
COMICAL Mayer, Sarah Rachel Lucek Bank of America
Group VII Honorable Mentions
Shedroff, Kaitlyn Tara Bamji Bank of America
Arakawa, Alessandra Leah Im Embassy Cleaners
Brooke Goldstein & Julia Sobel
Group VIII Winners
1ST Kefer, Jordan Lily wise Spruce & Bond
2ND Dhiman, Maya Sarina Mehta Pookie & Sebastian
3RD Ji, Chloe Sonya Chen Sam Lehr
MOST
COMICAL Aldridge, Charlotte Ava Feldman Wyatt Lily


Group IX Winners
1ST Simon, Alexandra Olivia Liu Pure Hair Salon
2ND Feldstein, Anna Melanie Toubin Jade Spoon
3RD Cukierman, Maya Halle Jakubowicz A Touch of Polish
MOST
COMICAL Weiser, Lana Ariella Sobel A Touch of Polish
Group IX Honorable Mentions
Geringer, Ellis Carolyn Big Top
Geringer, Sydney Chase Big Top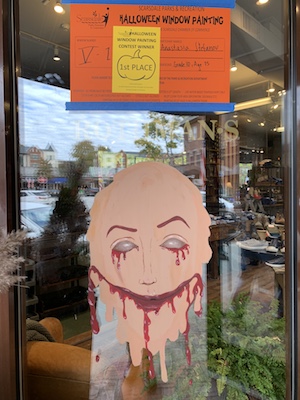 Group X Winners
1ST Kohn, Danielle Emily Messerle Framing @ Depot Place
2ND Kefer, Samantha Leah Breakstone Dunkin' Donuts
3RD Roberts, Eleanor Hadley Schwall Pizzarelli's
MOST
COMICAL Finegold, Sabrina Lydia Doherty Skinny Buddha