Girls Varsity Golf Team Wins Sectionals
Tuesday, 29 June 2021 16:09
Last Updated: Tuesday, 29 June 2021 16:17
Published: Tuesday, 29 June 2021 16:09
Jack Margolin
Hits: 1028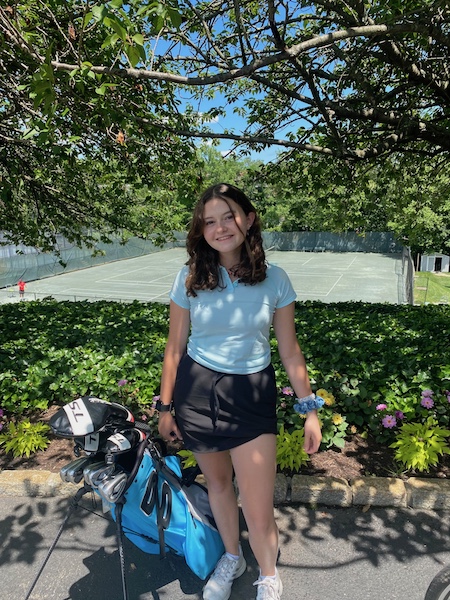 Sophomore Ellie Bowen qualified for the sectionals.The Scarsdale Girls Varsity Golf team won back-to-back section titles, as the Raiders continue their dominant stretch.
After a 14-2 season with losses to Rye and North Rockland, Scarsdale won the Section 1 Title at Whippoorwill Club. Scarsdale easily defeated Rye, Wappingers, and Suffern shooting 371 compared to 407, 481 and 494 for the latter, respectively.
Scarsdale's victory was fueled by the elite play of its juniors, including Jacqueline Lu and Skye Bruan. Both qualified for sectionals, as did Sophomore Ellie Bowen. Lu finished second with a score of 79; Bruan finished fourth with a score of 83; Bowen finished 18th with a score of 103. Lu and Bruan would have made states had it not been canceled since they finished top 9 with their individual scores. Lu lost the individual title by three strokes to Ursuline's Sofia Nogalo and believes she can reach that goal if she can minimize small mistakes. "I was a little disappointed with how I played," she said. "I really wanted to win the individual title but I made some stupid errors throughout the game and Sofia from Ursuline played well," she added.
The seniors were able to make their last mark for the club, helping Scarsdale win important matches including victories vs. Edgemont and Byram Hills, which helped keep Scarsdale's momentum into the postseason. After Covid stopped their season in 2020, the seniors were able to shine one more time before passing the torch to the younger players.
Those younger players, including freshmen Evelyn Black and Anjali Schoetz, also played key roles for the Raiders. Black and Schoetz's clutch play helped propel Scarsdale to the Section 1 Title. "We couldn't have done it without [them]," said Lu.
Despite having less experience due to the pandemic, the team was able to pull through and win the title. Seeing as so many of Scarsdale's key players will be returning, it's easy to get excited about their potential for next year. With this year's title under their belt, the returning players can build on this experience and pass along advice to the new varsity players in 2022 and help them continue a winning culture for the Raiders.
Roster:
Emily Aaron
Catherine Drohan
Zoe Kulick
Julie Gross
Lydia Doherty
Ella Schulhof
Jenna Schwartz
Skye Bruan
Jacqueline Lu
Lindsey Adler
Ellie Bowen
Andie Farber
Leila Kerr
Molly Klein
Sydney Rossano
Danielle Scheiner
Audrey Schonfeld
Evelyn Black
Audrey Cheng
Natasha Pereira
Anjali Schoetz
Lana Weiser