New Bronx River Pathway is Open!
Thursday, 15 July 2021 11:36
Last Updated: Monday, 19 July 2021 17:21
Published: Thursday, 15 July 2021 11:36
Joanne Wallenstein
Hits: 3469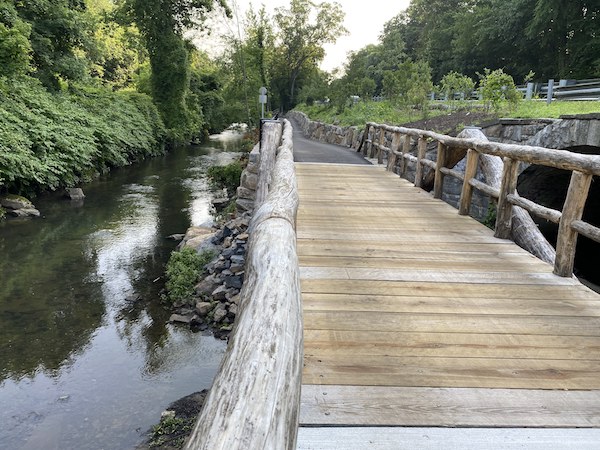 Big news for bikers and walkers. The new Bronx River pathway between Scarsdale and Greenacres Avenue is now open. The path includes bridges, stonewalls, wood railings and benches and offers lovely views of the Bronx River. It is lined with plantings of perennials, ferns and shrubs.
Susan Douglass, Vice President of the Scarsdale Forum sent us these great photos and said, "We're so happy to have the path opened, and Ben Boykin, our County Legislator, should be given credit for making this happen. The new pathway will bring more people to the village center, including cyclists and pedestrians. It's great for everyone!"
Commenting on the opening, County Legislator Ben Boykin said, "I'm excited that the time has finally come for us celebrate the opening of the Bronx River Reservation trailway between Scarsdale and Hartsdale. The mile-and-a-half pathway features beautiful plantings, benches and a newly paved surface for residents to enjoy. Thank you to the County Parks Department for making sure this work got completed, so that the path is safe, durable and attractive. People are relying on the County's outdoor recreation facilities more than ever these days, so it's especially wonderful to have this walkway newly opened and accessible. I look forward to seeing you enjoying the trail."
The new pathway bridges the 1.6 mile gap between Scarsdale Village and Greenacres Avenue. It traverses the train tracks and roadway, extending up the west side of the parkway. Users will need to cross Hartsdale Avenue or Fenimore Road to continue up to the northern portion of the path which travels all the way to the Kensico Dam.
After many years of planning, construction of the path began in September 2019, and now almost two years later, the $6.7 million pathway is open for all to enjoy.
Thanks to Susan Douglass for these stunning photos.