After Thirty Years on Death Row, Anthony Ray Hinton Tells His Story to Scarsdale Students
Saturday, 27 November 2021 08:52
Last Updated: Sunday, 28 November 2021 20:55
Published: Saturday, 27 November 2021 08:52
Sydney Piccoli
Hits: 1409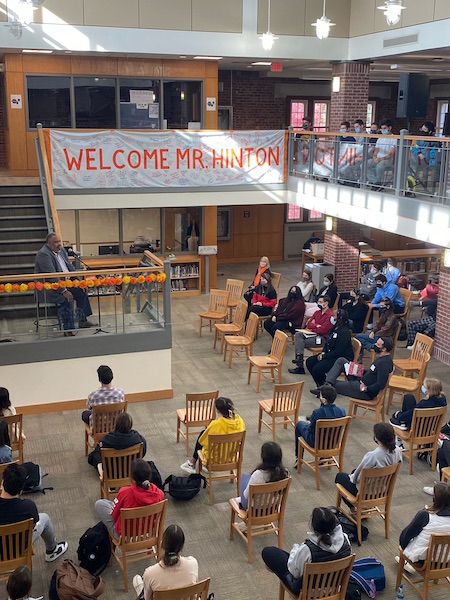 A man who spent 30 years on death row in Alabama, after he was wrongly convicted of murder, visited Scarsdale High School on November 17, 2021.
Students had the chance to meet Anthony Ray Hinton during fifth period which was split into three sessions to allow visits with Hinton in the Scarsdale High School library, where he spoke for a short period of time and then opened the room up to a question and answer session. Although many Scarsdale High School classes wanted to attend, the facilitators of the day's events had to limit the in-school field trip to only the most relevant classes as Hinton could only stay at SHS for a few hours. Some classes that were able to go were AT Government, Criminal Justice, and AT Art History among other humanity driven courses. In order to accommodate Hinton's presence, dozens of chairs were set up at a social distance in the library, both on the first floor and second floor, to maximize the numbers of students who could hear Hinton's words. Hinton was introduced by art teacher and advisor of SHS Innocence Club Beth Colleary and English teacher Kathleen McGreal, both of whom have extensive experience in the field of social justice. Scarsdale High School students wore yellow, orange, and red clothes to show Hinton that the "Sun Does Shine," which is the name of his best-selling book that journals the failures of the justice system and how to maintain hope in the most dismal of situations.
After a welcoming introduction, Hinton gave an impassioned speech, telling SHS students that when he was incarcerated, he started a book club which helped him maintain his composure through the years he was wrongly convicted. He discussed the power of having an imagination, which he would often use to escape during the hardest days he spent in prison. Hinton offered a connection to the contemporary world, shockingly asserting that racism is currently worse than when he was a child in Birmingham, Alabama. After a speech filled with inspiring and courageous sentiments, a few students asked Hinton questions; How did you keep faith while being incarcerated? What lessons did you take away from your experiences? How do you think we, as a world, need to combat institutionalized racism? Hinto answered that the key is simply going up to a stranger, especially one of a different race, and having a conservation. He told dozens of students and faculty that by doing so, you will discover how many similarities you have despite the apparent differences.
Hinton words resonated with the students and teachers who were lucky enough to be in his presence. "I really enjoyed hearing him speak in-person because I felt a lot more connected to what he was saying when it wasn't through a computer screen and also him answering the students questions directly made it a lot more impactful for me...I think everyone in that room was just as impacted by his word as I was which is pretty astounding," remarked SHS junior Charlotte Davis. "I really liked how personal it felt...and it felt like he was giving his story in a way that felt like he was giving advice to a friend. I think his words had the effect of collectively uplifting peoples' spirits," added SHS junior Akhil Srivastava.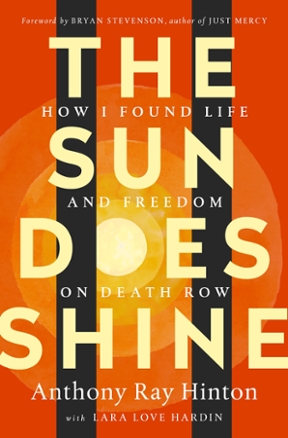 On SHS's annual Global Citizenship Day, SHS' students heard from the founders of Hudson Link, a non-profit organization that provides college education to those currently or formerly behind bars and seeks to create a positive impact. On Hinton's behalf, Scarsdale High School students collected fifty boxes of food filled with pasta, sauce, spreads, canned vegetables, and more to be donated to the individuals Hudson Link helps—in addition to food, the boxes contained other goods, including thermal gear (hats, gloves) and Scarsdale mementos. A singular bag of food can serve four individuals, so in-total SHS will help 200 people in-need this season.
Last year , during COVID-19, Hinton visited Scarsdale High School through Zoom, telling his story for the first time. The visit sparked impassioned discussion in classrooms all around Scarsdale High School about the social justice system and the importance of helping others. A local bookstore, Bronx River Books in the Scarsdale Village, even worked to promote Hinton's book The Sun Does Shine and offered signed copies to residents. Nearly a year later, Hinton made a special request to his assistant to attend SHS—this time in-person—to thank the students and teachers for hearing his story and supporting his mission to improve the lives of individuals across the United States.
Hinton's kindness and generosity can be a lesson for all ages— "Despair was a choice. Hatred was a choice. Anger was a choice. I still had choices, and that knowledge rocked me....I could choose to give up or to hang on. Hope was a choice. Faith was a choice. And more than anything else, love was a choice. Compassion was a choice," he writes in his book. As Scarsdale High School seeks to create change-makers, embracing a motto of Non-Sibi, it is heartwarming to see students foster such a close connection with activists like Hinton, but also with the greater community that needs our collective help.