Belize for the Scarsdale Adventurer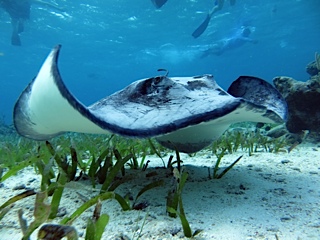 Belize, a tiny country south of Mexico and east of Guatemala, is a dream travel destination for a Scarsdale adventurer. English is the official language, American dollars are accepted everywhere, many lodges and resorts are up-to-par with western standards, a visa is not required, they drive on the right side of the road, and the 4-hour direct flight along with the 2-hour time difference makes the travel part easy. No special vaccinations are necessary, although you may want to consider the typhoid vaccine if you're an especially adventurous eater...gibnut anyone?

So, when grandma agreed to babysit the kids for the week and we found a direct flight from Newark to Belize for half the price of a ticket to Europe, it seemed like a no-brainer. Having traveled extensively around the world through both developed and less developed countries, Belize was a good middle ground for the best things eachof these types of countries offer, including the adventure aspect (with toilets!) we were looking for.

Tripadvisor proved helpful in deciding where to stay, although the number of places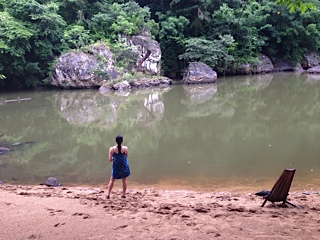 listed with several hundred reviews and a five-star average made it difficult to determine which would be the "best of the best" for us. We decided on Black Rock Lodge in the jungle for four nights and Sea Dreamson Caye Caulker, one of the islands off the coast, for three nights.

Black Rock Lodge did not disappoint. Isaias, a lodge tour guide and professional cowboy, met us at the airport and drove us the 2.5 hours into the jungle, 30 minutes of which was on an unpaved road past cows and horses, neither of which moved for our car. He talked for almost the entire drive and we learned more about Belize than during any other time on our trip. What Isaias learned about me was that I had one fear about being in Belize, and he took it upon himself to try to help me overcome my phobia. Just outside the lodge, he pulled over and poked a stick into a hole. A large, hairy, red-rump tarantula jumped out and he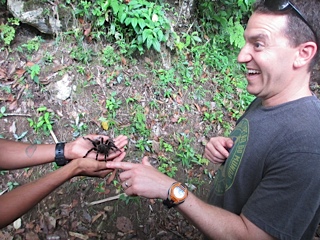 nonchalantly scooped it up and started to play with it. I cowered in the van but my husband pet it and actually, smaller spiders now seem just a little less scary to me (and almost every spider is smaller than that tarantula).

Black Rock Lodge is situated along the Macal River on 13,000 acres of protected jungle. It's off the grid in the sense that all electricity is solar and hydro produced. Each cabin is tastefully furnished and has a private bathroom as well as a veranda with a hammocks facing the river. Meals are available and a 4-course gourmet dinner is served each night under a candlelit palapa. The lodge seats guests with each other and this "forced mingling" turned out to be one of the best and most unique aspects of the lodge. Many of the fruits and vegetables served come from their on-site organic farm.

Activities abound in the jungle. One day we went to the Actun Tunichil Muknal (ATM) caves with a guide (required). This was truly an unforgettable caving experience. A short hike was followed by a cool swim to the entrance of the cave. Within seconds of entering there was complete darkness if not for our headlamps. The cave formations are fascinating and the caving itself is just tricky enough to require one to be in decent physical shape (and not too scared of giant wolf spiders or bats). After an hour, we came to the main chamber of the cave that houses ancient Mayan artifacts as well as surprisingly well-preserved Mayan human remains.

Another day was spent hanging out at the gorgeous Black Rock property. Tubing down the river is free of charge and they'll even send a guide with you the first time around to show you the best way to get past the rapids. If you make it down the waterfall on your tube without being dumped you get a beer on the house. (We were 0 for 2 by the time we had to leave.) There's a beach on the river and a rope swing for those not afraid of a little rope burn. There is a well- marked hiking trail on property and if you have it in you to be on the lookout for snakes, (I literally almost bumped into a 15-foot indigo snake,) you'll be rewarded with scenic vistas and ample birdlife. In fact, you have a chance of seeing three kinds of toucans at Black Rock just while eating breakfast.

On our last day, we took a guided horse trail ride to an ancient Mayan ruin called Xunantunich. There are also opportunities to go cave tubing, zip lining, to Tikal in Guatemala, to a baboon sanctuary, canoeing, and to other Mayan ruins but we ran out of time.

We hired a car to take us to the water taxi in Belize City and stopped at the Belize Zoo on the way. The zoo is less of a zoo and more of an animal sanctuary for endemic animals that were rescued, sustained an injury preventing them from living in the wild, or donated. It was well worth the stop.

We hopped aboard the 45-minute water taxi ride to Caye Caulker, a very relaxed Caribbean-like island off the coast of the mainland with a population of 1,000. Sea Dreams Hotel is walking distance from the water taxi landing, as is everything on Caye Caulker. We used the hotel's beach bikes to get to know the island and enjoyed the included homemade breakfasts every morning.

We are not certified divers so we spent two full days snorkeling (and looking for manatees) in the Hol Chan Marine Reserve, Coral Gardens, and Shark and Ray Alley. Even snorkeling allowed for impressive views of life underwater. Although the coral is not very colorful, the sea life makes up for it. We swam with loggerhead turtles and sea turtles, large green moray eels, barracuda, countless tropical fish, eagle rays and stingrays, and a group of around 40 nurse sharks. Many outfitters on Caye Caulker offer diving and world-class fishing as well as paddle boarding, kayaking, and overnight adventure trips.

After watching one last sunset from the dock at Sea Dreams, we packed up and headed back to the airport, with reality settling back in with the screech of the airplane's tires in Newark. Our kids thought we went by ourselves to Belize to "check it out" before taking them there, and the truth is that we can't wait to take them to Belize. My son is looking forward to holding a tarantula and my daughter seemed particularly excited about the dog that lives at Black Rock.