Jordan Hall: An Italian Steakhouse and Piano Bar in Pelham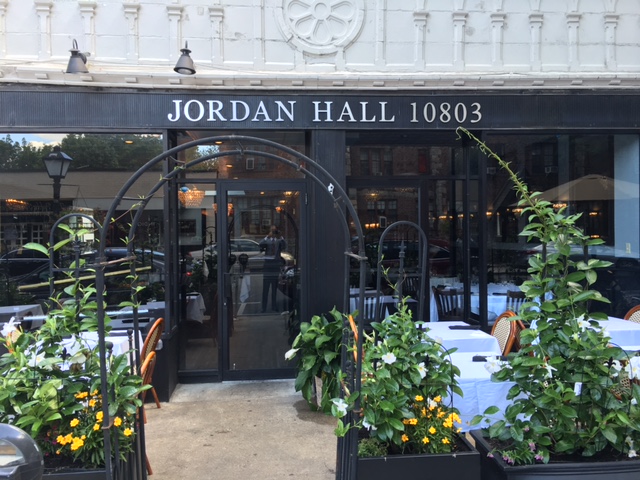 There's a new reason to visit Pelham, with the opening of Jordan Hall, an Italian steakhouse with a Mediterranean flair. It's easy to spot on busy Fifth Avenue with its colorful flower filled pots surrounding the outdoor dining area. These decorous arrangements are clearly nourished with care. Upon dining at Jordan Hall, you will be treated with care, as well, and nourished with food of the finest quality, creatively prepared.

Owned by Florio Rugova and partners Christopher Fink and Guy Sansone, Rugova attends to the dining room. He is a familiar face in Pelham and managed La Fontanella, for many years. He honed his skills at many Manhattan restaurants, as well. "Jordan Hall is not just another Italian restaurant. We are a high end establishment. During the process of working my way up in the culinary field, I became passionate about my work. Opening in Pelham is like coming home. I love talking to our guests and getting their feedback."
Jordan Hall is at the location that housed Bistro Rollin. Their talented chef Eric Mauro, is now leading the kitchen at Jordan Hall. Chef Mauro attended culinary school in his native Brazil." My family dined in restaurants often and I developed an interest in the culinary field. "He worked in corporate dining room, a 3 star Michelin restaurant in Spain and in Bistro Rollin for five years. The combination of his talent and creativity, along with the quality of his ingredients, brings a fine new addition to the dining scene in Pelham.

A grand piano in the renovated bar area is the focal point of the sophisticated dining room. Mellow live music adds to the pleasure of your dining experience on several evenings. The restaurant seats 85 guests indoors and another 20 outside, with 10 seats at the lovely bar. A welcoming elegance permeates the dining room. Crystal chandeliers, dark wood floors, many framed mirrors, French multi paned doors and large windows overlooking Fifth Avenue set the mood. The botanical theme continues at each table set with white linens and modern glass containers filled with hydrangeas and white roses.

Chef Mauro created a tasting menu for me of several small plates, each beautifully designed, enabling me to enjoy a variety of their many offerings. Warm bread and olive rolls graced our table in napkin lined baskets with crocks of. olive oil and butter. Our parade of dishes appeared. The Italian proverb, "Our eyes must have their share" certainly applied to the presentations. From the appetizers we loved our New Orleans style crab cake garnished with mixed greens. A ceramic spoon was filled with a fresh ginger emulsion provided a lively sauce. Panko crumbs added a crisp crust to these crab filled delights. Jordan Hall meatballs combined several meats for a flavorful result. They were light, rather than dense. Simmered in a delicate marinara sauce, they were each pierced with a toothpick and seasoned with freshly grated parmesan and micro basil. Grilled diver sea scallops, saffron and parmesan arrancini, zucchini carpaccio and grilled Raisin River bacon au poivre are yet to be tried... Of the several salads offered, we chose the roasted beet salad. The fresh beets were topped with mixed greens,
goat cheese, pecans and cranberries, and lightly dressed for a refreshing taste. The beefsteak tomato and burrata salad is highly recommended, as well. The addition of a raw bar includes shrimp and lobster cocktails, tuna tartare and a variety of oysters. We enjoyed a single Goose Island Oyster, succulent and delicious. Served in a cocktail glass, filled with ice and some mignonette sauce I was reminded of the words of Frank Lloyd Wright," Dining is and always was a great artistic opportunity." From the pasta selections, would it be spaghetti carbonara, lobster ravioli, or pasta caprese? We chose pappardelle with a beautifully seasoned lamb Bolognese. The al dente pasta was bathed in an incredible sauce seasoned with a hint of cinnamon stick and shaved parmesan: very unique indeed, in fact divine.

Among the entrees, we opted for pan roasted wild caught salmon. Chef Mauro indicated that he loves preparing fish. "Timing is most important for perfectly cooked fish." Our delicate salmon was an indication of Mauro's expertise in cooking fish. A bit of butter and thyme added a crisp crust to our medium rare fish, accompanied by a light caper sauce. Roasted carrots, broccoli rabe and mashed potatoes topped with fragrant popcorn shoots completed this simply wonderful dish. Since this is a steakhouse, it offers, New York strip, t bone, filet mignon, bone in rib eye, porterhouse and rack of lamb, all of prime quality. We savored a tender New York strip steak with classic creamed spinach and ratatouille. The accompanied truffle looked good, but for me the steak stood on its own. Return visits, and I do hope there will be many, may include risotto with sweet sausage, veal scallopine with saffron cream, or shrimp scampi with creamy polenta.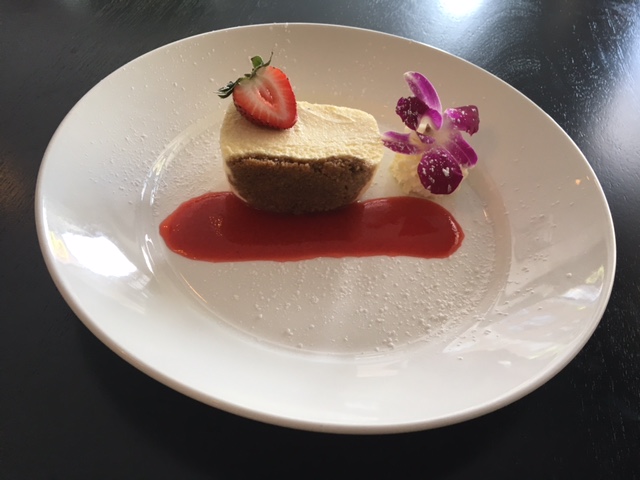 Desserts include lemon ricotta cheesecake, orange zested vanilla crème brulee and flourless chocolate cake. We completed our feast with simply delicious house made espresso ice cream. It was intensely flavored and pure tasting with a dollop of freshly whipped cream on top. A fresh orchid decorated the plate for a very nice touch.

Lunch offers many salads, appetizers, sandwiches, pastas, and entrée selection from the dinner menu. Sunday brunch includes appetizers, salads, a variety of eggs Benedict, omelettes and entrees of waffles, pancakes, French toast, slider platters and lobster rolls, each with Chef Mauro's special touch.

A visit to Jordan Hall will bring pleasure to your day, with a fine meal in a warm and lovely atmosphere. Welcome to Westchester.

Jordan Hall
142 Fifth Avenue
Pelham
(914) 222 5494

Recipe: Roasted Beet and Goat cheese Salad (Serves 1 or 2)

Ingredients:
2 red beets
A handful of mixed greens
2 Tbsps. crumbled goat cheese
1 Tbsp. walnuts or pecans
1 Tbsp. dried cranberries

Directions:
Wrap whole beets in foil and roast in a 350 degree oven for about 45 minutes or until fork tender. Cool them and peel them Slice them and set aside.

For the dressing:
2 Tbsps. red wine vinegar
½ tsp. Dijon mustard
½ tsp. honey
Salt, to taste
Blend together all of the dressing ingredients.

Assembly:
Arrange sliced beets at the bottom of one or two plates in a circle to act as a base of the greens. Place greens in a bowl and toss with the dressing. Arrange greens on top of the beets. Sprinkle with cheese, nuts and berries and serve.


Judie Dweck has been writing about restaurants and food for many publications. She teaches creative cooking to children at Scarsdale elementary schools. Through the years, her articles have appeared in Jack and Jill Magazine, Spotlight, The Pleasure of Cooking and The Scarsdale Inquirer. She balances her restaurant tastings with daily ballet classes.