Inviting Cafe Opens at White Plains Library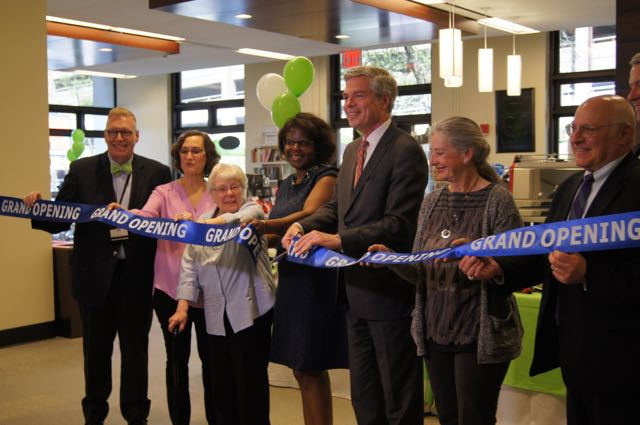 With the Scarsdale Library set to close for a multi-year renovation, the opening of a large café at the nearby White Plains library should be welcome news to Scarsdale Library users. The spacious new café, dubbed, The Hub has large windows looking out onto Martine Avenue and offers a pleasant venue to meet a friend or enjoy a snack or lunch while using the newly renovated White Plains Library. Outdoor seating on the patio will also be available, weather permitting.
The Everyday Health Café is operated by The New York Hospitality group who also owns Sams of Gedney Way of White Plains, and is stocked with sandwiches, soups, salads, smoothies, juices, coffee, and teas. Library Director Brian Kenny says, "The café is committed to everyday healthy food choices, served in a convenient manner, with the best of ingredients."
Mayor Tom Roach and local officials and friends of the library celebrated the opening of The Hub with a ribbon cutting ceremony on Wednesday March 9. Roach said the café was a "signal of life" in White Plains and called the newly designed library a "beautiful space to display books." Diane Tabakman, President of the Board of the White Plains Foundation thanked supporters who donated gifts ranging from $3.00 to $1 million to make the renovation possible. She said we "should be proud to be White Plains people." She thanked Board and foundation members who brought the campaign to a conclusion.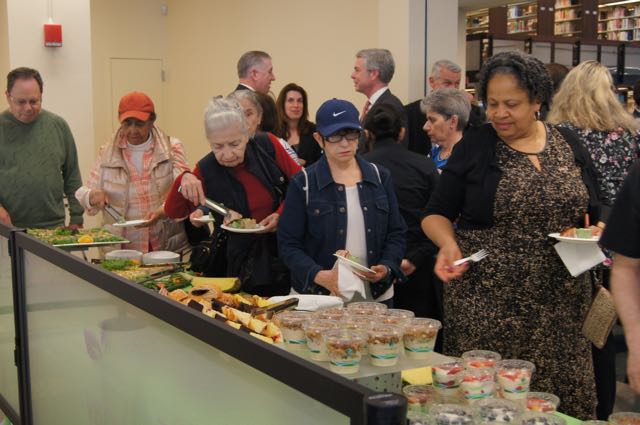 Scarsdale residents can use their cards to take out books and media from the White Plains library, while Scarsdale's facility is closed for renovations. And when you're there, be sure to check out The Hub and enjoy a cup of organic coffee.