Lange's Deli to Close After 47 Years in Scarsdale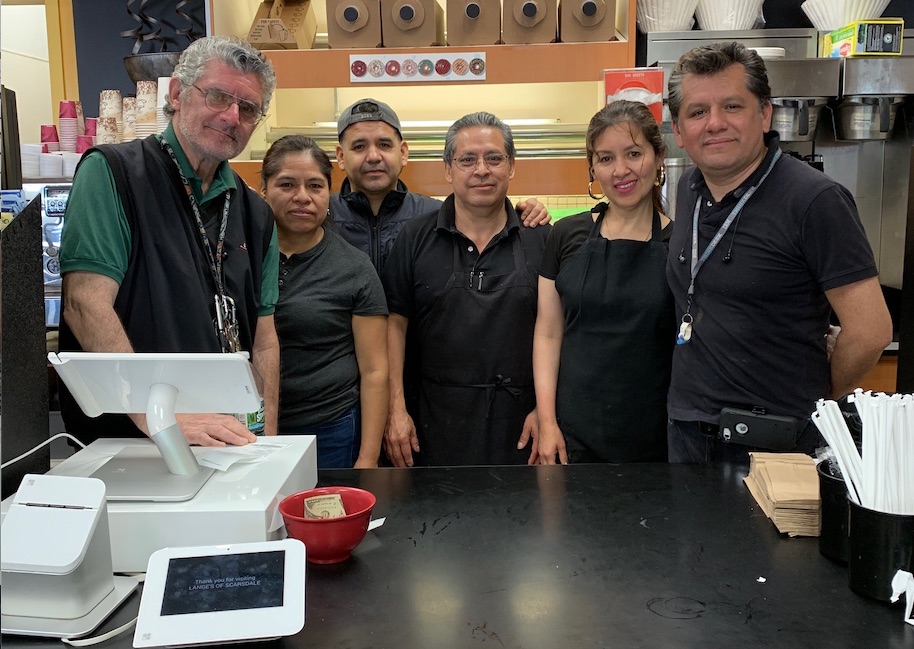 Customers had tears in their eyes when they learned that Lange's of Scarsdale, a village landmark, would close its doors on Friday May 31. Opened in 1972, the deli looms large in the history of the 'Dale and has been the favored destination for people of all ages for almost 50 years.
The restaurant has embedded itself in the life of the village, serving hot chocolate and marshmallows at the Christmas tree lighting, grilling burgers and hotdogs at the Sidewalk Sale and serving donuts at Breakfast with Santa.
Their sandwiches are famous among high school alumni who savor the "Grand Canyon" -- chicken cutlet with American cheese, bacon, lettuce, tomato and mayo on a roll and the "Buffalo Bill," chicken cutlet, lettuce tomato, hot sauce and blue cheese dressing on a roll.
Two sandwiches on the menu were even named after high school alumni – the Mr. Joe – chicken cutlet, bacon, lettuce, tomato, honey mustard and melted mozzarella -- is named after Joe Zakierski and the JCAS with eggplant, fresh mozzarella, tomato, and pesto is named for Jared Casden.
Why the decision to close? Owner Tony Domini shook his head as he listed several reasons for his financial woes. He said that overall business had fallen 50% from Lange's best years and that their catering business had dried up. For several years, Lange's was supplying school lunches to the elementary schools, but with the decision to retain Chartwells to provide school lunches, that business was also lost. The opening of the learning commons with a salad bar at Scarsdale High School also contributed to the loss of students coming in for salad at lunchtime.
Though Tony didn't discuss it, the decision seven years ago to expand into the neighboring site and open a pizzaria may also have contributed to his losses. The new restaurant had to be built out, and the rent had to be paid for both locations. Customers enjoyed the expanded site but did not seem to be consuming much pizza.
One fan noted that people's dietary habits have evolved as well. Rather than having a Reuben sandwich for lunch they may be opting for healthier choices like an acai bowl. Undoubtedly Lange's also faced competition from the plethora of online food apps such as Uber eats and Door Dash.
Lange's was a good neighbor to the Village and served as an informal meeting spot for locals who sat for hours with a cup of coffee and a newspaper. Their outdoor seating area was also a popular hangout and they generated good foot traffic for other stores in the Village. The restaurant employed a tight group of 21 cooks and servers, who will be missed, and will all be looking for new jobs.
Scarsdale Village has been struggling to maintain retail tenants, and the loss of Lange's, on the busy intersection of Chase Road and Spencer Place, hits hard.
The sad news inspired Deborah Skolnik, poetess and author of Gentle Scarsdale Satire to write a new verse which she graciously shared with us --- and with you:
AULD LANGE'S SYNE
I'm beginning to feel all kind of pangs
to hear they'll soon be closing Lange's.
It's been around since I was a kid--
did you ever go in there? Betcha did!
Their sandwiches are very nice,
and you can always grab a slice,
and there are specials of the day,
and they've always supported the PTA.
We're in a collective state of shock;
this little deli is our rock!
It's sad, and must we worry more
about having another empty store?
Don't close up, Lange's, and leave a zero--
We're holding out for a (turkey) hero!
Copyright Deborah Skolnik, 2019
Feeling sad about Lange's? Share your comments below.