Advocate Brokerage Celebrates Fifty Years in Scarsdale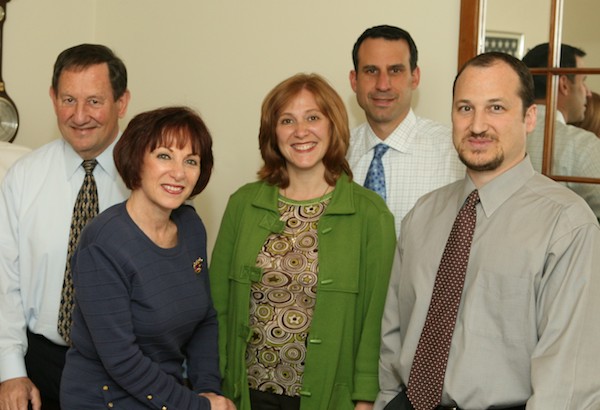 This year, one of Scarsdale's most notable businesses celebrates their fiftieth anniversary. Advocate Insurance and the Binday and Koslowsky families -- who run the agency -- are well known in town, insuring many properties here and donating generously to many community organizations. Since multiple generations of the family live here as well, they are friends, neighbors and your advocate in Scarsdale.
We asked Denise Koslowsky to tell us about Advocate and here is what she shared:
Who founded Advocate and how did it all begin?
Advocate was founded by my mother, Roz Binday, at the recommendation of my father who was an Allstate Agent. At a dinner party, it was discussed that this would be a great tax write off. My mother was pregnant with me, her third child, and was not devoting time to attend insurance school just for a tax write-off. With her, it was all for real or for nothing. So that is how Roz's embryonic insurance career began.

50 years ago, what did people insure? What was Advocate's primary business?
The story goes, my mother sold insurance to every single person she met everywhere she was. Mostly small commercial businesses. We lived in the Mamaroneck strip at that time, and her office was on Garth Road. Thus, she insured many businesses on Garth Road and Mamaroneck Avenue in the Village of Mamaroneck. Through an abundance of client recommendations, the business continued to grow and spread to other areas.

Through the years, how has at the business changed?
What started as a "Mom" and Pop (but mostly Mom) shop really evolved to a full-fledged corporation with a wonderful family owned corporate culture at our core. Sometime in the mid 1980's Roz landed the Jordache Jeans account and that really propelled our business to another level. Ron retired from Allstate and officially joined Advocate, as did Glenn, followed by me. Our community focus also has gained us substantial business in Scarsdale, Westchester, and New York City, as well as the rest of the country. Today we are one of Chubb's top Cornerstone agents nationwide. We also sit at the top of Pure as a Paragon Agent, Berkley One as one of their partner agents, Cincinnati as a top performer and a Travelers partner agent.

Tell about some rare or unusual items the company has insured.
We have insured many fantastic art collections with Chagall, Old Masters such as Rubens, Titian, and some important contemporary collections. A while ago, we insured a 17th century castle that came from England, piece by piece and was reassembled in NY in 1924. Our clients have since sold it.

Did you insure any notable or famous people's property that you can discuss?
We currently insure a world renowned photographer whose name I cannot mention, we have insured Mary Stuart Masterson, some famous authors, famous designers, and top lawyers and doctors in the NYC area, along with major real estate moguls.

Who in the family is still involved in the business today?
Still to this day the business is run by the Binday family. Roz and Ron Binday are very much involved. Glenn, Denise, and Jeffrey Koslowsky are responsible for the day to day running of the business.

With the world become more and more virtual and more volatile, where do you see the insurance business going in the next 50 years?
Super service is essential. With the world becoming ever more impersonal, we see our business moving into a concierge service focus along with our commitment to really get to know and understand our clients' needs. It takes time and patience to educate them. Technological advancements will continue to help us remain efficient in this world, and we expect to remain fiercely independent during this era of mergers and consolidations.